Reporter
Vacancies in top posts, anti-incumbency fever and a new third party have created an election field like none other in Rhode Island this year. Place your November bets.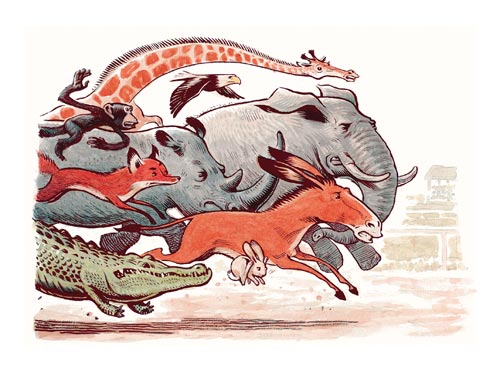 Day three of the ten-day race political candidates must run if they want to make the ballot, and the Moderate Party's marquee candidate is hoofing it through a seaside subdivision in South Kingstown. Small business-owner-turned-party-founder Kenneth Block needs 1,000 registered voters to sign his nomination papers.
He's getting a good reception tonight.
"Hi, my name is Ken Block and I'm running for governor from the Moderate Party. Have you heard of us?"
Most hadn't. Still, they listened on the other side of their screen doors, beside — like as not — a panting golden retriever. Block is a diminutive man, clad on this sweltering summer evening in blue Oxford-cloth dress shirt, wool slacks and loafers. The ring of perspiration creeping over the back of his collar is his only concession to the overbearing humidity. He approaches each potential signatory humbly; his sell is soft, as though his prescription for the state's woes needs no sugar.
"We want to solve the problems Rhode Islanders care about most — our economy and our schools," he says. "We want to fix our schools, fix our economy and get out. We don't want to be career politicians."
Jean Denneny opens the door to add her signature.

"The little people will really appreciate it," she says. "And I wish you luck with the General Assembly we have."
At the gubernatorial level, politics doesn't get more retail than trudging through the suburbs in a heat wave, knocking on doors. Whether signatures in July will translate into votes come November, Block can't say. But he believes to his core that the Moderate Party is throwing down a major gauntlet to the political establishment.
"There's definitely pressure," he says. "There's the fear of the unknown. Nobody knows what to make of a third political party that's pragmatically based and centrist. The majority of third parties tend to be characterized, and rightly so, as kooky — 
fringe. And nobody knows what the arithmetic of a four-way race for governor will look like."
One thing we do know: there's a lot of arithmetic. More than 4,000 Rhode Islanders declared their intention to run, and 3,072 filed nomination papers — an increase of 300 candidates over 2008, according to the Secretary of State.
The Democrats are fielding 1,956 candidates in state-level races, with the exception of two Senate seats. The Republican party was lending its support to eighty-seven Republicans and thirteen independents. (A total of 793 Republicans were running.) The Moderate Party added thirteen candidates to the mix; 157 candidates are running unaffiliated.
"[Incumbents] are working even harder than they did in the past," says state Democratic party chair Edwin Pacheco, whose party has the most to lose. "This is going to be the most unique election year since the credit union crisis."
Veteran political reporter Scott MacKay of WRNI attributes the clamor for public office to three factors: opportunity, the economy, and a deep and abiding dissatisfaction with the performance of the General Assembly. The opportunity was created when, in February, Congressman Patrick Kennedy announced that he was retiring from his U.S. House seat after sixteen years. Providence Mayor David Cicilline saw this as his chance to advance, declaring his intention to run for the state's first Congressional district. Term limits forced Governor Donald Carcieri from the governor's post. These vacancies touched off a stampede among the most ambitious Democrats to climb the next rung of the political ladder.
"Kennedy was a ricochet," says MacKay. "You have three big openings, which generally don't come along, and we have unprecedented economic problems."
The mood of the electorate?
"Sour," MacKay says. "Take a look at the right-track, wrong-track polls. The legislature's approval ratings are down in single digits."
In February, a survey by Brown University's Alfred Taubman Center for Public Policy found that 94 percent of those surveyed characterized the state economy as "poor" or "not so good." A similarly sized majority, 82 percent, expressed little confidence in the General Assembly's ability to do anything about it. In a later poll commissioned by WPRI in May, more than 72 percent of Rhode Islanders thought that the state was going in the wrong direction.
"The change in the economic make-up of the state has been problematic, and there's been no real move on the part of the legislature to deal with it. The problem of one dominant party is that people become complacent and they listen to people who are influential — and that isn't usually the voter," says voter Dave Monaghan, a retired chief financial officer who was happy to sign Block's nomination papers. "It's good to have choice."
And this election season has also been marked by choices outside the rigid molds of the party farm system. The state's Republicans, nearly wiped out in the 2008 Democratic tsunami, found themselves contending with an influx of neophytes.

"It was very non-traditional recruitment," says Republican state party chairman Giovanni Cicione. "We've had people coming in from all sorts of places, people who don't have a lot of political experience. Typically, people work up through the ranks.

What we see now are candidates who had a successful career somewhere else and are running. Those can be very good candidates, but they need training and so we've had to ramp up our training efforts and modify them to address the needs of first-time candidates."
University of Rhode Island political scientist Maureen Moakley has also observed a generational shift in the class of 2010.
"There are a lot of young people getting into this whose motives and goals appear to be somewhat different — young people with specific ideas, rather than the established people who run for office," she says. "They seem to be candidates who are motivated by changing the system — not just playing in the system."
Charlie Bakst, dean emeritus of the Rhode Island political reporters, has, however, curbed his enthusiasm. Change makes good political advertising. The reality is more elusive. Bakst earned his cynicism covering state politics for more than forty years for the Providence Journal.
"There's always a dream that the next person will be someone different, a miracle worker," says Bakst. "Theoretically, it's not a crazy dream. But let's see how many get elected and let's see how much of a lasting impression they make — or do they get washed out with the next tide? I can't tell you how many House and Senate leaders come in and portray themselves as change and they seem like a breath of fresh air — until they turn out to be carbon copies of the old leadership."
At about 6:45 p.m., Block meets another cold-eyed realist: a lady who does not bless his candidacy; a lady who does not budge from her side of the screen. Up until then, Blackberry Hill had been good to the Moderate Party. Block had departed each doorstep with one less brochure, one more signature and wishes of Godspeed. The Democratic stalwart taking the evening air on her porch breaks his streak. She is unswayed by the talk of better schools and more jobs. In not so many words, she tells Block that he will be nothing more than a spoiler.
Still smiling, Block applies reason.
"Well, let me ask you something. Is everything hunky-dory in Rhode Island?"
"Rhode Island's never been hunky-dory," she retorts.
The two tango briefly before Block concedes the futility of further debate and retreats to the curb.
"She's a lever-puller," he says, in the sad manner of a surgeon who has closed up the body after finding an inoperable cancer.
As Block and his heat-weary aides head back to their cars, the lone holdout looses the last of her powder. Her parting salvo shoots through the screen and hangs overhead like a dark cloud.
"This is how Bush won!" she cries.
Ellen Liberman is an award-winning journalist who has reported on politics and government affairs for television, public radio, newspapers and magazines for more than two decades.