Reporter
Low enrollments and test scores mean school closures — although there's no proof they fix either problem. We do know this: They leave students and teachers displaced.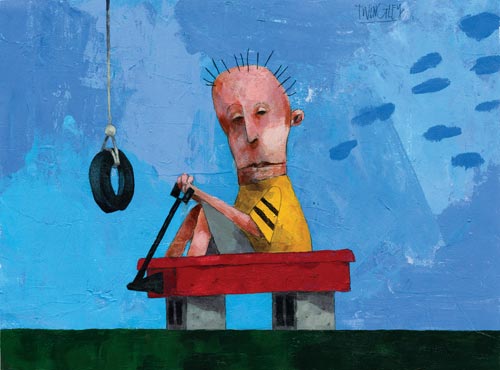 The students entered school laughing, their faces lit with liberty. One classroom had been given entirely over to boxes of packed textbooks. A teacher balanced her personal effects on a cart by the rear entrance.
The kids were in no particular hurry; it was the last day of school. It was also the last day of Oliver Hazard Perry Middle School, and the anxiety of September hung over Yanibel Martinez.
"I don't like it. Now I'm going to another school and I'm not going to see my friends," said the thirteen-year-old Providence seventh grader. "I like it here — the teachers, the people.

It's like a home."
Physical education teacher Jim Duffy grieved quietly in an empty basement classroom. As the head of Perry's successful School Improvement Team, he had led the charge to save it.
"A stab in the back," he summed the defeat.

The original Oliver Hazard Perry was a fearless naval commander who routed a British fleet at the Battle of Lake Erie in 1813 under the flag "Don't Give up the Ship." No one can say the school community didn't exhibit that indomitable spirit as it fought closure. But Perry's supporters were outgunned.
More than a year ago, the Providence Public School Department began an update of its Facilities Master Plan. An analysis of capacity, academic performance and condition in forty-five schools resulted in a consultant's recommendation that seven schools be shuttered. After a series of community meetings, Superintendent Tom Brady whittled it to two: Feinstein High School and Perry. The district had too many middle schools. Perry was under-populated and would cost $35 million to renovate. In April, the School Committee voted Perry out of existence.
It's a scenario that has been playing out all over the state. Since 2005, at least thirty-four public and private schools in Rhode Island have closed, as the public school population has dropped from 156,498 to 145,118. The Diocese of Providence has closed eleven schools since 2005.
Michael Guilfoyle, a spokesman for the Diocese, says there are three factors. "Rapidly decreasing enrollment, increased operational expenses and costly fire code upgrades have forced many schools in Rhode Island to make the difficult decision to close in recent years," he said.
Money is often cited as the reason for most school closures. Less common are district decisions to close schools for poor performance. This spring, Education Commissioner Deborah Gist surprised the Highlander Charter School when she recommended that the small urban K-8 school receive a one-year renewal of its charter, unless it could significantly boost its academic performance. An outpouring of support led Gist to revise her recommendation to a three-year renewal, but she has not retreated from her stance.
"Our charter schools will be models of performance. We are going to be studying what other states do and looking at a best practice process with performance agreements and targets," Gist says. "We'll never get to a point that a school's charter is ending and we haven't been really, really clear about how that charter is doing."
The idea that closure will liberate a budget from deficit or students from a toxic educational environment is also currently unclear. Many studies challenge the notion that consolidating schools saves per pupil costs. The theoretical savings from the economies of scale disappear rapidly, offset by increased transportation and other costs. Joe Pacha, an education researcher at Illinois State University who studies rural school closures, says the equation is complicated.
His team distilled thirty-three years of data to twenty-five different closure variables that include less obvious predictors, such as percentage of immigrants, level of teacher experience, test scores and the poverty rate.
"They always say it will save money. It never does. But it's never a single factor," Pacha says. "We can plot what happens to the tax rate, test scores, condition of facilities. All of those come into play. We can say: You have to do something about these three things by this time or closure's inevitable."
Closing an under-performing school in achievement's name can also be a flawed strategy for helping students. A study by the Consortium on Chicago School Research examined the academic effects on displaced elementary school students and found that once students were moved, there was little to no effect on achievement. The year before the move, however, students in a closing school saw their math and reading scores drop.
"We speculate that the controversy around a school closure generates a lot of turmoil for students and teachers and that is likely to be a universal phenomenon," says study co-author Julia Gwynne. "But that negative impact was short-lived. One year later, there was no discernable gap, but no gains."
The reasons may vary, but the heartbreak feels the same.
Christine Dube was the PTO president at John Greene elementary school when the Warwick School Committee voted to close it. She described the process as "brutal."
"It's the way they pit the schools against one another," she says. "You have to come up with figures to justify why one should be kept open over the other. It's a real big mess."
For teachers who have long toiled in a particular setting, a closing represents a deep professional loss. When Tower Street School in Westerly closed in 2009, it felt like the end of an era to teacher Nancy McGonagle. Surrounded by a neighborhood in decline, the school educated many students beset by emotional and social challenges, whose parents did not recall their own public school days with much fondness. Teachers set out to woo families with a parent engagement program.
"We really worked on that, and it became a community," she says. "The very last day all the teachers went out and waved goodbye. It was sad; a very tearful moment."

Superintendent Brady says the key is to engage everybody in the decision process.
"You are talking about parents whose children and their grandparents may have gone to the same school. You can't just take that lightly," he says. "You also need to point out that what you are trying to do is improve student achievement by consolidating resources.
"But people are tied to the bricks and mortar. I've sat through hours and hours of hearings with people talking about how great the school is and the achievement levels are absolutely horrible."
This was not the case at Perry. In 2008, for the first time, it met all twenty-four academic targets set by the No Child Left Behind Act and made adequate yearly progress for the next two years.
"When I first arrived at the school, it was more or less a warehouse for bad kids. We were the last stop before the State Training School," Duffy says. "After we all started to work together, we improved test scores. Instead of the turnover, all of the teachers in our school stayed."
Oliver Hazard Perry Middle School was built by the Works Progress Administration in 1929 under a grand design of vaulted ceilings, columns and heavy arched brass and glass doors. Under water's slow assault, the fourth floor ceiling had partially collapsed. The plaster had curdled and the robin's egg blue paint had peeled away in great strips that lay curled in a corner like fallen leaves. Pigeons had established an active colony in what was once a greenhouse. A burst pipe destroyed a bathroom. In the basement cafeteria, leaks tracing a rusty pattern above and below, the terracotta tiles had ruptured, furrowing the floor.
It was just bricks and mortar, but no one wanted to leave.
Ellen Liberman is an award-winning journalist who has reported on politics and government affairs for television, public radio, newspapers and magazines for more than two decades.