Renowned Chef Jody Adams Returned to Brown
Raised in Providence, Brown University alumna Adams is chef/owner of Rialto restaurant in Cambridge, Mass., and co-owner of Trade in Boston.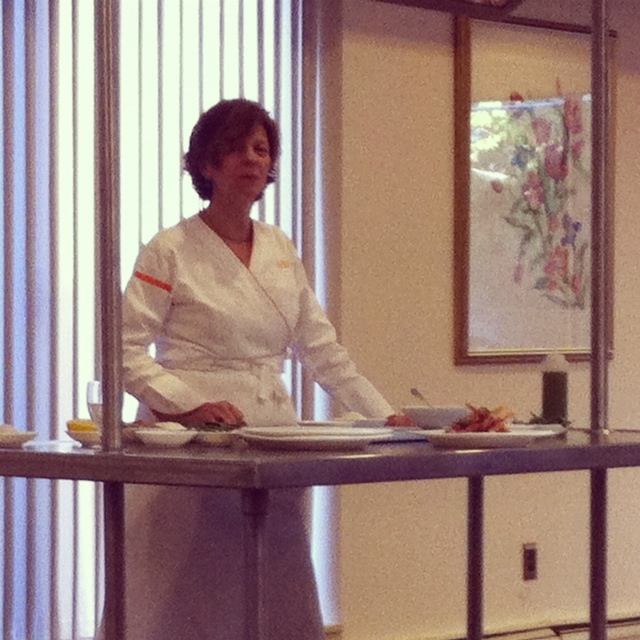 James Beard Award-winning chef Jody Adams gave a cooking demo and Q&A yesterday at the Brown University Faculty Club. Adams was raised in Providence and graduated with a degree in Anthropology from Brown. She is chef/owner for eighteen years at Rialto restaurant in Cambridge, Mass., and co-owner of Trade in Boston, and she also appeared on Bravo's "Top Chef Masters" in 2010.
While growing up in Providence, Adams's father was the librarian at the John Carter Brown Library. Adams and her sisters spent their childhood without television, but cooking was always embraced. "My mother would leave us in the kitchen, close the door, and cross her fingers that when she came back, everything would be in one piece…," Adams says. "But we were left to do whatever we wanted in the kitchen and that was a great experience." Before going to Brown, she spent a summer in Guatemala with her uncle who was a Latin American anthropologist, where she also learned how to make tortillas and refried beans. "And I thought, wow, Latin American anthropology, that sounds good." So that was her major at Brown, and fortunately, she learned that food is anthropology.
After taking on various food-related jobs throughout college, she realized she wanted to cook after graduation. "There are quite a few of us who came to Brown and are professional restaurateurs and chefs in the food business, but when I was at Brown, and I was a post-graduate in 1979, it wasn't at all commonplace for someone to come out of an Ivy League school and become a cook in a restaurant," she says. "But throughout my life, I kept going back to the things that were compelling to me."
When she first started out trying to learn how to cook, restaurant kitchens were dominated by men. "I was twenty-six when I started looking for a job in a restaurant. I was told I was too old, and too female, and I didn't have enough experience." Chefs told her she would disrupt the culture of the kitchen, which was very male. Adams says she was fortunate enough, without any restaurant experience, to get a job at the Bostonian Hotel at Seasons restaurant with Lydia Shire and Gordon Hamersley in 1983. Three years later, she helped open Hamersley's Bistro, and then moved on to Michela's. She opened Rialto in 1994, and in 1997, earned the James Beard Foundation award for the Perrier-Jouet Best Chef Award: Northeast. While Adams focused on her career, her husband writer Ken Rivard was the parent at home for their children. The couple met at Provender Fine Foods in Tiverton. "He read every page in all their books, while I would have just skipped pages," she says. "But I wouldn't have served them Kraft Macaroni and Cheese."
During the presentation, Adams assembled three easy hors d'oeuvres that anyone could make at home, including breadsticks wrapped in Parma prosciutto and Parmigiano reggiano; smoked char stuffed with mascarpone, capers and chives; and blanched asparagus bruschetta with pesto made with nettles, topped with chervil and burrata cheese made in Everett, Massachusetts.
While guests enjoyed her tasty bites, Adams also shared anecdotes from appearing on "Top Chef Masters," including what it was like to cook geoduck (the largest clam in the world) and an old frozen goat leg under pressure. She said contestants would be cooking until midnight most nights, and wouldn't go to bed until two or three in the morning. "That's when they would do those interviews, when we all looked half dead," she says. Then they'd be up by seven the next morning to take on the next challenge. Adams says she enjoyed her time on the show, but hasn't been invited back since. "I think it's because I'm not mean enough," she says.
Rialto is hosting spring cooking classes April 7 (pasta-making) and June 23 (farmers market tour and grilling). There will also be a Puglia Wine Barbecue on July 17 in the Charles Hotel Courtyard, and you can even sign up to go on a culinary bike trip with Adams in Provence, France, from Aug. 25−30. Rialto, One Bennett St., Cambridge, 617-661-5050, rialto-restaurant.com.