Renee Fleming is Back—Streaming
She's featured in a simulcast of opera La Traviata this Sunday in Providence.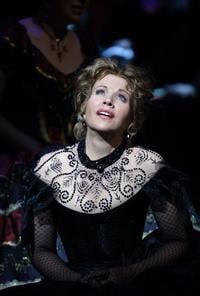 You can catch renowned soprano Renee Fleming in Providence again this weekend.
Fleming, who recently appeared at the Vets Memorial Auditorium, is starring in London's Royal Opera House's version of La Traviata. Cable Car Cinema and Café will stream the performance of Fleming playing doomed courtesan Violetta Valery this Sunday at noon. Tickets are $18 per person.
Curious about other opera offerings in Rhode Island and beyond? Check out University of Rhode Island professor Rosa Pegueros's blog. She's got the latest from local opera screenings to the list of high-definition simulcasts from the Metropolitan Opera for the 2012/2013 season.