Reeducating the Nazis in Rhode Island
Two local writers spill on a top-secret Nazi reeducation program in the 1940s.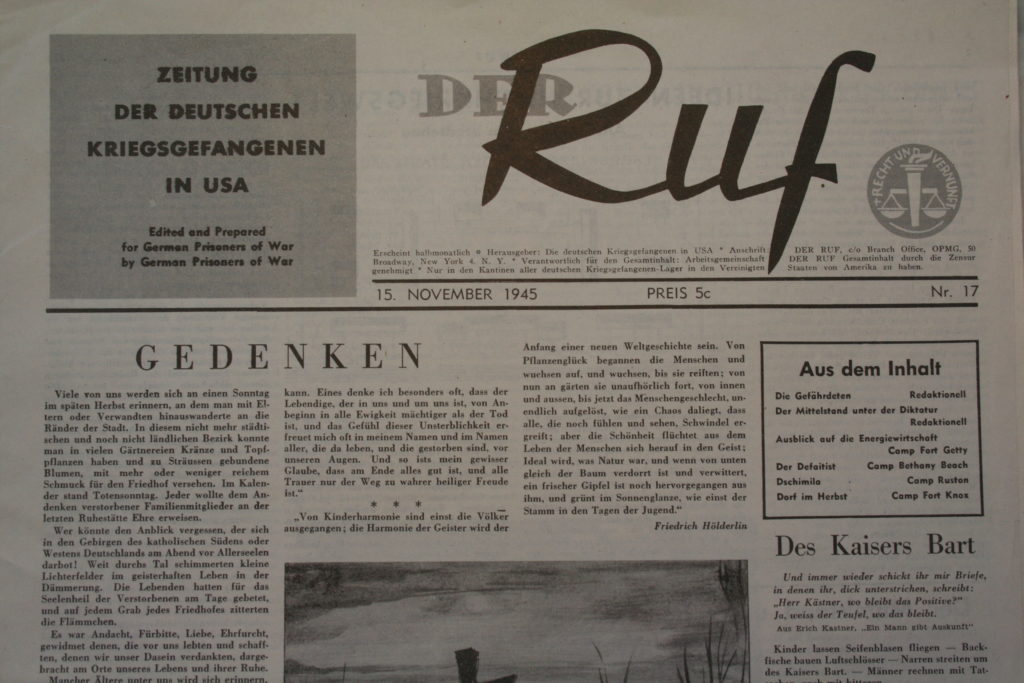 The year was 1945. World War II was winding down, but the Nazis still ruled the prisoner of war camps scattered across the United States, where some 380,000 German captives were kept. A top-secret reeducation mission changed all that — not through water boarding or shock treatments, but through the distribution of a national newspaper, Der Ruf, which was written by German prisoners in Rhode Island.
Christian McBurney and Brian Wallin have written extensively about Rhode Island's German reeducation camps for the Online Review of Rhode Island History, which McBurney publishes. In advance of their September 16 talk at the former Fort Kearney reeducation site — now URI's School of Oceanography — we caught up with the duo to learn more. The interview was edited and condensed for clarity.
How did you learn about this story?
Brian Wallin: I had first gotten wind of it through Walter Schroder, who has written a number of historical books, one of which was Defenses of Narragansett Bay in World War II.
Christian McBurney: It's a wonderful story, one that Americans and Germans both can be proud of. It's a highly unique that Americans would get prisoners of war [POWs] to agree to publish a newspaper to promote democracy among fellow POWs.
Why Rhode Island for the reeducation camp?
CM: I think they wanted to be in New England to be close to printing sites in New York City, and near universities where college professors could assist them. In those days, they wouldn't send a digital message to an offsite printing press; they had to do offset printing, which they did in New York City. And Fort Kearney was not being used at the time.
Were specific German prisoners of war (POW) chosen for reeducation?
CM: There was a very strict vetting process. The prisoners who were sent there were all anti-Nazi and typically were writers, poets and artists — some of whom had spent time in concentration camps in Germany. They all had been forced to join the German army and were usually glad to surrender to allied forces. And they definitely enjoyed their time at Fort Kearney. They worked hard, but they also did writing, poetry, painting, talked deep into the night. I came across one document that talks about some of the activities they engaged in, including swimming in the ice cold bay in the winter.
The original Polar Bear plungers.
CM: Exactly, there was a club. They were allowed to drink beer, probably after the war ended. They definitely had a better time than POWs in other camps, and they were also performing a very important service.
Were their other reeducation camps in the United States?
BW: The first one was in upstate New York. It didn't go over well because these specifically chosen anti-Nazi POWs were treated like any POW. So the head of the program said, we have to find somewhere else. Right in front of them was Fort Kearney. In the waning days of World War II, they set up the reeducation camp. It had its first graduating class of sixty men who were trained in this reeducation class around April 1945. Then, the army set up camp at Fort Getty in Jamestown to do civilian-type reeducation, plus a smaller program at Fort Wetherill in Jamestown; the idea was to train police officers. They were able to train 1100 people by the time the end of 1945 came along. The last class was in early 1946.
What did the locals think?
BW: They knew it was a POW camp, but they didn't know what they were doing there. What was going on was highly, highly secret. It wasn't until September of 1945 that this whole story came out in the public press around the country. It was secret for a reason: Did the fact that we were sitting these German POWs down and telling them in detail about democracy and exposing them to American literature and motion pictures, did that constitute brainwashing?
Did anyone try to escape?
BW: There's only one record of an escape and that was at Fort Getty. A young fellow took up with a young woman, I think she worked at the camp, and they fell in love. They got as far as a hotel in New York City. They just wanted to go and live the American dream together.
Was the reeducation mission successful?
CM: The publication of the newspaper was successful; it was very popular among POWs…. For the first time, POWs were getting honest reporting of the war with no propaganda and they began to envision a new Germany based on democracy and respect for individual rights.
BW: In the long run, you can see where Germany is today. It's a bedrock of democracy. And Fort Kearney — it now represents one of the top oceanographic schools in the country. The only things that remain [from the reeducation camp] are a few concrete installations of gun mounds. People go there today and they have no idea. But the view that the prisoners at Fort Kearney had seventy years ago is the same one people see today. That's about all that's left.
To learn more about the reeducation camps at Fort Kearney, Fort Wetherill and Fort Getty, attend McBurney and Wallin's presentation, featuring rare photos and POW drawings, at URI's School of Oceanography on September 16 at 4:30 p.m. Light refreshments will be served. The talk is free, but reserve your seat by calling 401-874-6800 or emailing rhodeislandseagrant@gmail.com.