Red Fin Crudo and Kitchen
Local ingredients plus friendly service equal a spicy debut for this Downcity tapas bar.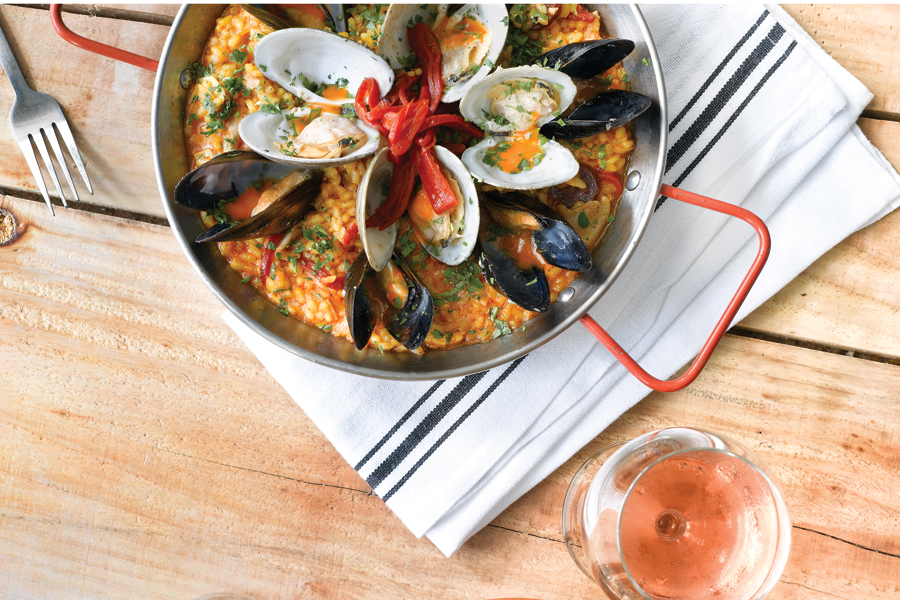 71 Washington St., Providence, 454-1335, redfincrudo.com.
Open Tues.–Sat. for dinner, Thurs.–Sat. for lunch, Sun. for brunch. Reservations accepted. Wheelchair accessible. Street parking.
Cuisine A New Englander walking the Camino.
Capacity Seventy with additional outdoor seating.
Vibe Industrial cottage.
Prices Appetizers $9–$32 (for a four-year-old Iberico ham); entrees $9–$26; dessert $7–$10.
Karen's picks Tapas, octopus, roasted carrots, duck confit mofongo, house-made pasta.
Key
Fair
Good
Very Good
Excellent
Half-star
Red Fin Crudo has what every successful restaurant wants: an identity that's fully realized. Even better, the industrialized hipster image isn't an affect; it's deeply imbued. Servers are outfitted with dreads, gauges, ink and the occasional libertarian beard. They speak about the "awesome skateboard ride" they grabbed before work and recommend drinks like they've studied the discipline hard.
Picadillo empanadas with grass-fed beef and roasted garlic aioli.
There's a sweet, almost bucolic kindness at the heart of Red Fin but, like the food, everything is wrapped in rebellion. The slightly gritty persona is part of owner and chef Julio Lazzarini's plan. Even in its infancy, the menu has evolved at warp speed — though perhaps not fast enough for Lazzarini who says the food "began as pop, though now we're at rock. We're eventually heading toward heavy metal." He knows his trajectory. The doors opened with easy options, familiar dishes touched by Latin influence. But, as the weeks pass, food has steadily taken on the intensity of its surroundings, tied together by the smokiness of Spanish cuisine and the audacity of the ambitious.
Lazzarini, often in his heavy black glasses and Atari T-shirt, is in control of the dime-sized kitchen but he's already a delegator, waiting for the staff to take the helm of what he's deemed his first Rhode Island restaurant. The amalgam of flavors that emerge is focused but spirited: hand-rolled pasta with roasted garlic and jalapeños ($21), fried Brussels sprouts with Valdeon cheese and sherry glaze ($13), empanadas that hit every corner of the mouth from savory (meat) to sweet (raisins) to salty (olives). Yes, it's edgy but it's also rooted in the unexpected geniality that comes from co-owner (and wife), Jennifer Behm-Lazzarini.
Duck confit mofongo with mushrooms and plantain dumplings.
A chef herself, Behm-Lazzarini has the primary role in the front of the house and she bears responsibility for both the space's assertiveness as well as its softer side. Industrial ductwork is matched by a mechanical aesthetic; gears, screws and metal dominate the walls of the dining room. But they're tempered by an American graciousness that's evident in the Mason jars that hold iced tea as well as the way Behm-Lazzarini works the room. She laughs often and loudly, which is more a philosophy than a sound given the way it spreads to Red Fin's audience. Tables of fedora-wearing Navy men on a weekend's leave ring with uproarious stories, older folks drink their way through bottles of Cabernet, and the staff chats eagerly with a five-year-old guest who's brought her stuffed elephant to dinner. "These are the forks from our wedding," says Behm-Lazzarini in a whisper, slipping the utensil into the child's hand. "We use them only for very special occasions, like a visit from you."
One can hardly claim that personality will guarantee the success of a culinary venture. But food is an extension of the chef and this operation is infused with a homegrown exuberance. Both owners walk the floor to assess the mood, extolling the virtues of their new home (Tiverton), their young daughter (Izabella), the local purveyors (Pat's Pastured) and, naturally, food. "My family is Dutch Amish," offers Behm-Lazzarini, "and my mother has told Julio that he can't come to Thanksgiving unless he's bringing the octopus." Not such a radical statement once you've tried the octopus ($15), a dish that's cooked for nearly two days, rendering the tentacles so soft that you'd swear they were braised sausage. Paired with smoked paprika, roasted potatoes and chorizo, it's a signature plate: filled with Spanish influence but wholly its own and full of soul.
Much of the kitchen's work straddles the line between earthy and refined, the former anchored by various forms of smoked or cured pork and the latter showcasing seafood and vegetables. The prized Iberico ham accents molten croquettes ($11), churrasco steak in black bean sauce features pork belly ($23) and Southern-style greens are braised with serrano. Herein lies the restaurant's default flavor palate: slightly spicy, thoroughly robust and clamoring for a red wine. Even duck confit is stripped of some of its French attitude when served mofongo-style over mashed plantain dumplings and sprinkled with crisped fried parsley ($17). Lazzarini is clearly a product of his homeland (Puerto Rico) and travels and, subsequently, his cooking resists homogeneity in favor of a hybrid approach. Nevertheless, Red Fin is capable of delicacy. Tuna is served ceviche-style with tangerine juice and chili peppers ($9.50) or, occasionally, just barely seared in a salad of Fuji apple, radish and fig jam. There are plenty of raw bar options — oysters are paired particularly well with blood orange mignonette — but the kitchen saves a special affection for vegetables.
Owners Julio Lazzarini and Jenny Behm-Lazzarini. The ceviche of the day.
Long after a series of meals, the roasted carrots ($9) remain a requisite side dish. Deeply cooked, they pay homage to nothing more than themselves and the soil they grew in: ample wedges rest in a smoked carrot puree that's drizzled in a tangy chimichurri made from their own greens. Simple, yes, but with a profundity that hails farming as the world's most noble occupation.
It's all — sentimentality and bravado alike — held together by a culinary fellowship, a shared approach to eating in which everyone is quick to celebrate together. True, some (misguided) diners might not be drawn to a plate of heavily stewed octopus but Red Fin is as much a mom and pop shop as it is an adventure. The Lazzarinis take a parental approach to everyone involved, whether it's in recommendations or in gentle staff guidance once an overly seasoned dish makes its way back to the kitchen. In the end, diners, who inevitably morph into eager young kids by meals' end, are rewarded: lemon cake, chocolate crema catalana (which resembles creme brulee but eats like chocolate pudding) or a variety of gelatos have been known to mark the finish line. They're often straightforward but occasionally rally, like a creme fraiche version that's impressively nuanced in flavor and amusingly coated in Pop Rocks. Like everything at Red Fin, the image embraces flamboyance but what's underneath is invariably worthy of genuine praise.