House Lust: A Refurbished Recreation Hall in Oakland Village
This stunning labor of love, fourteen years in the making, is on the market in Burrillville.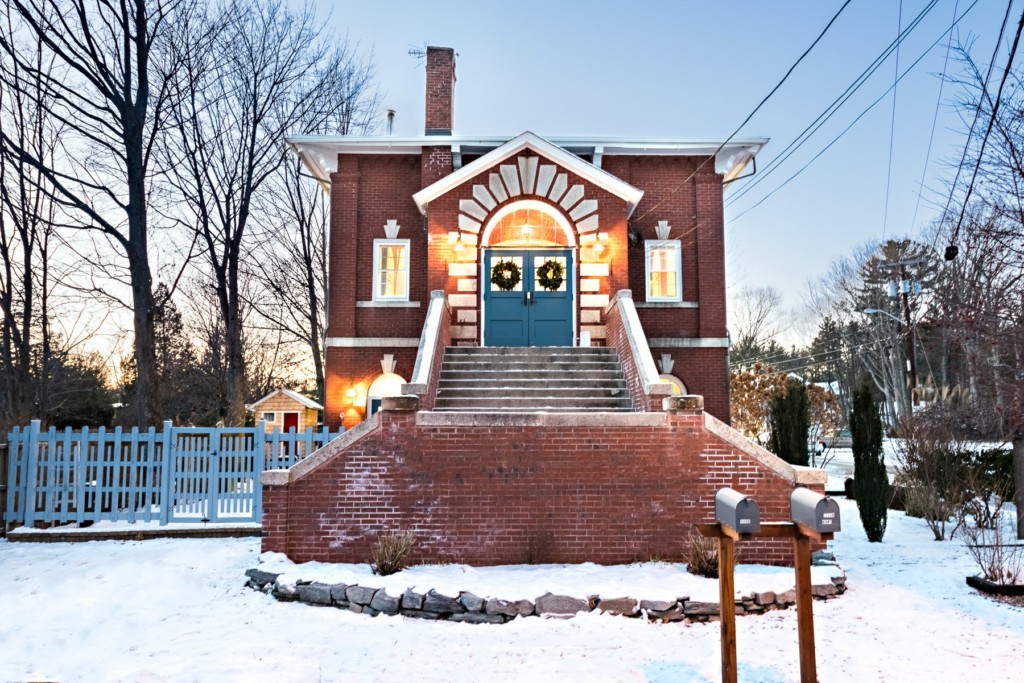 Former Oakland Recreation Hall: How do I love thee? Let me count the ways:
1. You've got a great history.
This new-to-market property, built in 1898 in Burrillville's Oakland village, was once the Oakland Recreation Hall. According to a story in the 1903 edition of the American Textile Reporter, the property was a place where textile workers from the Oakland Worsted Co. could gather for pool games and meetings; it even hosted a barber shop. The rec hall was built by new ownership in an effort to improve welfare conditions for employees and their families. In its heyday, the Oakland Worsted Co. owned twenty-five tenement houses in the village, where rents ran from $1.15 per week to $2.50 per week. Nearly 200 "hands" were employed there, and the village population hovered around 500. (The whole American Textile Reporter story is worth a read, here.)
2. You're authentic.
Exposed beams, rich red brick walls, massive windows and honey-colored hardwoods: This place hits all the trend notes of 2018, but with real authenticity.
3. You were designed with love.
According to listing agent Ben Scungio, the owners — both artists who work in wood and metal — spent fourteen years turning the property into an incredible home. Fine details, like built-in bookshelves and nooks, abound.
4. You're an income generator.
In addition to the sunny main quarters — two bedrooms and two bathrooms — the property boasts a ground-level studio and a ground-level apartment.
5. You have a bubbler in your entryway.
It's a detail any true Rhode Islander — or history buff — would appreciate.
Check it out:
For more information on Oakland village property, located at 1298 Victory Highway in Burrillville, contact Ben Scungio of Mott and Chace Sotheby's International Realty at 401-371-9044. Click here for the full listing and a fun virtual tour, where you can explore every cranny.
RELATED ARTICLES
Will 2018 Mark Another Strong Year in RI Real Estate?
Five Cabins on the Market in RI
Jay Leno vs. Alexis DeJoria: Who Bought the Best Newport Mansion in 2017?