Real Simple
Two nature lovers create a sanctuary in Little Compton.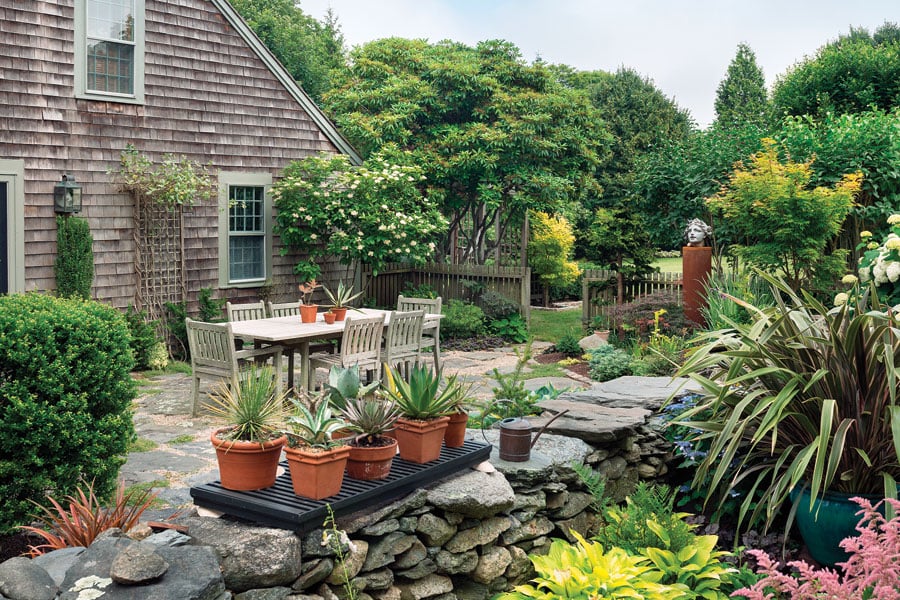 It must have been fate. Pining for a bucolic address, the couple happened to recall a long ago trip they'd taken with friends. Forgotten images of stone walls and quiet pastures resurfaced and before they knew it, they were the proud owners of an 1810 house, one of the area's oldest homes, in one of the most scenic spots imaginable. Wild turkeys meander the fields and red-tailed hawks circle high above the trees. Everything is bathed in that famous golden light, too, the one Little Compton is noted for. It's the same kind of light Miss Annie Dyer must have witnessed when she occupied the farm.
In her heyday, from about 1930 to 1950, Miss Dyer, driving a spiffy Model T, delivered eggs to her neighbors. It's a tale the new owners relish. The coop where her flock of Rhode Island Reds once made themselves cozy is now their immaculate nature studio (above, left). Baskets of antlers, slews of bird nests and glass jars filled with seedpods are carefully arranged for optimum viewing. "The studio is dedicated to my own fascination with biodiversity…" says the husband. "You can have a hundred robin nests, but you'll never have two exactly alike. Take one object and repeat it and you see the distinctions." Labeling themselves amateur naturalists, the couple stuff their pockets on walks. Their ability to find beauty in ordinary things carries over to all aspects of their life. It's more than obvious to visitors; here nothing is superfluous and everything is special.
The painting above the fireplace is by artist Marty Keating. The antique figure guarding the dining room (above) belonged to a New York hatter.
Having previously renovated nine homes of different vintages, the challenges of construction were well familiar. "We think of ourselves as stewards," says the wife. "We adopt old houses." Fortunately, though, this one had undergone a number of improvements with the former tenants. After installing a new roof and furnace, our owners were free to concentrate on cosmetic repairs: fresh paint (Benjamin Moore historic colors) throughout and new kitchen counters crafted from antique Fall River beams.
Their sophisticated decor includes only what is deemed necessary and what gives pleasure like shelves laden with books and works by local artists. A cache of white enamelware fills a shelf in the mudroom (above, lower right), while an ever-growing collection of English ironstone soup tureens (all from about 1840 to 1890) claims the dining room. And why tureens? "Because they're utilitarian and artistic," says the husband. "They serve a central purpose but each is different."
It's hardly surprising to find the couple also unleash their talents outdoors. Ever mindful of the farm's character, they've introduced new stone walls to mimic old ones, patios to extend living space and countless plantings — most recently a line of handsome hornbeams along the drive. Today everywhere you look, unlike the old days when the grounds were practically barren, something is growing but not always in the usual manner. Take the stand of perfumed lilacs beyond the arbor (above, right). For years, the husband has deftly cut back the stems, transforming the routinely straggly shrubs into sculptural elements of year-round interest and freeing up a view of the stone wall behind.
Not content with the usual pretty roster of New England plants, the owners take advantage of Little Compton's proximity to the Gulf Stream and experiment. Along with the classic evergreens and requisite perennials, for example, there are also carnivorous plants (above, right). Set in pots of boggy soil, which get nestled in the garden, the fascinating plants thrive all summer, retreat in winter and reemerge come spring. Eye-catching wooden boxes filled with succulents follow suit. In fair weather months, the square boxes are mounted on the sheds. When fall arrives, down they come to rest till next year, no replanting necessary. The husband's collection of agaves is another stunning seasonal show-off. When temperatures begin to drop, the tropical plants are packed up and transported to nearby Peckham's Greenhouse for protection.
Of course, amid all their carefully orchestrated plantings, a glamorous pool would have been dead wrong. Instead, the owners created a charming pond-like swimming hole, swapping out the existing pool's homely chain link fence for pickets and installing a granite surround. Even the new pool house falls into step with a cupola and a rose-clad trellis. The boxwood hedge surrounding the building is, as all the others on the property, a tidy ribbon of green. But then you'd be hard put to find anything amiss on this amazing country spread. The owners take every detail of the singular world they've devised to heart.
For help with the grounds, the couple enlisted local sources: landscape architect Christopher Faria of Fieldstone Gardens, horticulturist Ed Bowen of Opus Nursery and Jason Brow of Sakonnet Lawn Care. The nature studio is a place of wonder for family and friends.
Bordered with hostas and ornamental grasses, Annie Dyer's ancient chicken coop has proved to be the ideal location for the nature studio. Light-filled and roomy, the refurbished building houses hundreds of carefully curated treasures. Among them myriad grasses, hung in tiny bunches against the pale wall to highlight their individuality, pinecones and animal skulls grown pearly with time. Most were gathered by the owners, although over the years, as word got out there was a home for such things, friends and neighbors have made donations. "Dinner guests used to bring a bottle of wine. Now, they might bring a snake skin," jokes the wife.
Clearly, her art background plays a major role in everything the couple undertakes. But she's also quick to credit her husband's creativity and insight. "Design, diversity, biology: He finds it all in every object. We may see things differently but we share the same sensibilities."
Pottery shards, pressed seaweed or butterflies: There's no end to the husband's discoveries. Some make their way inside the home as decorative elements, for instance, a fish vertebrae displayed like a tiny Henry Moore on the living room mantel. On rare occasions an entire collection — say, of elegant beetles — will move in but it's always in the same orderly, museumesque fashion. How, we wanted to know, with so much grand stuff, do they keep it all organized?
"We edit, replacing one object for another," says the wife. "We don't like clutter. It detracts from the overall design of our spaces."
The husband's ability to single out all kinds of rare prizes seems innate. He salvaged that fabulous sculpture of a head now mounted in the garden from what was left of a demolished estate back in his teens. But is there anything we lesser mortals can do to hone our powers of observation?
"Open your minds and really look," he says. Once we focus on what to collect — bird nests or butterflies — with luck and practice, we should be able to spy them more frequently.
Take the time to study distinctions in similar items. Case in point? The couple's stash of cone shells (left) culled from warm waters around the world. Hundreds of them and each with an intricate pigmentation pattern all its own.
Get interested. Read, look and participate. Their area's impressive number of nature and conservation-related organizations is, in great part, why the owners love their home. And they're particularly enthused about events this coming spring. The state's annual BioBlitz (June 12–13; sponsored by the Rhode Island Natural History Survey) will take place in Little Compton. For information: rinhs.org/who-we-are-what-we-do/bioblitz.