Real Estate Q & A
Last year, Nelson Taylor had the highest gross sales among the state's under-forty realtors. But his territory's not East Greenwich or Barrington. Instead, Taylor's wrangling houses on the Hill. Here, he gives us the real estate lowdown.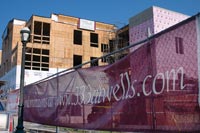 Q: Federal Hill: A buyer's market or a seller's?
A: Definitely a buyer's. The area has a lot of great deals, especially because there have been a number of foreclosures. You can get a multi-family for under $200,000 now. You haven't been able to find that kind of price in a couple of years.
Q: Compared to the rest of the city, what are housing prices like?
A: Softer than the East Side and Elm-hurst, and even the Armory District and Broadway. It's attractive to first-time home buyers, especially because it's a safe neighborhood.
Q: Who's moving there now?
A: A lot of medical residents are moving up there because it's close to the hospitals, and younger-generation Italians who moved out of the neighborhood to go to college or pursue opportunities elsewhere and are now coming back. There's also an urban population that's migrating here from pricier areas, like the East Side.
Q: Will luxury condo developments like the new 333 Atwells be good or bad for the neighborhood?
A: It's a double-edged sword. You always worry about these bigger developments driving up prices and moving out the people who built the neighborhood, but without growth like this, you can't have a sustainable neighborhood.
Q: Will we see more developments like this one?
A: Definitely. There are at least three I know of that are in the works right on and off Atwells.

Q: Will the area become more yuppified as a result?
A: Gentrification is inevitable in a neighborhood that has any sort of character. Federal Hill is a very interesting, pedestrian-friendly neighborhood, and anytime you have something like that it's always going to grow. It's already starting to change. It seems like the number of red sauce pasta restaurants has gone down and the number of high-end fusion restaurants has gone up.

Q: What's the Hill's biggest selling point?
A: Location. It's very unique how there's such a rich local community right next to a bustling downtown. What sets Federal Hill apart from Downcity is that you can walk out your front door and have everything at your fingertips—food, entertainment, little delis, groceries and cafes.