Real Deals
Low prices, cheap mortgages and tempting tax credits — whether you already own a home or you're a first-time buyer, this is a great time to venture back into real estate.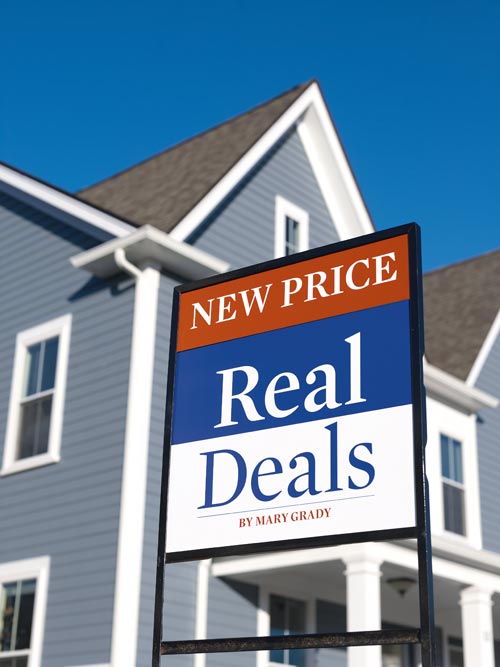 Hannah Vinhateiro, thirty-one years old and just a year out of graduate school, wasn't really thinking about looking to buy real estate, until the $8,000 first-time home buyer's tax credit came along. "It just seemed like an opportunity," she says. Since finishing up at the University of Rhode Island, she'd been working as an auditor for an accounting firm and felt fairly secure in her job. "My rent in Providence was $950 a month. If I could buy a house for not much more, and start building equity, well, why not?" she wondered.
Hannah was one of thousands of Rhode Islanders who followed that line of reasoning last year and returned to the real estate market in droves, inspired not only by the $8,000 federal tax credit but also by a perfect storm in favor of home buyers: low interest rates, low prices and lots of properties to choose from. In November, sales were up more than 60 percent from the year before, as buyers moved to take advantage of the tax credit before it was due to expire at the end of the month.
Meanwhile, prices stayed fairly stable, showing an increase of just 1.2 percent, to a median price of $205,000 for a single-family home. It was the first increase since July 2006. And for buyers, even those higher prices were a hopeful sign, a signal that perhaps the market had hit bottom and they could ride the upside. The number of properties selling under stress in Rhode Island fell by 27 percent in November, compared to the year before. It was the fourth month of falling foreclosure rates nationwide, adding to the optimism that the worst is over.
"Right now, this is a very healthy real estate market," said Karl Martone, president of the Rhode Island Association of Realtors, as the year wound down. "December is supposed to be slow, but it's not this year." The tax credit for first-time buyers (or those who haven't owned a home for at least three years) tempted many to start looking, and now it's been extended through April 30. And another tax credit has been added: up to $6,500 for buyers moving out of a home they've lived in for five consecutive years out of the last eight, whether moving up or downsizing.
The credits can be used for a home worth up to $800,000. Buyers with incomes as high as $145,000 for singles and $245,000 for couples are eligible for at least partial credit. The April 30 deadline for both programs is for signing an agreement; buyers then have until July 1 to close the deal.
"The credits should help to get us through the slowest three months of the year," says Martone. Then even if the incentives are not renewed, he says, the growing momentum should carry the market into the summer months, which traditionally are busy anyway.
Pat Lenihan, the office manager for Coldwell Banker Residential Brokerage in East Greenwich, is equally upbeat. "Since about mid-June, we've had a spectacular amount of activity," she said in mid-December. Lenihan believes home owners are re-adjusting to the realities of what their properties are worth, and pricing them more strategically so they sell faster.
"There are always buyers in the market, but it all depends on price," she says. "Sellers need to take a hard look at how their property is positioned. Things will move if they're priced appropriately." For example, in November 2008 there were twenty new listings in East Greenwich but only three sales, about a seven to one ratio. In the same month in 2009, there were fourteen new listings and fourteen sales. "One to one is an active, dynamic market," she says. "There are some fabulous deals out there."

She cites a property that sold recently in North Kingstown, with four bedrooms, 2,600 square feet, a bath and a half. It would easily have been in the $300s a few years ago, she says. It was listed at $229,900 and sold, after eighty-seven days, at $190,000. "We're basically back to 2002 pricing," she says, though it varies from place to place. "Some neighborhoods have kept their value, but there are still adjustments."
For first-time buyers, the tax credit was a huge incentive.

"It worked beautifully through the summer," she says, and the extension should help maintain the momentum. She's also hopeful that the new tax credit for current owners will encourage those in the state's abundant fifty-five-plus age range, who may be looking to downsize, to put their homes up for sale. "We're anticipating a real surge in activity early in 2010," she says.
Financing is still a challenge though, for those eager to get into the market. "You need to have a deposit, and decent credit, and you've got to have a job," says Martone. "There are no more fictitious mortgages out there." The process takes a little longer, and there is more emphasis on the appraisal, but that's a good thing, he says. "I'm more comfortable with this kind of scenario."
Joseph McCarthy, a sales associate for Coldwell Banker Residential Brokerage in Warwick, adds that while a median price of $205,000 may seem reasonable compared to the inflated prices of just a few years ago, it still may be too high for many first-time buyers. "If you have student loans to pay and a car loan, it can be challenging to qualify for a mortgage at that level," he says. Prices around $160,000 are more realistic for many first-timers, and there are plenty of properties available in that range. Homes priced from about $225,000 to $350,000 are abundant but not moving very fast, though he's hopeful that the new incentive for current owners will help stimulate those sales.

McCarthy says buyers who are ready to make the plunge now can find a lot of value for their dollar. For example, the Elmhurst neighborhood, in the western part of the city around Smith Street and Pleasant Valley Parkway, is worth a look as an alternative to the East Side for those attracted to urban life. "You can find a lot of older Colonial homes, a bigger yard, it's more affordable and it's stable," he says, and still close to the amenities of restaurants, theaters and shopping.
Neighborhoods in Cranston and Warwick, within a fifteen-minute drive of downtown, can be another alternative for affordable urban living. "Eden Park and Garden City, on the outskirts of the city, offer great value, with easy highway 
access," says McCarthy. "Or Governor Francis Farms, with big yards and spacious older homes. Or Warwick's Gaspee neighborhood — it's just an eight-minute drive to Point Street, right up Allens Avenue, and it's close to Pawtuxet Village."
Cities and towns across Rhode Island offer similar options. The best strategy for buyers, McCarthy said, is to find a well-informed local agent to help guide you to the neighborhood that would meet your needs. Besides their familiarity with 
the market, agents can offer information about local schools, crime statistics and more, to help in finding just the right place.
Given the challenges and opportunities that the market offers, it's important for eager first-timers to learn all they can before making the buy. Rhode Island Housing, a nonprofit group, provides education as well as low-cost mortgages. "We always stress — buy smart," says executive director Richard Godfrey. The group offers courses to those hoping to become new owners, and low-cost and zero-down-payment loans for those who qualify, as well as financing to help with repairs. They can also help negotiate modifications for those who are struggling with their current loans.
But the truth is, not everyone is ready to buy, says Godfrey, even though the market right now might seem tempting. Prospective home owners need to take a very hard look at their finances, how secure they feel in their jobs, where their money goes and what they are willing to cut back on — or not. "It's important to examine these things, including your lifestyle," he says. You should be looking to buy a home for the long term. If you're hoping to make a quick profit, or if you don't want to be tied down, it might be best to wait.
On the other hand, if you're an empty-nester looking for a smaller space, what can you get for $200,000 or so? A lot more than you could just a few years ago. Some areas that traditionally offer a lot of value for the dollar — Edgewood, for example, or parts of North Kingstown — have lots of single-family homes now in that price range. Other neighborhoods that are traditionally high, like Little Compton, Jamestown and the East Side, have seen some adjustments but bargains there still are scarce.
You'll find plenty of condos in the $200,000 range, and even lower, but first-time buyers will find financing a condo can be tough, says Lenihan. "There are so many variables, it's not just you." The lender will also examine the condo association, occupancy rates and other factors. "When you're out looking for a condo, you have to be sure that it's financeable," she advises.
What about foreclosures and other distressed properties? There may be some deals out there, but they also present challenges. Current homeowners may find themselves competing with investors, who don't need to go the traditional mortgage route. And if the house needs a lot of work, the price could quickly grow beyond the affordable comfort zone.
How long this perfect storm for buyers will last is anyone's guess, but some national analysts are warning against too much optimism. Stan Humphries, chief economist for the Zillow real estate website, said recently the newly positive trends could change by mid-2010. He expects mortgage rates will begin to rise, putting a damper on sales, while foreclosures will continue, keeping the supply high. "Both these factors will challenge the recent stabilization of home prices," 
he says.
Mark Zandi, chief economist for Moody's economy.com, also is cautious, predicting another year of falling prices for real estate, as high unemployment dampens demand. In its fall forecast, the New England Economic Partnership predicted that median prices for Rhode Island real estate would decline through 2010, dipping as low as $181,600, as joblessness continues to grow.
But for Hannah Vinhateiro, the ups and downs of the real estate market over the next few years are moot. She found the house she wanted, at a price she could afford — $160,000 for an 850-square-foot two-bedroom house on a tiny lot, just outside of Wickford. A home in South County was her first choice, and she's already happily settled into the neighborhood. The house has an upgraded kitchen, a new roof, all fresh paint and a roomy closet. It's big enough for all her stuff, but small enough to be easy to manage. There's no garage and she's not sure where she'll store the lawnmower she'll need for her little patch of lawn come the spring. But it feels like home.
The Skinny on home buyers' Tax Credits
Who's eligible for federal tax credits? Pretty much everyone. The $8,000 tax credit for first-time buyers (or those who haven't owned a home for at least three years) is good through April 30. Current home buyers are eligible for a $6,500 credit if they've lived in their house for five consecutive years out of eight. In both cases, you must close by June 30.
What are the limits? The credits are good for a purchase of up to $800,000. Income eligibility maxes out at $145,000 for singles and $245,000 for couples.
---
The $200,000 question.
According to the Warren Group, a real estate consulting firm, the median home price in Rhode Island hovered at $200,000 at the end of 2009. Whether you're a condo lover, thinking of downsizing or looking for a starter home, there are plenty of great real estate deals out there.
Here's a sampling of what $200K will buy.

CONDO LIFE
40 Web Avenue, Hamilton Harbour, North Kingstown
$189,500
This former mill complex occupies the edge of a quiet saltwater cove off scenic Route 1A just south of Wickford, with easy access for kayaks. Fourteen acres of open space and woods surround the two historic buildings, plus a pool, clubhouse and tennis court. No water views from this unit, in a solid brick building with tall windows, but an open atrium and courtyard bring the light in. A spiral staircase, brick walls and original exposed wooden beams add ambience.
Condo fee: $337 per month
Living space: 1,036 sq. ft.  
Beds/Baths: 2/2
Agent: Wm. Raveis Moore Properties
---
LOFT SPACES
46 Myra Street, Providence
$179,900
Empty nesters seeking an urban lifestyle sans kids might find this customized loft alternative appealing. Sequestered in a West Side neighborhood, the private yard provides a space of your own, with a sweet circular patio and plenty of room for raised flower beds on the 5,250-square-foot lot. Inside, an open design with vaulted wood-paneled ceilings and huge windows in the sloping roof create a sense of space and light. The second-floor bedroom includes a balcony and Jacuzzi.
Living space: 700 sq. ft.
Beds/Baths: 1/1
Agent: Armory Properties
---
VICTORIAN CHARM
10 Carolina Main Street, Richmond
$209,000
If you yearn to get away from it all, the southwest corner of Rhode Island is about as far as you can get. This 1840 Victorian, on a roomy 25,200-square-foot lot, is close to farms, forests, rivers, hiking trails, hunting areas and fishing ponds. For more genteel outdoor sports, plenty of golf courses are nearby too. A potting shed, fish pond, perennial gardens, storage building and two-car garage provide endless opportunities for productive puttering. The interior wallpaper has got to go, but some nice wainscoting and woodwork compensate.
Living space: 1,340 sq. ft.
Beds/Baths: 2/2
Agent: Coldwell Banker Residential Brokerage
---
BAY WATCH
11 Royal Avenue, Warwick
$199,900
Even in this market, saltwater frontage is scarce and still relatively pricey, but Warwick's Conimicut neighborhood has long been one of the more affordable spots on the bay. This Colonial presides over a 6,000-square-foot lot, and is just one up from the shoreline on a dead-end street that runs to the water's edge. "Sit on your front porch and watch the sailboats glide by," the ad copy suggests. Add a cup of coffee or a glass of wine to start or end your day with a saltwater breeze.  
Living space: 1,292 sq. ft.
Beds/Baths: 3/1    
Agent: Storm Realty
---
RUSTIC LIFE
273 Lippit Avenue, Cumberland
$187,900
You either love them or hate them, but there's no question that an A-frame is distinctive. Something about it says it's time to relax. This one comes with more than a third-acre of your very own forest. It sits close to a freshwater pond for fishing and swimming, with plenty more woods and nature trails nearby. Inside are wood-paneled walls and a brick fireplace, and those slanty ceilings to impart the A-frame effect.
Living space: 828 sq. ft.
Beds/Baths: 2/1
Agent: Coldwell Banker Residential Brokerage
---
BAY WATCH
100 Main Street, East Providence
$189,900
The rear deck looks out across a roomy backyard to the serene wooded shore of Bullocks Cove, the East Bay Bike Path runs close by and Providence is an easy commute from here. For the handy bargain hunter, those assets — along with its 9,200-square-foot lot — could outweigh the fact that this Cape needs some updating. The mechanicals are in good condition, according to the listing. And for extra relaxation, it's on a quiet dead-end street.
Living space: 1,230 sq. ft.
Beds/Baths: 3/1
Agent: Century 21 Butterman and Kryston
---
BAY WATCH
118 Randolph Avenue, North Tiverton
$209,000
The East Bay can seem remote, but North Tiverton is a handy location for easy access to Newport or Bristol, and the highways to Providence and Boston are convenient, too. This freshly renovated hillside cottage sits on a 4,356-square-foot lot. It's small and neat, with a full basement and a detached garage to provide plenty of storage space. From the front yard the view expands across the hillside neighborhood to Mount Hope Bay, and the kitchen window view stretches to the water, too.
Living space: 864 sq. ft.
Beds/Baths: 2/1
Agent: Keller Williams Realty of Newport
---
LAKE VIEW
236 Barbers Pond Road, South Kingstown
$199,900
Life doesn't get much simpler than this. Fishing from your own front yard, and no more space than you need for a summer life spent outdoors. The pond is small but motors are restricted to electric ones only, so no noisy jet skis blast your sunset reveries. URI, Wakefield, Newport and the south shore beaches are nearby, and the lot is a manageable 6,098 square feet.
Living space: 684 sq. ft.
Beds/Baths: 1/1
Agent: RE/MAX Flagship
---
CONDO LIFE
Rosedale Landing, 1180 Narragansett Boulevard, Cranston
$199,000

The space may seem small here, but the amenities are many — your own waterfront park, membership to the on-site fitness center, and a convenient location. It's only about ten minutes to downtown Providence, Roger Williams Park, marinas or T.F. Green Airport. The historic building was completely renovated just a few years ago. This one-bedroom unit features a fireplace, hardwoods and granite counters in the kitchen. The distinctive Art Deco facade greets guests arriving by car, and your own pier is available for guests who arrive by boat.
Condo fee: $300 per month
Living space: 793 sq. ft.
Beds/Baths: 1/1
Agent: Residential Properties
---
CONDO LIFE
First Beach Estates, 75 Green End Avenue, Middletown
$194,500
Condo life has its charms — somebody else takes care of the lawn, and it's easy to come and go with no worries about leaving an empty house. This cozy condo features a fireplace, a private brick patio, views of Green End Pond and access to the
association's park-like grounds. It's just a short drive to downtown Newport and ocean beaches. Hardwood floors and low monthly fees add to the appeal.
Condo fee: $82.12 per month
Living space: 1,116 sq. ft.
Beds/Baths: 1/1
Agent: Keller Williams Realty of Newport