Ready, Set, Recycle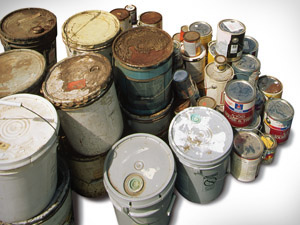 Tell me: Do you feel like a first-rate citizen when you toss six different cans of thick, lumpy house paint into the garbage bin? It's a tough question. On one hand, they're out of your garage forever! But on the other, they'll take up more space in Johnston's mountainous stink pile, and will only add to a tragic, toxic mess that later generations — i.e. your children — will have to clean up.
This Saturday, the Rhode Island Resource Recovery Commission will sponsor a household hazardous waste and e-waste recycling drive at Providence's Department of Public Works. And you'll get something great in return for your efforts to recycle right: one free ticket to Roger Williams Park Zoo per waste-carrying car. The zoo will be decked out that day for Planting for the Planet, an event that focuses on our local tree population and how families can protect it.
Here's what you can bring on Saturday, March 16 from 8 a.m. to 1 p.m. at the Department of Public Works, 700 Allens Ave., Providence:
INDOORS:
Televisions
Computers (including monitors, modems, laptops)
Computer accessories (mouse pointers, keyboards, printers)
Batteries
Light bulbs
Disinfectants
Drain clog dissolvers
Shoe polish
Nail polishes/removers
Rug/upholstery cleaners
Mercury thermostats
Oven cleaner
Flea sprays/collars
OUTDOORS:
Oil-based paints/paint thinners/varnishes
Gasoline
Anti-freeze
Motor oil
Pool/lawn chemicals
Bug spray/insecticides/pest poisons
Windshield wiper fluid
So pack up tacky nail polish, ancient flea collars and that old, dusty Macintosh and earn yourself (or your eco-friendly offspring) a free trip to see the giraffes. Learn more at ecodepotri.org.