Ranch Dressing
Long gone are the days when this house never turned a head. An artful husband and wife team have given the outdated ranch a brand-new perspective: light, space and plenty of twenty-first-century personality.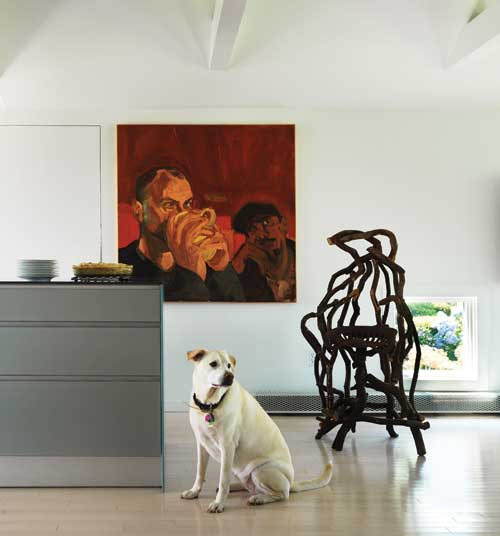 Years ago, an old high buddy enlisted these owners in a summer rental. Taken with South County, the New York couple, children in tow, returned almost every season. Then the eighties rolled around and they craved their own getaway, a low-key place to foster family-time. Eschewing anything too pretentious, they nabbed a humble house — that they fondly labeled "ranch-burger" — with winning Great Salt Pond views.
Endless commutes later and kids grown, Rhode Island remains irresistible. "We stop and take deep breaths when we're here. Life slows and everything is better," the wife says. Still, cramped rooms and a single bath get old, so they recruited a local architect for a long-awaited transformation. When, after weeks of meetings, he failed to grasp their keep-it-simple approach, the owners tackled the design themselves. The result? A comfortable contemporary home with streamlined functions that match its looks.

Upwardly Mobile
Alarmed by the oversized homes sprouting in their vicinity, the owners envisioned an open plan that would adhere to the original footprint. "For years, every time we went out, we'd sketch on our napkins," the wife says with a laugh. In the end, they gutted the one-level structure down to its bones and then put it meticulously back together, with the addition of second-story master quarters. Exterior materials – clapboards painted Sherwin-Williams "Antique Red" juxtaposed with cedar shingles -– ingeniously define the new architecture. Framed with ruddy-hued bayberry, the place fairly glows toward end of day. In the past, to soak up the sunset, the owners planted themselves, wine in hand, on folding chairs in the driveway. Now — cheers! — they make tracks for the front porch or topside deck.
Multiple Choice
Library/entry, living room and kitchen spill seamlessly into one another, belying the Herculean efforts involved in meeting codes. Even green solutions are subtle: pre-finished maple floors to help limit fumes, argon-filled Andersen windows and a Rais & Wittus wood stove to augment cool industrial-style radiators. The wife, who functioned as general manager, made weekly trips to oversee construction. When all was done, the interior was far too pure to clutter. One grand Tacchini sofa is a surprising and practical statement. Eye-popping offerings by local artists keep the energy level high.
Lean Cuisine
The couple's fine-tuned aesthetic wouldn't have allowed for a run-of-the-mill kitchen. Instead, Valcucine cabinetry and Cristalite countertops are as modern and clean-lined as they come. A straightforward exhaust fan by Cappa Logica hovers above the cooktop at just the right height so as not to block outdoor views for people lounging on the nearby sofa. For fun, the sink wall is painted Sherwin-Williams "Invigorate." The exuberant orange hue warms the space and complements the art. Of course, Rhode Island artists have staked a claim here too; the Del's and pearare by Shawn Kenney, and the rooster wall sculptures by John Kotula. For intimate meals, a demure table and classic Eames chairs (from Design Within Reach) are fittingly spare and comfy — the latter a must for busy people who want to take their sweet time when schedules allow.
Aerie Pursuits
The recent makeover yielded two compact guestrooms. But the freshly hatched master suite is the real joy. A staircase cleverly rising from the site of an old closet leads the way to an oasis where good design trumps decoration. A painting by Jonathan Milliron looks down on an understated bed (from the Leggero Collection, Design Within Reach). Lean reading lights (by Tolomeo from Artemide) are low-profile comforts for avid readers.
The marble-tiled bath (there's a similar one downstairs) is lush by anybody's standards. The see-through shower, wall-mounted fixtures and Decolav sinks, on steel counters designed by the husband and fabricated by Champlin Welding in Narragansett, are further examples — as if anybody needed them — of how adept these owners are at melding the perfect elements. "When our anniversary rolls around we always go out to dinner," says the wife. "This year, with the house all done, we were content to just stay home."