Rainbows and Rock and Roll with Public Alley
The WBRU Rock Hunt winners spill on their new-found success.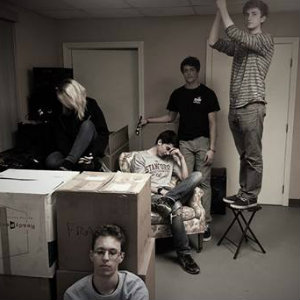 A double rainbow draped across the skyline over thousands of audience members and a fan who proposed to his soul mate on stage. Sounds as though something so picture-perfect could only be falsified on the big screen, right? Not for the East Greenwich-bred indie rock band, Public Alley. This was a reality that shaped one of the greatest nights of their lives: headlining the WBRU Dunkin' Donuts Summer Concert Series at Waterplace Park in Providence.
Most members of Public Alley just graduated from East Greenwich High School, but they're far beyond their musical years. They've been creating music together for about three years. The combination of Noah Barreto's folk-style singing and guitar skills, Zoe Hinman's indie vocals, Cameron Cianciolo's deftness on the bass, Max Fertik's punky drumming and Szabi Kiss's bluesy piano flair helped them claim the title of the 2015 WBRU Rock Hunt Champions.
"It was very turbulent — that's the first word that comes to mind," says Barreto. "We had known about the Rock Hunt for a while and it was something we looked into. It's a pretty well-known talent search."
Public Alley found itself among seventeen other bands in the WBRU Wildcard Round, a challenge that tests which group can rally enough votes online. The artists spiraled from winning the Wildcard Round into winning the Rock Hunt, essentially a battle of the bands where the victors would headline the Summer Concert Series.
"It was just practice, practice, practice. We practiced in the [East Greenwich High School] band room every night," Barreto says.
"We had to pay off the janitor a little bit," jokes Fertik.
The determination of the musicians paid off: They rocked out as headliners for the July 24 concert, placing themselves among a high-status group of WBRU Summer Concert Series bands including Joywave, In the Valley Below and Andrew McMahon in the Wilderness.
"It was the most legit thing," says Cianciolo. "Until then it had been small stuff, and this was huge, so much room for people to come out, and we watched tons of people start rolling in."
Then, the rain came down. "When it started to rain, we got nervous if people were going to show up," says Fertik.
A storybook windup ensued.
"We looked outside to see the turnout and it was completely clear with a double rainbow in the background," says Barreto. "What could get much better than that?"
The magic continued when a fan of Public Alley proposed to his girlfriend during the performance of hit song, "Loretta."
"That was the biggest compliment ever. It was something you'd never expect," says Barreto.
From basements to big stages, Public Alley saw their WBRU performance as a call to action.
"A year before, that was us in the crowd being one of the many teens going crazy," says Fertik. "It was just so surreal to look up and see these nutty teenagers going crazy for us."
"It was our dream, or one of our dreams for sure," says Barreto.
Catch Public Alley's upcoming performances on Aug. 15 at Fort Adams State Park, Aug. 22 at the Met and Oct. 22 at Lupo's Heartbreak Hotel. Visit facebook.com/publicalley for more information.