Ragged Island Brewing Company Opens in Portsmouth
The state's latest brewery set up shop on Aquidneck Island.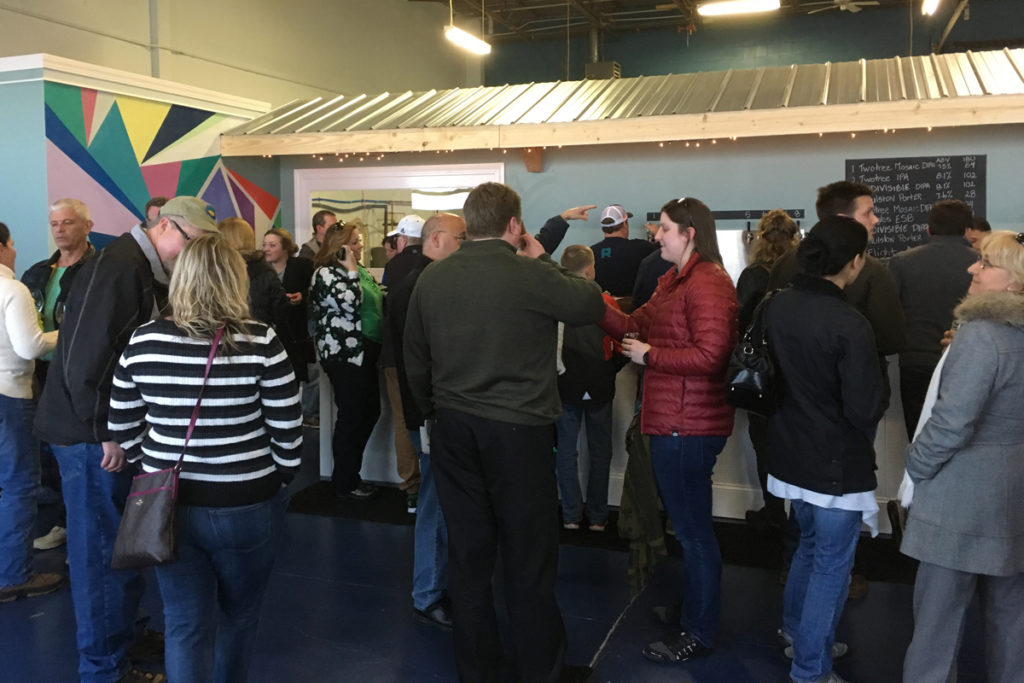 In the state's booming craft beer scene, how is a brewery supposed to set itself apart from the competition? Ragged Island Brewing Company found a literal solution. They headed to Portsmouth, land of prep school and polo, far from the bevy of breweries found in Pawtucket and South County.
As a born and bred Rhode Islander, I was initially incredulous at the thought of driving forty minutes to sample some beer. Worse still, my GPS routed me through Massachusetts: That's right, I actually had to leave the state (the panic attack eventually passed). But the epic journey is well worth it — they've got some delicious beers.
And for Matt Gray, one of the brewery's founders, it was a natural choice. "We're all Aquidneck Island residents, and we wanted to bring our beer to the local community. We searched the island for the best location, and Portsmouth fit our requirements. Plus, residents of Tiverton, Fall River and other nearby towns will be able to head to a brewery that's right in their neighborhood."
It's opening night when we pull up to the unremarkable beige building that Ragged Island calls home. We push through the tinted glass doors, and head to the bartop to start sampling. Gray is bustling about, filling glasses, explaining the beers and dealing with the ever growing line of thirsty customers.
The evening starts out strong with a sample of the TwoTree Double IPA, a hearty, hoppy beer with plenty of tang. My friend, who is completely new to craft beer, provides his evaluation.
"Tastes like beer," he expounds after his first taste. After a few more sips, he adds, "Tastes like good beer."
It's a glowing review of the beer that Gray says started it all. "We were sitting around drinking John Almeida's homebrewed TwoTree, and we thought, 'This is as good as anything you'd buy in store.' So we convinced John to be our brewmaster," says Gray. "It's really the reason why we decided to start Ragged Island."
Our next sample is TwoTree's twin brother, TwoTree Mosaic, and it's my favorite of the night. Heavily laced with Mosaic and Citra hops, it has a citrusy, grapefruity zest to it that brings to mind sandy beaches and sunny days, a pleasant dream that's worlds away from the chilly, blustery reality outside.
We wait in line for our next sample, surrounded by throngs of people. The opening has attracted all varieties of beer lovers, from connoisseurs to neophytes. Two distinguished looking gentlemen in front of me discuss the moral implications of over-hopping an IPA, while a green-clad lady behind them in line recommends the Baulston Porter to her friends. "It's good if you don't like that… you know… beer flavor," she explains.
Baulston, which is our next sample, definitely lacks that bitterness of the rest of their hop-heavy brews. The porter has strong hints of coffee and a touch of chocolate. I'd prefer one of their IPAs as my main course, but I could easily see myself drinking this for dessert.
Our final sample of the night is the Ruggles ESB (extra special bitter), an English-style pale ale. If you aren't a huge fan of more flavorful brews (i.e. hoppy), the Ruggles is the way to go. But for a hop-junkie like me, it lacks the punch of their IPAs.
The Ruggles, which according to Gray is the most popular of the night, is a revival of an old recipe. "It's an older style that's fallen out of vogue," says Gray. "John had been brewing ESBs over the years, so we decided to bring back an old recipe for our launch."
After finishing our sample, we bundle up for the cold and head out into the chilly evening. We drive back through the town's rolling green lawns and protected coves. Craft beer might not be the first thing you imagine when you think of Portsmouth, but these brewers are going to change that.
Visit Ragged Island this Friday from 5-9 p.m. at 200 Highpoint Ave., Portsmouth. Visit raggedislandbrewing.com or their Facebook page for more information.