Racing Sets Sail in Newport Once Again
Sail Newport and other players have made the city a competitive destination.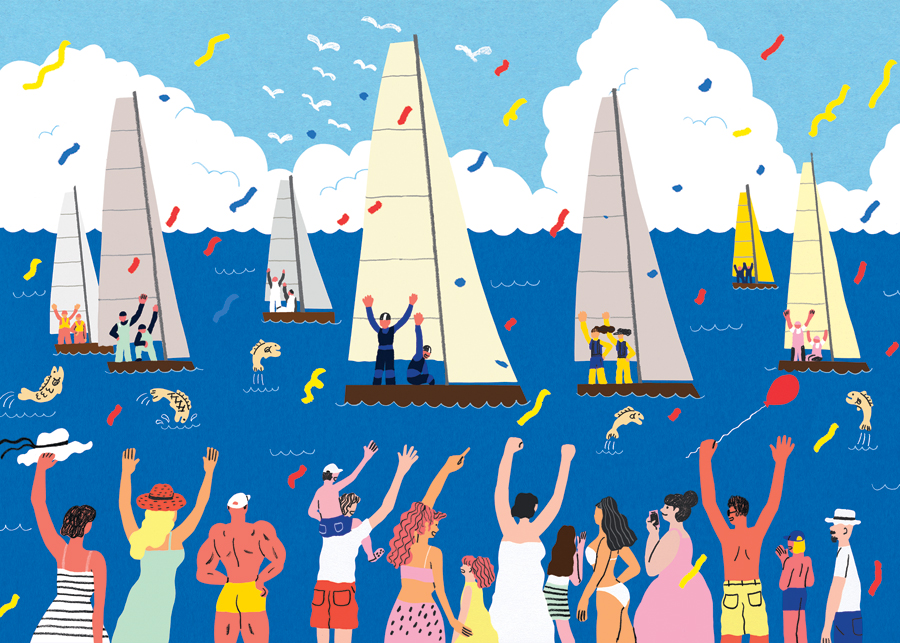 Thirty-one days before the World Match Racing Tour stormed into Newport, the docks on Brenton Cove's westward shore floated serenely in a light wind. Fort Adams was the penultimate stop in the million-dollar sailing contest. In the last weeks before Fort Adams was aswarm with sailors and spectators, Brad Read, Sail Newport's executive director, regarded the 240-foot pier that provided dockage for eight M-32s, the Swedish-built, high-speed catamarans.
"This was not purpose-built," says Read. The pier is also used by fishermen and recreational sailors. Eventually it will provide a berth for the training ship, the Oliver Hazard Perry, a fully rigged vessel built with modern technology that echoes nineteenth-century designs. "The pier is a true public-private partnership — and a positive one. Without the support of two governors and the General Assembly leadership, this wouldn't have happened."
Completed by the state Department of Environmental Management in April 2015, the pier and docks have been played as a trump card in the bidding for high-profile international sailing events. And, increasingly, the City by the Sea is winning those bids. In the last four years, Newport has hosted three from the America's Cup World Series (AWCS) — a series of smaller regattas between America's Cup races, the Volvo Ocean Race in 2015 and the World Match Racing Tour in June. Those events have paid the state handsome dividends.
"From a strictly financial perspective it was definitely a worthwhile endeavor," says Commerce Department spokesman Nicholas Autiello. "Then there are the intangibles — the media coverage generated and the profile of the state raised."
Newport is a sailor's town, as any visitor who has crawled past the harbor along America's Cup Avenue on a sunny July Saturday has plenty of time to learn. Home to yacht clubs, sailing schools, boatyards and marinas, the city also has advantages man cannot manufacture.
"Not a lot of places have good wind in the summer," says Craig Leweck, publisher of the Scuttlebutt Sailing News. "Newport has good summer breezes and that sits well on the calendars of a lot of races. And there's a lot of areas where you can sail an ocean course or sail inside the bay, and that variety is a good test and an advantage."
Newport had grown accustomed to its superiority over the fifty-three years it hosted the prestigious America's Cup. But in 1983, when the Liberty lost to the Australia II in the fifth leg of the race, the ornate silver trophy — the Auld Mug — and the race departed. At the time, local reaction was mixed.
Fort Adams occupies a thick thumb of land curling toward downtown Newport across the cove, and the route to the park threads down narrow city streets and through the adjacent neighborhoods. Some of the city's smart set complained that the traffic was ghastly and the company boisterous. Tourism revenues would do just fine without the every-three-year hullabaloo, the business community maintained.
But Newporters Dr. Robin Wallace, Bart Dunbar and Paul Buttrose immediately founded Sail Newport to bring international sailing events back to the state. Two years later, it merged with the nascent Fort Adams Sailing Association. Today, Sail Newport is New England's largest nonprofit public sailing center, offering lessons, rental boats and storage facilities. Thousands of Rhode Island kids have learned to chart a course and set their sails there.
Over the last thirty years, Sail Newport has been recruiting smaller local, regional, national and international regattas to Fort Adams — with the help of area marinas that would empty their slips to accommodate race teams.
In 2011, the state decided to finance the construction of a pier and docks that would accommodate deeper draft vessels. The two-year project cost $4.6 million, financed with general funds and a small federal grant that paid for a pump-out station, with the intention of making Fort Adams a more attractive venue to large-scale events, says Larry Mouradjian, DEM's associate director for natural resources.
In the United States, competitive sailing is a niche sport, but it can still generate the kind of numbers that excite the hospitality industry. A 2013 study commissioned by the former Rhode Island Economic Development Corporation loosely estimated that the ACWS generated $38.2 million in sales for Rhode Island businesses, and $2.5 million in state tax revenues. According to a study by Sail Newport, the Volvo Ocean Race's economic impact was $47.7 million and generated up to 487 jobs.
"The calendar is more and more full every year, and it's getting more and more competitive," says Chris Museler, a sailing correspondent for the New York Times. "The large-scale sailing events used to seek out a venue and try to sell themselves: What do we have to do to be allowed to hold a regatta? Now it's the other way around — countries and cities bid for it and pay a bunch of money."
The 2015 Volvo Ocean Race is a good example. The bid package was 150 pages long, specifying everything from VIP lodging to docking facilities to helicopters for event filming, says Evan Smith, president of Discover Newport, the region's tourism and marketing bureau. In 2013, six North American ports vied to be a stopover.
"Some destinations do put up money, but Rhode Island and Newport are not in the business of buying events; we're too small to play in that pool," Smith says. "We did this on a shoestring budget because people were passionate about it."
Race officials intended to choose Baltimore, which had hosted the event three times previously. But the weekend coincided with the Preakness and Volvo wanted to be the city's marquee event, recalls Robin Crawford, executive director of corporate affairs for Volvo Group, NA, a Swedish manufacturer of buses, heavy trucks and equipment. They suggested Baltimore reschedule its "horse race"; the city politely declined.
Sail Newport, which lost a bid for the race in 2011, was ecstatic. But race organizers were also nervous: Newport abounds in historic charm, but not hotel rooms. Crawford remembers concluding an hour-long tour of the Marriott, only to find out that the hotel could offer her twelve rooms.
"Twelve? I started to have a panic attack," recalls Crawford. "We had about 750 guests. Where were we going to put all of those people? We had so many logistical challenges."
By all accounts, the state of Rhode Island met all of them and then some. Sail Newport rallied 650 volunteers to manage 147,000 spectators over thirteen days. Hotel rooms were booked from Providence to Newport. Volvo brought in its Prevost brand buses from Massachusetts to transport guests. Some arrived by water taxi. There were clambakes at Blithewold, dinner for 700 at Marble House, a special WaterFire event in Providence, welcome banners and discounts at retail shops. Spectators were as delighted by the state's embrace as the race views from the sloping lawn of Castle Hill Inn, says Laurie Stroll of Newport Hospitality, a destination management company.
Stroll heard from so many happy guests. "We will reap future corporate groups from that experience," she says.
Amy Bellcourt, vice president of communications for SCA, a Swedish hygiene products company that fielded a team and was a Newport stopover sponsor, gushes: "It was one of the best sponsorship relationships we've ever had. Our team brought in 800 people and we got fantastic feedback from our customers. We surveyed our guests at every stopover, and Newport got the highest ratings."
It is unlikely that the America's Cup will return to Newport anytime soon. Neither the budget nor the bay can accommodate $25 million port fees and sixty-foot high-speed catamarans. And in some sense, it matters, says Read.
"Newport made the America's Cup and the America's Cup made Newport. Of course, it would be great to have them back."
On the other hand, the state and Sail Newport are poised to break ground for a new $4 million facility at Fort Adams, with offices and classrooms for Sail Newport and restrooms for park patrons. The event calendar is full, and the Volvo is coming back in 2018.