Race Recap: Wild Colonial's 2014 Grog and Dog Jog
We didn't lose our saugy dogs. I'll call that a win.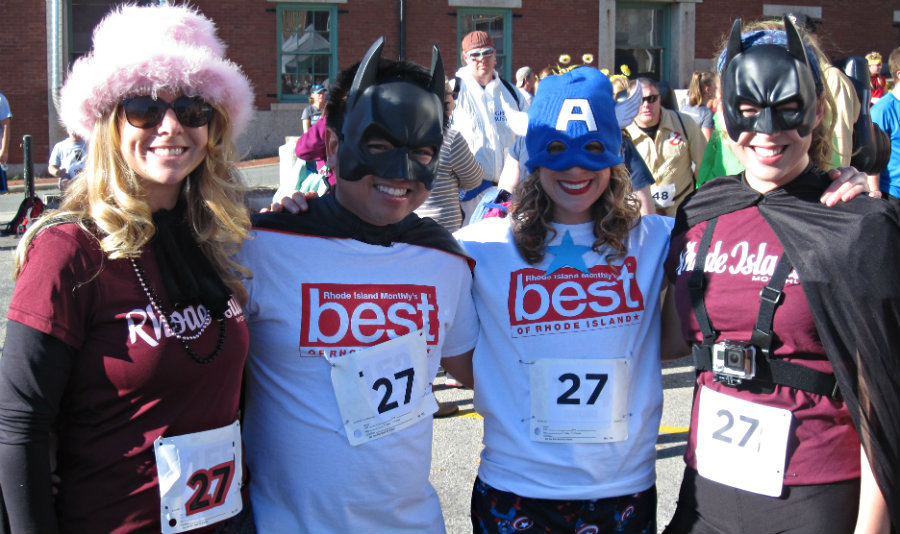 On Sunday afternoon, per the suggestion of our fearless leader and publisher John Palumbo, three colleagues and I plodded our way through the Wild Colonial's annual Grog and Dog Jog, a festive relay race in Providence in which participants run 1.25 miles, scarf a hot dog and drink a Narragansett in quick succession.
The annual race, a benefit for the Rhode Island Community Food Bank that's organized by the Wild Colonial Running Club, isn't all grogs and giggles. It also draws some serious runners, even if their getups — banana costumes; felons "running" for mayor; dudes in slinky velvet dresses; the commendable Ghostbusters team; and us, a ragtag troupe of superheroes — led passersby to believe otherwise.
My RIM teammates, Jamie Coelho (Super Mom), Josh Aromin (Batman) and Audra Lavoie (Captain America), kicked butt in the jogging, eating and chugging portions of the race. I (Cat Woman or Bat Woman, call me what you will) flailed through the running route — it was my first-ever race; great choice for a newbie, don't ya think? — and I committed a few war crimes against the bun of my saugy dog. But the beer drinking part? That I did well. Mom, who came to cheer us on, was very proud.
In the name of serious journalism, I strapped on a GoPro for my leg of the run. Watch below to see why the Grog and Dog Jog, held every Columbus Day weekend, is called "The Bad Idea That Keeps Getting Worse."