Quitting the Day Job
How a Warwick man quit his job and is now making a living doing what he loves.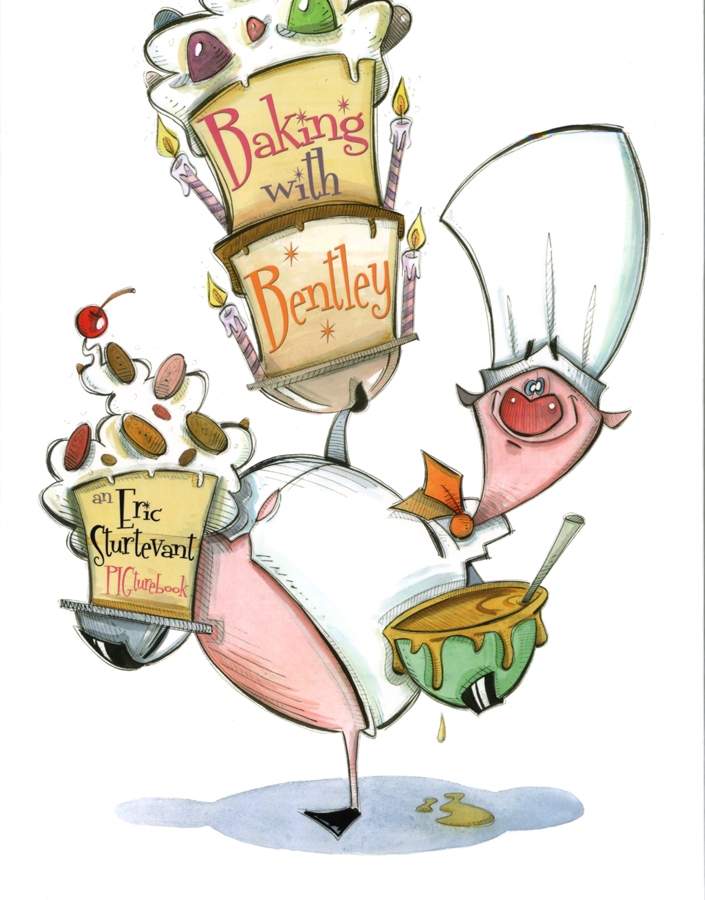 Eric Sturtevant was thirty-two years old, managing a warehouse in Providence, feeling like he'd missed out on his dream.
The Rhode Island College graduate had always loved to draw cartoons, but over the years, he'd gotten away from it. In 2006, he picked up his pencil again. He got a small gallery show in Providence and when he saw people buy some of his work, he started to think that maybe he could make a living as an artist.
"In order for it to work, I felt I had to jump into it full-time," Sturtevant says.
Single at the time, he felt he had nothing to lose. He gave himself a deadline of December 31, left his job and cashed in his 401(K).
"It was a scary day," says Sturtevant, who now lives in Warwick. "I woke up with no job and I wanted to be an artist."
He told the woman he was dating, a public defender in Providence he met at his first gallery show, who eventually became his wife. She had faith in him. He started attending art festivals and noticed a lot of younger people who had a different sensibility and taste than people who might be looking for a watercolor painting to hang in the dining room.
"There were so many people pushing baby strollers, and nothing to fit them," he says: nothing that appealed to adults and kids alike.
He gathered business cards of artists he liked who were successful at the festivals and would cold-call them about what he should spend money on. Greenville artist Greg Stones, who wrote Zombies Hate Stuff, among other local artists, became sounding boards and mentors.
Starting out with sketches, then watercolors and ink, he created a body of work in jungle and barnyard themes, but it wasn't until he got his designs before the public, selling them at shows, that he learned what people wanted—and what they were willing to spend.
"Not only did I want to provide something different, I wanted to provide something affordable," he says.
In 2007, he sold his designs at thirteen different shows, mostly in the Northeast — a mix of failures and successes. His last show that year, before Christmas, he only made $120.
"It was a tough way to end the first year, but I still kept faith in my work," he says. "The way I see it, the more homes I can get it into and the more people I can reach, the longer I can keep doing this."
Getting his work in front of the public eventually resulted in more opportunity. In March 2008, after a show in New Jersey, he got an email from someone who worked at Barnes and Noble who asked if he had licensed before, because the chain was interested in carrying his work.
Sturtevant signed a deal with Barnes and Noble and later developed licensing arrangements with Sam's Club and Books a Million as well. What he hoped would happen eventually became reality: Between selling his work at festivals, freelance work and the licensing deals, he was making a living with his art.
"You're always working," says Sturtevant. "Oh God, you're always working. But that also means opportunities are coming your way, which is great."
About a year and a half ago, Sturtevant began working on his first children's book: Baking With Bentley, about a pig who is a chef. He had it self-published initially, and it has been selling well at shows. He's hoping a publisher will pick it up.
These days, he's looking to spend a little less time on the road at shows. He and his wife welcomed their first child two months ago, and Sturtevant plans to stay home with her as he works.
He doesn't suggest that everyone quit their day job, like he did. He's working harder than he ever has, but he's just fine with that.
"I know it sounds silly, but it really doesn't feel like work," he says.
To see more of his work, go here.