Q&A with the Local Catch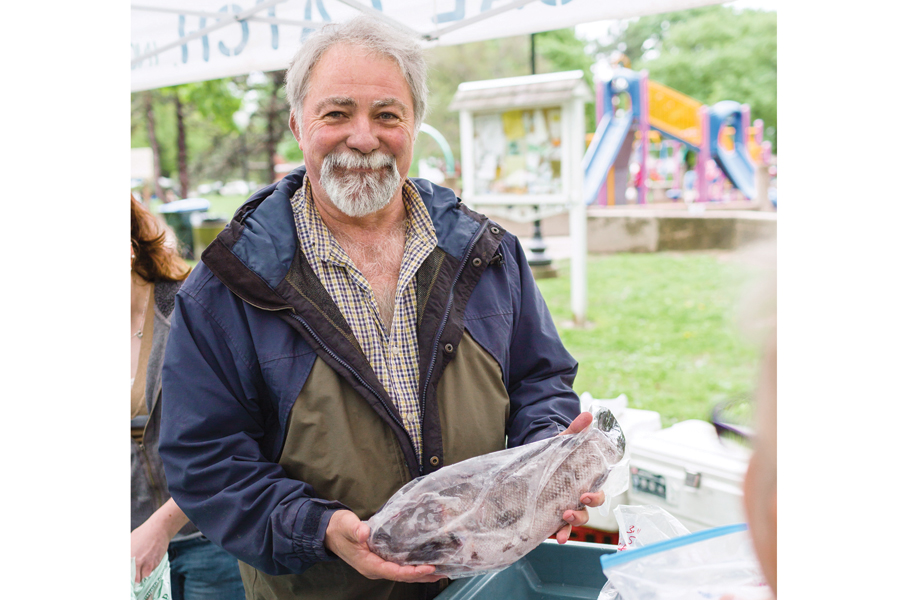 Where does your seafood come from, and what types do you sell?
I fish from April to October in my own boat. We gillnet, fish pot, rod and reel and lobster trap. We carry calamari, scallops, fluke, striped bass when the season's open, yellowtail flounder, littlenecks, clams and Salt Pond Oysters. We go to New Bedford, Stonington and Boston for types of fish that don't often come into Point Judith like codfish, pollock, swordfish and tuna. We don't buy seafood that has landed more than seventy-five miles from Point Judith.
What made you decide to start this business?
I've been fishing off my boat the F/V Sandra Lynn since the mid-'80s. We've always tried to sell directly to restaurants to cut out the middle man. For what I wanted to do, the Rhode Island Health Department required me to have a processing facility. I obtained the licensing, and now I'm a seafood processor and a shellfish shipper.
What did it take to become a seafood processor?
You have to have special ceilings, lights and walls, and stainless steel tables. You have to keep logs and go through HACCP [Hazard Analysis and Critical Control Points] training. It's difficult for a fisherman to sell his fish to restaurants. You can sell whole fish, but once you take a knife and you fillet, there's a whole new set of regulations.
How did farmers market sales come about?
We wanted to sell directly to Rhode Islanders. In order to do that, we came upon the farmers markets. There is actually very little Rhode Island seafood that makes it to some of the big shopping markets. A lot of it is previously frozen and comes from all over the world, because it's easier for them to keep it rather than get it fresh.
How do you keep fish fresh?
We always bury it in ice. You keep fish on ice (even in the refrigerator to make it stay fresh longer), and it'll always be thirty-three degrees.
What other ways can we get our hands on your seafood?
We developed a Community Supported Fishery (CSF) program. It's a straightforward debit system. To encourage you to buy a package deal, we give you a 10 percent spending bonus. If you pay us $144 for a half-share, you get $158 to spend. You give us $288 for a whole share, you get $317. You can go to any market we're in, anytime. We have a list, and if you have a balance, you can take anything you like.
Do you take special orders?
People will call or email us before the market, and say I need a dozen oysters on Saturday. We encourage it. Because then you get what you want, and the customer is happy.
What makes your scallops better?
The ones we sell are dry sea scallops. They are usually relatively pricey, but that's because the quota on scallops has been reduced this year. You're going to see higher scallop prices than you've ever seen. The guys can't catch as much and the demand is still there, so the price is going to go up. If you buy processed sea scallops, they cost less because water-binding chemicals are used to increase the weight, reduce the smell and whiten the scallop. They look great, but you put them in a frying pan and you can't sear them because they contain too much water. It looks like a deal, but they are not a deal.
Why isn't it a good idea to buy seafood off the back of someone's truck?
Seafood can be dangerous if not handled properly, especially shellfish. There are rigorous procedures in place, and especially with seafood, it's important that they're followed. We have logs. The health department comes in here three or four times a year. They check our HACCP plan, they check our thermometers, they check the shellfish log.
What have you done for the local industry?
We've created a business, we've employed people, we're highlighting Rhode Island seafood and we're making 
it more accessible to Rhode Island residents. When you get seafood from us, I can show you a picture, I have a boat, I filleted it and I can assure you where it came from. thelocalcatch.com