Q&A with actor Richard Jenkins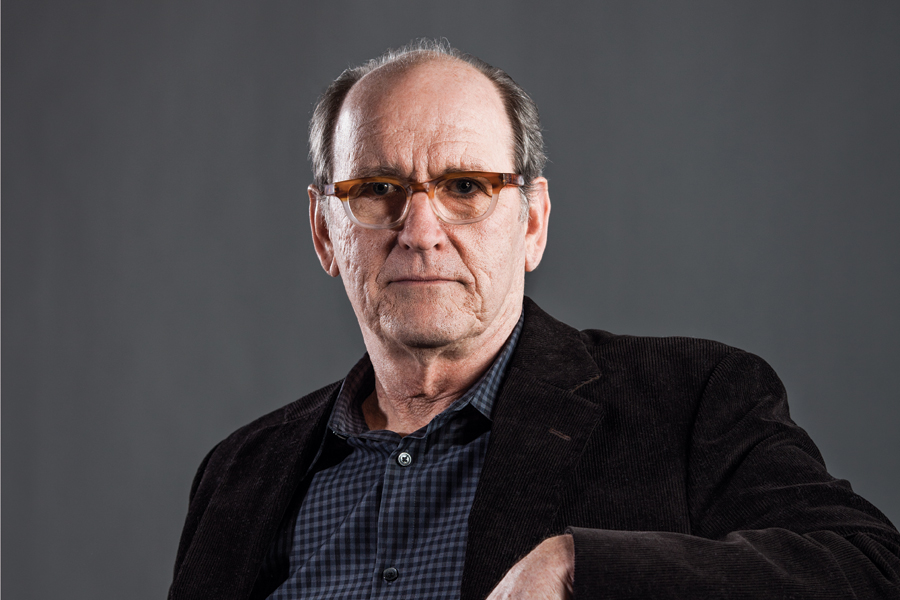 How did you end up in Rhode Island?
I grew up in DeKalb, Illinois. It's a farming community about sixty miles west of Chicago. We used to go to the movies every Friday and Saturday night. It didn't matter what was playing. The curtain would open — it was an event to go to the movies back then — and I'd watch the actors and think, "That's what I want to do." That was how I first saw the world, through the movies.
Then I went to college at Illinois Wesleyan, and I met Sharon (Friedrick, Jenkins's longtime wife). She was a dancer. We got together when we did summer stock together — the Adam and Eve ballet. I played the snake and she played Eve.
Seriously?
Yes. That was how it started.
We came here right after college because I got a one-year gig at Trinity Rep. "There's enough gunpowder down there to blow up the whole night." That was my first line, in You Can't Take It With You. But most of the time I was moving scenery.
Tim Crowe and his wife, Mina, and Sharon and I, all became close that first year, and we still are. We all went out every night to a place that's gone now, called the East Side Diner, to have pie and coffee. We worked late and we'd be really hungry. We didn't go to the bars. Providence was a really depressing town in the '70s.
So why did you stay? And why, ahem, Cumberland?
We figured we'd be in Rhode Island a year. And then Trinity offered me a job as a company fellow. So we stayed, loved the company, loved working here, loved the people. I was with them for fourteen years. And by then we had kids here, and Sharon was teaching at an arts magnet school. So we've stayed.
I did leave at one point, in 1975. I had always wanted to be in movies, so right after Sarah was born, I decided to try. I went to L.A. while Sharon took the baby to Chicago to stay with her parents. It was the worst year of my life. I couldn't get anywhere. I finally got a part in the Buddy Ebsen series, "Barnaby Jones." I had one line: "Freeze! Hold it." Then they called me and said Buddy had phlebitis and was in the hospital and the show was on hold. So I came back here.
We were on the East Side for twenty years, near Wayland Avenue. Then we decided to buy a house, and everything we could afford in our neighborhood needed a ton of work, so we thought we'd build our own. A friend said, "How about Cumberland?" I replied that I didn't even know where it was.
So we drove out there and up onto this big piece of land — well, two acres, but that seemed like an incredible amount of land to us then — with boulders as big as houses. It's very dramatic. It's private but not lonely — it's part of a subdivision, but our property is removed by the long driveway. Our son, who grew up there, used to ride his bike around the neighborhood. It's a good place to live.
So after that failed first attempt, how did you make the jump from stage to screen?
I was doing a play, Holiday, at the Long Wharf Theatre in New Haven with David Hyde Pierce. It was the first play he did right out of Yale.
One night this guy came backstage and said: "My name is Bill Tresh and I'm a manager and I want to represent you." I said, "Okay!"

He didn't sign David Hyde Pierce?
No, he didn't, and I bet he regrets that! Me, he didn't call for a year. By then I was thirty-six. Then he called and told me, "I wasn't sure, but now I am. What do you want to do?"
I told him I wanted to do movies. He said, "If I call you, you have to come that day."
It took five hours to get to New York then, before the Acela, and I was doing it six times a week. I would go and do one audition. It was hard. Then I got Silverado — I had two lines. I was on set for seven weeks and made a lot of money for me at the time. I came home and we thought, maybe this will be okay.
Then I got The Witches of Eastwick, and from there things started happening. But it was all due to Bill Tresh, and I'm grateful. He's still my manager.
Aren't you tempted to go live in Hollywood?
It's a great place to go and work. You don't have to think about the weather in L.A. But I can tell you, it's not a great place to be if you're an out-of-work actor. It can beat you down. And there's the keeping-up-appearances thing.
There's nothing like working on a sound stage in Hollywood, somewhere like Warner Brothers, and knowing that Errol Flynn shot a movie there. But they don't do a lot of movies there anymore — Friends With Benefits is the last movie I did in L.A. And the only movie I've done that was how I had pictured making a Hollywood movie was Eat Pray Love. We went to all these places for a month each.
But you know, when I started doing movies, I thought I'd see the world. And if Vancouver and Toronto are the world, I guess I have.


The show you directed at Trinity Rep this winter, Oliver!, was a big success. Do you prefer acting or directing?
Being a director is more fun, because you don't have to show up every night.
You work with some of the funniest and quirkiest directors. Is that particularly attractive to you?
It's more like, I need the work, and they give it to me. No, seriously, I'm very lucky to have done three movies with the Coen brothers, and to have worked with Bobby and Peter Farrelly — they're hilarious. And Adam McKay, the guy who wrote and directed Step Brothers, he's one of those guys who is effortlessly funny.
That's my husband's favorite movie.
One of mine, too. One of the most fun to make. I've never been on a set where the atmosphere was so beautiful. To feel like there's no such thing as a mistake, that's a gift — and it's also one of the hardest things for a director to achieve. Nothing shuts down the creative process faster than an actor feeling like they're doing everything wrong. But Adam would be just like, "Why don't you try this?" And we would. Like the scene where I talk about how I always wanted to be a dinosaur when I grow up. The child actor was looking at me like I was crazy. But it ended up going in the movie.
I would work with those guys again in a heartbeat, Adam and Will Ferrell. Will knows how to enjoy being a star. He has the best attitude. He knows it could all end tomorrow, he doesn't take himself seriously, and he loves making people laugh. He's brilliant, and he's also the most generous actor to work with — there's no ego there.
Who else do you admire as an actor?
I love Dianne Wiest. I just love her. She's an extraordinary actress — I could watch her in anything. I also love Joaquin Phoenix. And then, you know, I love the Gene Hackmans, the Spencer Traceys.
I've done probably 100 productions, sixty-five movies, with hundreds of movie stars, and nearly every single one of them are great, interesting people who realize how lucky they are. But their lives are weird. You can't just say, let's grab dinner after this. They are besieged.
Isn't it like that for you?
Not at all.
Why? Do you think it's something to do with finding success relatively later in life?
Maybe. But you know, you're going to get your ass kicked at some point — either when you're young or when you're old. So be careful of early success.
What will we see you in this year?
I have an HBO miniseries called "Olive Kitteridge" coming this fall. It's a four-part miniseries with Frances McDormand; I play her husband.
This is my fourth thing with Fran. She had bought the rights to the book, and hired this screenwriter who did an amazing adaptation. She called me one night and said, "I want you to do this part, read it." So I did, and I said yes — of course. We rehearsed for two months, just the two of us, sitting around and talking. Then we shot it in Gloucester, Massachusetts, so it was great, I could come home every weekend.
The other is a movie with Philip Seymour Hoffman, God's Pocket. We filmed it last summer in NYC, and it came out this spring. It's a good movie.
It's sad, you know, he had beaten (his addiction) for twenty-three years, and then had a relapse. But he was fighting it, and he was clean and sober when we were working. He went to see God's Pocket at Sundance, just before he died, and he said it was the first movie he was in that he ever sat through. He was a wonderful guy.
What role have you played that is most like you, personally?
You want every one to feel like it's you. It has to come from you; you're the one doing it. But some you understand quicker than others. I guess in The Visitor, I understood that guy. I understood the loneliness and the insecurity.
If you weren't an actor, what would you be doing?
I'd be sunk, because I can't do anything else. I have no skills. I'm not being modest — it's the truth. I drove a laundry truck one summer, and I had five accidents. One time, I wasn't even in it. I came back and the truck was gone. I hadn't put the emergency brake on and a laundry bag rolled down on the shifter. Another time, I actually backed into my boss's car.
So did he fire you?
No, because he didn't want to have to drive the route. That was John C. Reilly's dad, as a matter of fact. We figured that out when we were doing Step Brothers together.
Are experiences like that the reason that you have a reputation on the Providence restaurant scene for being such a great tipper?
I do? Well, I made pizzas for years, so I know what restaurants are like. I mean, come on, it's a tough job. Plus, I don't want to end up all over the Internet for stiffing someone.


Where do you like to go to eat?
Well, Al Forno, of course. I also like Bravo. They have this great cod dish.
If you could have dinner with anyone in the world, who would it be?
Who's paying?
They are.
My first thought is Barack Obama. I would just like to talk to him once. I think he's an interesting guy — a gentleman. I would love to hear what he really thinks.
I did meet Bill Clinton, and I was like this (stares blankly ahead with mouth open).
What do you do for fun?
I play golf. I've been playing golf since I was a kid. And sometimes Sharon and I take a trip to the South in the winter. Honestly, we don't do a lot. I look at Sharon and she looks at me, and I say, "Would you like a coffee?" And she looks at the pot and says, "There's enough for two more cups."
When I'm not working, I'm totally free — I don't have anything on my mind, so I'm just poking around. My kids will be like, "Dad, don't you have another movie to do?"
I do things to the house — well, I don't, this guy we know does when we ask him. We added a garage and a screened room. I always say, "We're going to do this," and then Sharon says no, and then she gets into it and we design it together. She has great taste, so I defer to her.
Is that the secret to your long marriage?
Well, you have to know what your strengths are.
Do your kids think you're cool?
No. Please! They're like everybody's kids — their parents embarrass them, and always seem to need their help with computers. My son's a CPA, and I called him up last year and asked him a tax question, and he told me the answer. And then I couldn't help asking, "Are you sure?"
Then I had to apologize.
Interview edited for length.