Q&A: The Coastal Table Cookbook
Learn about Karen Covey's recipes inspired by the farmlands and seaside of Southern New England. Plus, get the recipe for creamy coffee milk pudding!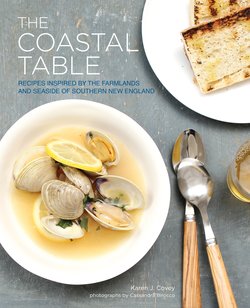 She may not be a native New Englander, but author Karen Covey has certainly adopted the region as her own. Now, she's channeled her love of the area into her new cookbook, The Coastal Table: Recipes Inspired by the Farmlands and Seaside of Southern New England. We chatted with Covey to find out what role Rhode Island played in the development of her cookbook:
What inspired you to write a book about coastal Southern New England? When I moved to the coast almost ten years ago, I met so many incredible people producing some of the best products found anywhere. The area is filled with them – from the wine and cheese makers to the fishermen to the farmers who are harvesting some of the best produce grown in all of New England. I thought the region deserved a book devoted to all the exciting things happening here.
If you could spend the day anywhere in coastal Rhode Island, what locations would you visit? There are so many amazing places to spend the day in Rhode Island, but Bristol and Tiverton are two of my favorite spots. They both have a lot of character and lots of little, independent shops. In Tiverton, I love Milk and Honey Bazaar for stocking up on cheeses, Provender for lunch and a trip to Gray's Ice Cream. A drive down to Walker's Roadside Stand on the way out for some fresh produce is always a must. In Bristol, dinner at Persimmon is the perfect way to end a leisurely day of shopping and exploring this quintessential seaside town.
In the book, you visit some Rhode Island locations that are important to you. What makes them special? Rhode Island is home to some of my favorite restaurants in all of New England. I tried to highlight a few of them in The Coastal Table, as well as some of my favorite purveyors, to give readers a sampling of what can be found here. From how they raise their animals and grow their food, to how they source ingredients, these producers, chefs and famers are thoroughly committed to excellence. My hope is that the book will provide readers with a jumping-off point not only to visit these places, but also to discover the countless other restaurants and producers throughout the region.
Tell me about some of the quintessential Rhode Island flavors you have included in your cookbook. I wanted to represent Rhode Island's totally unique food culture. A few of the standouts include johnny cakes, Aquidneck Honey, cheese from Narragansett Creamery and, of course, coffee milk.
What's your favorite Rhode Island-inspired recipe in the book? Why is it special to you? I'm a huge fan of anything coffee flavored so it's no surprise that I've become addicted to coffee syrup. It's a versatile ingredient and I love to experiment with different ways to use it. I found that it is the perfect base for the creamy coffee milk pudding recipe in The Coastal Table, which is a contemporary take on a Rhode Island classic. My friends go crazy over it!
Creamy Coffee Milk Pudding
From The Coastal Table, by Karen J. Covey
Serves 6
When I moved to the South Coast, I fell in love with coffee milk at first sip. Here, the drink is transformed into a creamy, decadent dessert with just the right amount of coffee flavor, worthy of any special occasion.
1/4 cup sugar
2 Tbs cornstarch
1/4 tsp kosher salt
1 cup milk
1 cup heavy cream
1/2 cup coffee syrup (see Cook's Note)
1 tsp vanilla extract
6 oz white chocolate chips
1 Tbs unsalted butter
Fresh whipped cream, for garnish (optional)
Finely grated coffee beans, for garnish (optional)
1. Gather six short serving dishes (or glasses) and set aside.
2. Whisk together sugar, cornstarch and salt in a medium saucepan.
3. In a medium bowl, combine milk, heavy cream, coffee syrup and vanilla. Whisk into dry mixture until combined.
4. Place saucepan over medium-high heat. Cook, whisking continuously, until mixture has thickened, about 15 minutes. If mixture starts to boil, lower heat to medium while it cooks.
5. When thickened, add white chocolate and whisk until completely melted. Remove from heat and stir in butter until melted.
6. Ladle pudding into serving dishes (or glasses) and cover tightly with plastic wrap, placing it directly on surface of pudding to prevent a skin from forming.
7. Refrigerate until set, at least 2 hours. Serve cold with whipped cream and a dusting of coffee beans (if using).
Cook's Note: Not all coffee syrups are created equal. I recommend using Dave's Coffee from Rhode Island. It has a pure coffee flavor that isn't too sweet and provides just the right balance. (With other brands, you will have to adjust the sugar in the recipe, because they tend to be much sweeter and have less coffee flavor.)
The Coastal Table is available online and at local bookstores.