Q&A: Kaitlyn Roberts of Easy Entertaining, Inc.
Chef Kaitlyn Roberts shares the inner workings of her booming Providence catering business.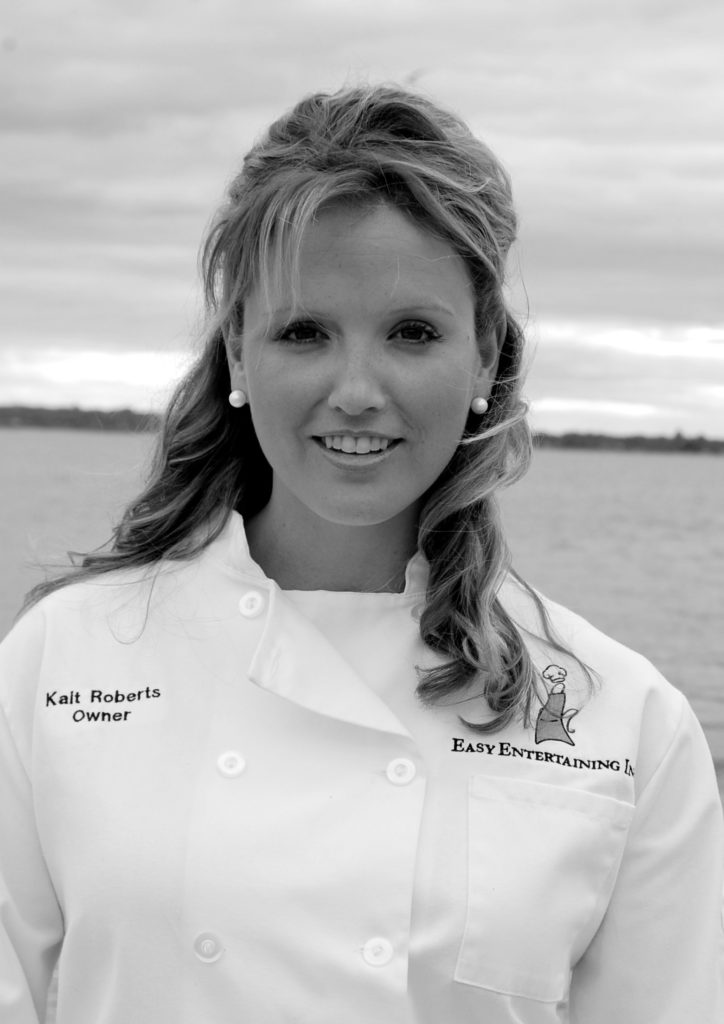 Chef Kaitlyn Roberts shares the inner workings of her booming Providence catering business.
What is your cooking background? Interestingly, all three of us − Ashley [Vanasse], the executive sous chef, Erica [Lukas] the lead coordinator and I − went to school for different things. Ashley and I were both pre-law. I went to Wofford in South Carolina. Erica was an education major. We have all these people who never intended to be in the restaurant industry. I figured out I liked cooking when I lived in Rome during study abroad in college. I had never turned a stove on before that. We had to, because we didn't have anyone to cook for us. I started going to the markets and the grocery stores, just experimenting and feeding my roommates. Then I got numerous fire code violations for cooking in my dorm. Right before I was going to be asked to move off campus, the dean of foreign study asked me, "Kate, have you considered going to cooking school rather than law school?"
So you graduated and headed to cooking school? The dean told me about a school in Florence called Apicius. You just had to have a bachelor's degree and then you took labs for a year. They had a scholarship open, so I applied and got it. I spent the year there and I was the only female in my class of forty. It was really interesting, because it's an international school, and there were students from Thailand, Germany and California, so supplementing the experience of going to culinary school was being with all these men from around the world who were also teaching you other cuisines.
What did you learn in Italy? That is where I got a sense of the seasons. You grow up in New England. You know there are four seasons. It was interesting to me what you couldn't get in Italy at certain times of the year. I also learned not to overcomplicate things. Dishes might take a little while, but the ingredients are minimal.
How did you launch Easy Entertaining? When I came back, I started as a personal chef in 2006. I knew I wasn't fond of working the line in a restaurant because we had to do that as part of my internship over there. It was a great internship and I knew I could do it for five years, but I didn't know if I could do it for twenty-five years. So I thought being a personal chef would be great. How hard can this be? You make your own hours? It was a huge lesson to learn how certain clients like things certain ways.
What was being a personal chef like, and who were your clients? My clients were all pretty much from Barrington, when I started, because that is where I am from. I'd feed guests at dinner parties, and when out-of-town guests came in. And down in Jamestown, people would want a chef for a week when they rented a vacation house. It was interesting and always different. But then people would start to ask if I could potentially do something for thirty people, and then it would turn into sixty, and then it got bigger. So I started to look into hiring people and getting catering licensing.
What do you do for catering? We do a lot of weddings. We have the cafe. There were three major parts behind getting the cafe. We wanted to stay where we began. We wanted to have our offices with our kitchen. We wanted to be in a restored mill because we really appreciate the reducing and reusing mentality. Then we wanted to have a space our clients could rent. The most important thing for us was that it was a beautiful, versatile space. You could have a dinner party here, or you could have a corporate event or baby shower here, and it would work for everything. When we saw this space, we thought it was perfect. We decided to do just breakfast and lunch for the public during the week, and we usually rent it out on weekends and evenings. Once a month, we do tasting dinners and special events that are open to the public, and people can come and bring their own wine.
How can people book a private event? You can call or send an email. We have a bunch of menus online. We also customize things all the time. Our menus change four times a year. The only exception to that is our wedding menu which is already divided into the four seasons. We have a baby/bridal section. One of the things we do is a bridal bites, which includes a twenty-minute demo, like a class, and then we pass hors d'oeuvres. Guests learn how to make the dishes and it adds an interactive element to showers.
Who are your favorite purveyors? I am so proud of Rhode Island, and how far we've come since 2006. On any given day, I can have sixty farms at my disposal and the way Rhode Island chefs know their farmers is unique. We use a lot of meat from Blackbird Farm for a bunch of reasons, mainly because it's a high-quality product. One of the things I learned in Italy, things don't change. The man who owns the restaurant is the same man, and then it will be his son. I like that about Ann Marie's farm. It's her and her son. We love Schartner Farms because they really know produce. We use a lot of stuff from Wishing Stone Farm and Farm Fresh RI Market Mobile. I have always used Baffoni's chicken. They really know what they're doing when it comes to birds. Their eggs are fantastic.
What's your favorite item on your menu? Probably the BLT because we're curing our own bacon. A tomato is my favorite food item. We appreciate them so much because we only have them for a short amount of time. There are tomatoes all over that menu, so I think the BLT is really going to shine.
Upcoming Events
On July 19 from 6 p.m., the Easy Entertaining Supper Club will offer a three-course BYOB meal for $38.95 per person. Starter choices include a beach salad with local corn, Bomster scallop ceviche, grilled sweet tomato bruschetta, lobster and sweet corn fritters or seasonal soup; main course choices include grilled, stuffed Blackbird Farm pork chop, pork belly and fish tacos or summer vegetable risotto; and for dessert, Hollie's homemade brownie a la mode or seasonal panna cotta.
The Healthy Weeknight Meals cooking class will take place July 29 from 6−7 p.m. for $19.50 per person. Learn how to create three easy fifteen-minute weeknight meals for less than 500 calories per serving.
Summer Cocktail Events and Appetizers will take place on Aug. 6 from 6−7 p.m. for $19 per person. You will learn how to make four or five simple appetizers to take your summer party to the next level.
Easy Entertaining, Inc., Rising Sun Mills, 166 Valley St., Building 10, Providence, 437-6090, easyentertainingri.com