Q-and-A With Food4Good's Julius Searight
He's feeding the hungry with his mobile soup kitchen.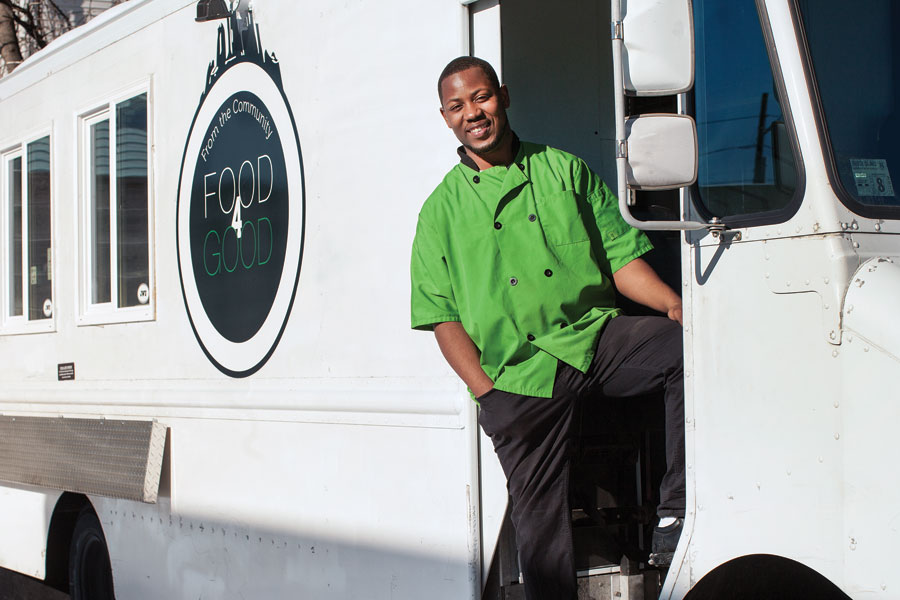 How does Food4Good work? Through our catering, and through the truck, you purchase a meal and every $5 you spend will provide two meals to somebody else. We will be working with some local nonprofits and churches who are already serving that community and we will be parking our truck [or van] at those locations to provide food. People will be able to visit for lunch during the week and dinner during the weekend and Fridays. We want to provide 20,000 meals a year.
What was the inspiration for the idea and why is it so important to you? I came up with it after volunteering at soup kitchens and food pantries and seeing the need to give back to those who are lacking food. I was also thinking about what my biological mother went through. It's an eye-opener seeing it firsthand by working at a shelter and soup kitchen. I really wanted to give back to that community.
You were in many foster homes as a kid. Can you tell me what that was like? Did you eat okay? I was pretty well fed growing up. My biological mother struggled to make ends meet and raise other siblings. Eventually all of us went into foster care in some way or another. I moved around early on in thirteen different foster homes, and finally got adopted when I was eight years old. I was adopted by my biological mother's cousin.
How old were you when you started volunteering in food pantries and soup kitchens? When I was twelve or thirteen, I began helping or volunteering through after-school programs. I volunteered at South Providence Neighborhood Ministries food pantry and after-school program. I also did AmeriCorps at Crossroads of Rhode Island at their main shelter and their family shelter. Right now, I'm working part-time there on call. When I'm not doing Food4Good, I'm doing that.
How did your education at Johnson and Wales help you understand what you wanted to do in the future? I really wanted to use the tools I learned there to give back to the community that is struggling. One in five goes hungry in this country and I wanted to make an impact on food insecurity. You meet people all the time: Mom said, "Don't take too much," or "I can eat tomorrow at school," just because they have too much pride to take a handout. The population we're trying to help is that middle population that is just getting by and needs a little help to get them to the next paycheck.
Food4Good's truck recently broke down and Searight is raising $6,000 to get it back up and running again. Attend a Food4Good fundraising event on March 6 from 5 to 8 p.m. at Thirsty Beaver, located at 45 Cedar Swamp Rd. in Smithfield. Tickets are $32.49. You can also donate at food4goodri.weebly.com or on its Facebook page.