Q-and-A with Christina Vitagliano, Founder of Monster Mini Golf
Christina Vitagliano's leap of faith led to a Monster Mini Golf empire, including a KISS-themed course, a book deal and a part-time job working for Gene Simmons.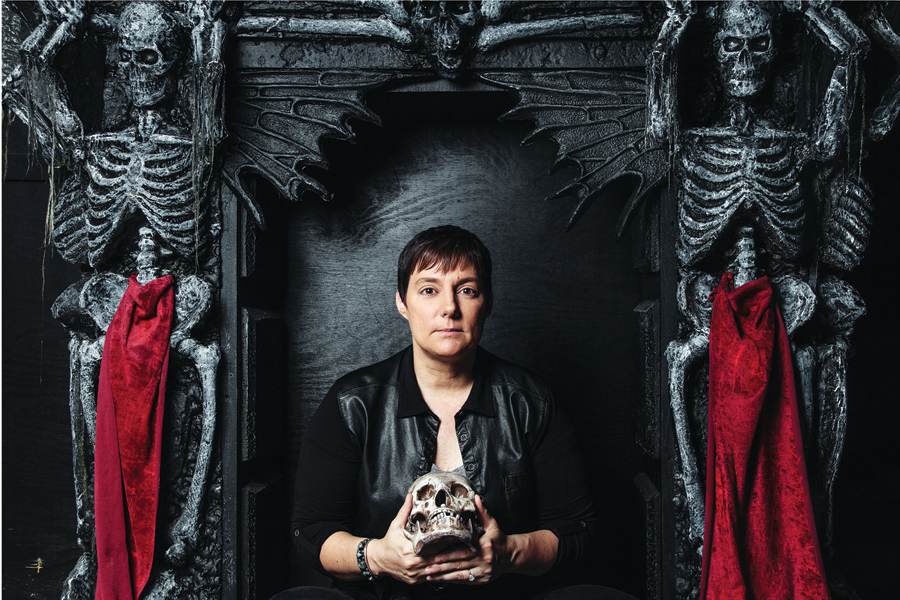 Tell me what you do in the warehouse in Providence?
This is where we build everything. This is our corporate headquarters. The artists sketch, and I edit. We just built two stores and we're building two more. Last night, I was in Orange, Conn., and we have one that opened in Coral Springs, Florida. Now we are working on a Maryland and a Virginia location. We have thirty-one locations. Our first location, I never knew I'd be doing this, so I built it with stuff that I already had or bought.
Where and how did you launch the first Monster Mini Golf Course?
In Danielson, Connecticut. I'm from Rhode Island and my husband, [Patrick Vitagliano] is from Norwich, so when we got together, we ended up in Danielson, which I think is the bottom of the Earth. He had a sound and music company, and they used to do a lot of rentals in Rhode Island. He stored his equipment in a warehouse. That's where I built the first Monster Mini Golf. I started an antique auction house many years ago. We had a big space there, and then one day, I decided not to do that anymore. I loved it because I got to see stuff I've never seen before in my life and I had to research it and find out how to sell it. In the auction business, most of the items I sold came from people whose relatives had passed away, so I was going into their house and clearing it. I would deal with greed and anger. I saw people throw stuff at each other. It's all about stuff that wasn't theirs anyway. We were somewhere in California and I said, "I am not going to do this anymore." I want to be around people who are happy, and I want to do something that's cool and funky. It took me about three or four months. We had this big empty warehouse. We were on our way home from New York City, and I said, "I think I want to do mini golf."
When you bring mini golf indoors, it sounds horribly lame. But I wanted it to be open year-round, otherwise, I'm out of a job. I wanted to do black lights because we were in this old mill, and the one thing about nightclubs is, it looks great at night, but when you turn the lights on, it looks terrible. The mill was old and rundown, so we did black lights and monsters. Everything was built with what we had because I didn't have a lot of money. I got scared because we'd have to survive on whatever my husband was making. A friend of mine owned this little hippie bar in Danielson. She let me tend bar three or four shifts a week, and whatever money I made, that's what I used to build my Monster Mini Golf course. We lived there too.
How long did it take to get going?
It took about four to six months to build it. I used my marketing background. My landlord came in one day and looked around. He said, "So you're going to build mini golf inside…you'll probably get eight people." He didn't care, because we were paying rent. I started running ads a couple of months before we opened in 2004. I had monsterminigolf.com, our website. I ran ads that said, "Have you ever played mini golf indoors, in the dark, surrounded by monsters? It's about time you tried."
How did the opening go?
We opened Memorial Day weekend in 2004. Yes, I opened an indoor mini golf business on Memorial Day weekend. I thought, "I'm screwed," and it was beautiful out. I kept thinking, "I might get eight people…" We opened and we did okay. By the end of the summer, it was insane. Everyone from the city learned who we were. It was very different; there was nothing else like it and it cost only $4 or $5. People would drive to Connecticut, the middle of nowhere, to play mini golf. Then people started coming up to me and asking, "Where did this idea come from?" and "Who built this?" Guys were walking around and saying, "This place is a goldmine." I got scared. I said, somebody's going to take this idea and steal it from us and there's nothing we can do. I said, "What if we just franchised it?" Pat said, "What do you mean?" I said, "I want to be like McDonalds or Dunkin' Donuts." He said, "You don't even know how to do that." I said, "I have a computer."
How were you able to franchise?
We flew to Chicago and arrived at a giant office building. They said, "We think you should franchise." Then they said, "It's going to be $130,000." We didn't have that kind of money. We're not from it. We couldn't get it. It didn't matter. Then the owner of the company comes out. He told us it was an original idea, and in franchising, 90 percent is service industry or restaurants. He said, you guys took an old idea that's already been proven and made it new. The risk factor is very low and profitability is crazy. I wanted it to be fun, and it had to be inexpensive for families (less than the movies). And it couldn't have inventory. Those were my three requirements, so that's how the mini golf thing came in my head. He said, "You can't leave this building without franchising it. What if I loaned you the money?"
So did you do it, and how did you pay him back?
By the time we became legal to sell – it took about nine months – we had paid off all of our loans except for $10,000. We did that by selling everything we owned, moving out of our place and we moved into our golf course. We literally lived in our golf course for nine months. It was horrible. The mill leaked a lot. We made a makeshift bathroom. We built a shower. We slept on the floor on a mattress in our office. One night, it was pouring. And the dog slept with us. We had a mastiff at the time. The mill has four floors and it's raining and leaking in our office, which means it was coming through all four floors. You can imagine what that must have looked like. And the dog got wet. He woke up and looked at us like, "What are you two doing? This is unacceptable." That was the only way. We consolidated everything, we gave up everything we had and started from scratch to pay this guy because 29.8 percent interest was scary. The first franchised sale we had, we paid him and we were done. We were out of it as soon as we started.
When did you come to Providence?
Once we started selling franchises, we stopped living in the mill, and we needed an office. I didn't want to live in Danielson anymore. I wanted to bring this company to my home. I wanted to go back to Providence. We rented space on Westminster Street. I lived in the lofts on Westminster. Our office was in our loft. As we grew, we ended up renting a space at 763 Westminster, which is an office space there. We also rented warehouse space in Warwick, so we went back and forth. Then this space became available. We looked at it and bought it four or five years ago.
How did you come up with the KISS-themed mini golf?
My husband is a KISS fan. I have always bought him KISS collectables. I obviously like toys. When I built the first Monster Mini Golf, on our eighteenth hole, we have a clown. Glo-zo the clown is our eighteenth hole. It's always the same. When I built him for the first time, all of my husband's friends were like, "That's freaky. Look at the tongue. Why didn't you just build Gene Simmons' head?" I said, "Someday we'll build a KISS course, but you can't put Gene's head on your course, because Gene will get very mad."
Christina Vitagliano with Glo-Zo the clown.
So it was an ongoing joke for a long time. About six or seven years ago, we were getting big enough – and we would go to Vegas a lot for trade shows – and I thought it would be a great place for a really cool Monster Mini Golf. What if we did a co-brand? What if we did a KISS one? I started asking anyone I knew if they had Gene Simmons' phone number. It was an ongoing joke for over a year. Somebody finally said, "I don't have his number, but I think I know his attorney." So I took the number and his email was on it. I didn't tell anyone, not even my husband, and I emailed him about what I wanted to do. Then he actually called me that day and said he thought it was a good idea. He said, "We have millions of fans and we have been around for over forty years. You are relatively new, but you have the kids; you have our next generation of KISS fans. This could work." It took a year to get a contract together. We tried to get investors to build this for us. It cost almost $2 million to build KISS by Monster Mini Golf, but we made the decision to do it ourselves, which was a big undertaking for us. We found a building in Vegas. The first year was terrifying because rents are astronomical. We signed our lives over. It was the scariest thing in the world. We opened in 2012 on our own.
And now you work with KISS?
When we signed our contract and the first payment was given to them, that's when we became real to KISS. Once we opened and over the next year, we developed a good business working relationship. I approached Gene Simmons with my book idea before I started working with him directly. He's highly entertaining. I don't know if he knows it or not. I told my husband, "I have an idea. I want to write a book about Gene Simmons making fun of Gene Simmons." He says, "Are you crazy? You are going to poke the demon?" I thought, he can say yes or no. He has the thickest skin on the planet. You can't insult that guy. But you have to be ready to be treated the same way. So I put this thing together. He always says, "Send me a business plan." He is so direct. "Send me a business plan and make sure it's less than eight words." He writes back: "I like this idea. This could be fun. Do it." But, he says, I will do it only if you get it published by one of the top six publishers. The book is called Gene Simmons is a Powerful and Attractive Man, and it was released in April. Our artists did all of the artwork. I interviewed kids asking questions about Gene and there's some truth in there from Gene. Gene has no problem promoting Gene.
And you do weddings at the KISS by Monster Mini Golf course?
We do between 200 to 250 weddings a year. Out of all the things we do, that's the weirdest thing we do. Whatever they ask for, we will give them. They can come in KISS make up. We've had everything we can imagine. Every time I say, "I've seen it all," something else comes in the door. You'll see beautiful wedding gowns and the guy is all in KISS makeup. Or they can be in jeans or a rented tux. Our ministers can be traditional, or we have a Paul Stanley or Gene Simmons minister. We also have a mini-ster [a little person dressed in a KISS costume]. We had someone ask us for a monkey once. "We would like a monkey to be our ring bearer." So I put it on Facebook, "Hey anybody got a monkey?" And there is a monkey in Vegas. I'm not sure if he is still around, because this was a few years ago. His name is Mike, he owns a tux, and he has no problem being the ring bearer or walking the bride down the aisle. No matter what you need in Vegas, it doesn't matter. It's the strangest place on the planet.
And you are also now Gene Simmons' backstage manager?
He has a company that handles all of his personal backstage meet-and-greets. If someone wants to meet Gene Simmons backstage, they have to pay. That package includes one of his bass guitars. They are actually ones that he plays on stage. Those packages start at $4,000, $5,000, $6,000. That's the only way you can meet Gene. He emails me one day, and says, "Can you please take over my bass business." As far as he is concerned , all I have is KISS mini golf. I said, Gene, just so you know I own a company called Monster Mini Golf. I have my hands full. I said, what I can do for you is control all of your inventory and handle all of your online stuff. I said the only thing I can't do is go on tour. He said, can you do a couple of dates and then we'll train someone and they'll work for you? Pat is like, "We get to go on tour with KISS!" We did the first few shows, and I was doing everything through my phone anyway, no matter where I am. You can work from anywhere in the planet. By the time we got through the first three or four shows, it occurred to me that there was no one on the planet that I could teach to do that job for Gene. It's terrifying. He's so particular and he demands perfection. And he deserves it. So now we tour with Gene. Every quarter he gets a report, saying this is where we are at, and if it's where it's supposed to be, he's happy. It's pretty independent and I make money from it. Having a part-time job when you own a company is really messed up, but I've learned so much from him, it's actually made me better at what I do.
Vitagliano at the Providence headquarters.
What did he think of the book when it came out?
He did a ton of interviews. He did all of the TV interviews and big radio interviews. He's so good at what he does. When the book was done he had to okay the proofs too. Some of these were really making fun of him.
What is the most rewarding thing in your career?
I don't have the most rewarding thing yet. In the franchise world, thirty stores in, we're small. It's not big. Until you hit fifty, you're not even considered real. In ten years, we've never taken on any investors. We've built thirty stores, just Patrick and myself. The KISS course was the biggest venture for us. We're a licensee. Licensing means you buy a name and you are on your own and they make money. Gene's world is very simple. You can come up with a great idea for Gene, but bottom line is, Gene makes money. Gene never gives you money.
Where do you see your future?
We're in the early stages. Ten years in, we're young. When you hit fifty, it's a different story. Now we're at the point where we can look for investors because we want to go from thirty stores to 100 stores. I'm glad I waited this long because we made all of the mistakes already. When we built KISS, we knew what we were doing. There's only one way to do it: you gotta make mistakes.
Any plans to bring a course to Rhode Island?
I would like to build a co-brand with Hasbro and have a lot of the proceeds go to the Hasbro Children's Hospital. I would build a location that is Hasbro by Monster Mini Golf and all we would need to do is pay the bills, and all of the profits would go to the hospital. I can't find the right person. If you know anyone at Hasbro, I would love to do that. It's a win-win. I would like to represent our brand in our home state and do some good with it.