Q-and-A: Singer/Songwriter Christina Holmes
The twenty-seven-year-old songbird, who lives in Narragansett, spreads messages of peace, love and equality with her acoustic guitar.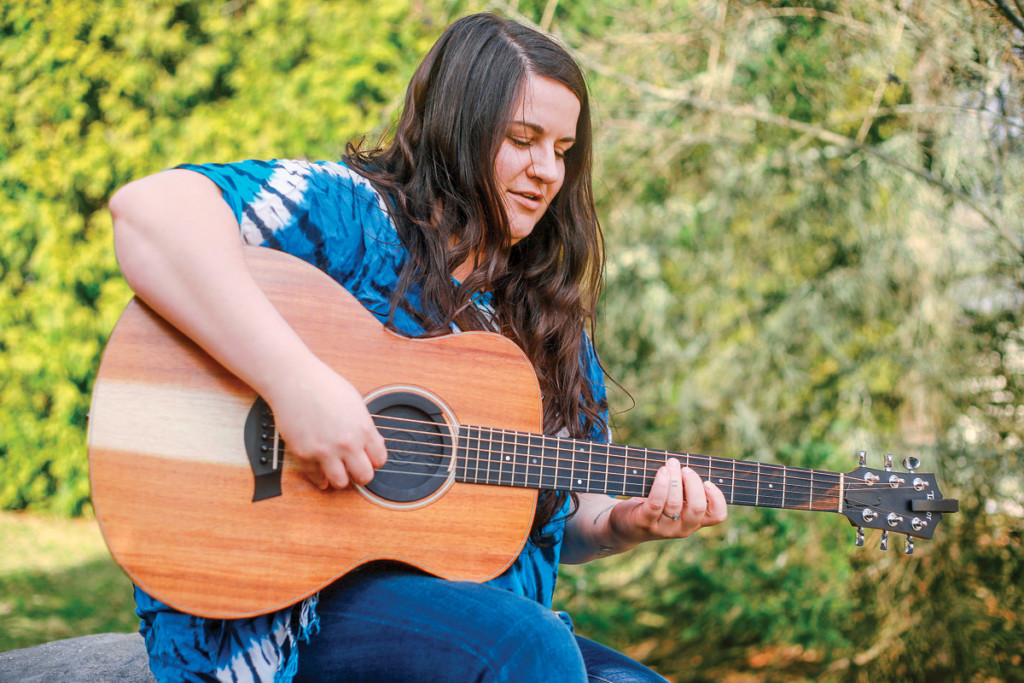 When did you start making music?
I've been singing since I was eight, but I didn't perform in front of people until I was eighteen. I was a student at URI, and my roommate, Katrina, was gone for the day and I was singing in my dorm room. She came back and was like, "Wait, you can sing?" and made me do the open mic night at URI. She's my tour manager now. 
Did it take some time to build confidence? 
It wasn't until 2012, when I played amateur night at the Apollo Theater [in New York]. At that point, I didn't have any stage presence and I was always nervous before shows. The premise of amateur night is: If they like you, they cheer; if they don't, they boo and you get kicked off the stage. I sang and I ended up getting a standing ovation. All of my insecure thoughts went away.
You went to Standing Rock Indian Reservation in 2016. Did the pipeline protests influence your second album, Stand Up?
The title track, "Stand Up," embodies that entire movement for me. My soon-to-be-wife and a couple of friends put together a GoFundMe and a benefit concert in Peace Dale. We ended up raising almost $1,000 for supplies and people donated a lot of things. 
Did you perform while you were there?
After dinnertime one night, I got my guitar and I sat down at the fire and sang. I was planning on one song, but some guy goes: "Are you serious? You can't stop now!" I played "Blackbird" by the Beatles and some kid did his slam poetry over it. This woman whistled like a bird. Little kids were singing. It was incredible. 
There's another song on Stand Up that's more personal, called "Always."
The lyrics are words my father wrote in a birthday card to me when I was twenty-one. He passed away when I was twenty-five. I got my love of music from him and we always wanted to write a song together, but we never got the chance. 
Was he always supportive?
I ended up dropping out of URI to pursue music. My dad had a rough life. He made this better life for himself and he wanted me and my brother to go to school. He was like, "Go to school and then do music." 
Did he come around?
Eight years after I dropped out, I was touring with Trevor Hall, who's one of my favorite musicians. My dad had been super sick for like two or three years, but he was adamant about going to the show in New York City. This was the first show he got to see me sing original music. I saw him after and he gave me a big hug and was like, "I'm super proud and I'm so glad you didn't listen to me all these years." It was almost as if he knew; he ended up passing away a month later. So it was a pinnacle moment.
You have your first headlining tour this summer.
Yeah. The first show is at Harmony Park in Minnesota. Then I'm going to Minneapolis, Chicago, Cleveland, Boston, Pawtucket [on June 20], New York and Vermont, and I'll be playing ConserFest on Block Island [on August 5]. christinaholmesmusic.com