Q-and-A: Fittest Man and Fittest Woman in Rhode Island
Ray Fleser and Ashleigh Cornell explain how Ocean State CrossFit fosters both fitness and community.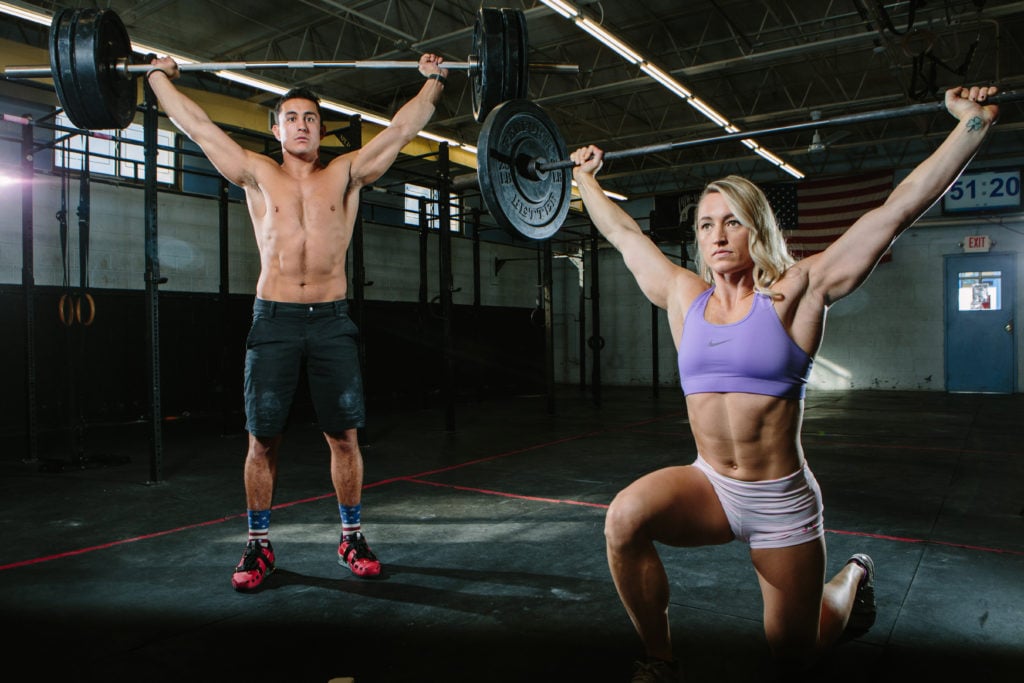 Ray Fleser and Ashleigh Cornell of Ocean State CrossFit in Cranston earned the titles Fittest Man and Fittest Woman in Rhode Island at the 2015 Reekbok CrossFit Games Open, a worldwide, five-week competition. This February, the couple will defend their titles by completing workouts of the day, videotaping themselves performing different movements from all of the elements of fitness including a clean and jerk, squats and snatches, and then they'll submit the results to judges.
How long have you been doing CrossFit?
Ray: The answer for both of us would be a lifetime. We take pieces from all of these already existing programs and methods of fitness. I've been a lifelong athlete. I started in eighth grade with weightlifting and into high school. I played football growing up, and when I got into college, I knew I wanted to be a trainer. I wanted to coach people so I started studying Kinesiology at URI. I played rugby. For rugby we used to simulate a workout for tackling and running, like burpees.
Ashleigh: I am also a lifelong athlete. I had a good foundation. I did swimming and gymnastics as a kid. I ran marathons as an adult. I played Division 1 softball and Division 1 cheerleading so I was doing a weight program, but college was the first time I began squatting and benching under a barbell. I've been at Ocean State CrossFit for two years, but before that, I was doing things that were very similar. I was doing the squatting, the pull-ups, the burpees, the running; it just wasn't "CrossFit."
Ray: People assume that CrossFit is different from what they're doing. We do the same things other people do. It is similar to most strength and conditioning programs. There are five pillars of health-related physical fitness; you've got muscle strength, flexibility, cardio, etc. Most of these components are seen in programs, but we touch upon all of it. Being a successful CrossFitter means being successful in any situation.
Ashleigh: It's not necessarily being a specialist, just being pretty good at every aspect of it.
Ray: We don't train to be the best at one thing; we train to be really good at everything. You're not going to see a CrossFitter bench 500 pounds; you're not going to see a CrossFitter run a five-minute mile. My bench may only be 300 pounds, but I can do a six-minute mile. There are not too many people who can mix those. The way we train, we don't practice the things we're good at so we can target weaknesses.
How often do you work out?
Ray: It varies from two to three hours a day, six days a week. I do a seven-theme rotation and within that, there's a gymnastics day, a calisthenics day, an endurance day, a shoulder-to-overhead barbell day, a clean day, a snatch day, two squat days. We do it all here. We are truly a melting pot of all proven methods of fitness.
Ashleigh: I do six days, with one planned rest day.
How did you initially get into competing?
Ray: The Open has been going on for several years as have the CrossFit Games. Those are open to the whole world. CrossFit leaves it so open that you don't even need to be a member of a gym or have a judge. You can sign up and videotape yourself with a cell phone and they'll judge you for free. As a CrossFitter, I have competed in three competitions, and I am coming up on four opens.
Ashleigh: I've done two, and I am on my third.
Watch Fleser achieve a 325-pound personal record for the clean and jerk.
What types of movements do you have to do for the Open?
Ray: The list of elements are the fundamental movements of fitness; power-lifting, Olympic weightlifting, calisthenics and gymnastics. Our definition of the dead lift is the same as the definition of a dead lift in power-lifting. When we say, CrossFitters, you have to run 400 meters, it's the same step in front of the other that everyone else runs.
Ashleigh: They are pretty inclusive because they want everyone to do it. There are 300 members at our gym and there are probably twenty of us who can do everything at regional level weight. Then we have everyone else, and they are the bulk of our community. They just want to participate.
Ray: We represent a very small population. The number of athletes that even make it to Regionals are less than 1 percent. But if you were to look at the majority of our members, they come in here never having worked out before. Most members come in and cannot do a pullup. Most people don't know what snatches or cleans are. We have athletes here who have no interest in competing. We have athletes who get the bug, but there is still a chunk who are just here for a good workout.
What's another reason people love CrossFit?
Ray: Aesthetics are a side effect of CrossFit. It's a very functional physique. You're not going to see a scrawny CrossFitter.
Ashleigh: That's what started my fire to working out. I wanted to look good in a bathing suit. Let's be honest. Once I got into CrossFit, though, I wanted to put five more pounds on the bar. Then the looks became secondary. It doesn't hurt that the aesthetics happen, but they come secondary to goals.
Ray: The goals are never over. Every day is a competition with yourself. We watch the focus go from an aesthetics goal to being in competition with yourself. The most amazing thing about this community and CrossFit is the never-ending pursuit of these goals. We have countless members here who are in their forties and fifties and lift the strongest they've ever lifted.
How did you compete in the CrossFit Open?
Ray: Every week for five weeks, they put out a workout and you have a certain time to submit your scores. You have to videotape your workouts. You have to say who you are, show them your barbells, your weights. It's very officiated if you have promise of advancing. Over the five weeks, you submit your scores and then it's broken up and customized by region. In 2015, they made the regions bigger, so we combined with Canada East, and they took the top twenty men and women as individuals. Every week, the top three mens' and womens' scores contribute to the team score. By the time we were done, more than twenty people had contributed to Ocean State CrossFit's score. For the Open, they subpoena videos from the top athletes, and if there's no foul play, then the score remains. Then the top twenty men and women and fifteen teams advance to the regional competition.
How does the Open regional competition work?
Ray: The open is designed to give everyone a chance to compete. Say an event is to run a mile. That's going to give most people an opportunity to compete, but your fastest runners are going to do the best. The events are designed to be inclusive but the cream will rise to the top. The way the overall competition is designed is to test across the broad spectrum of physical capabilities. Every event is going to test different things, and by the end of it, every stone will be unturned. You can't hide in the open. If you're weak, the open will expose it. If you're slow, the open will expose it. If you forgot a movement, the open will expose it.
How did you become RI's Fittest Man and Woman?
Ray: We were awarded fittest man and woman of Rhode Island based on the Open's five-week test of several thousand participants across the state of Rhode Island. There are twenty CrossFit gyms that participate in Rhode Island. I was the top male finisher, and Ashleigh was the top female finisher. The way the leaderboards work, she tied with Snow Powers. If you look at the points, they were tied for the state, but in the overall leaderboard and worldwide leaderboard, Ashleigh placed higher. As individual athletes, Ashleigh and I were rated fittest man and woman of Rhode Island. On top of that, our gym, Ocean State CrossFit, qualified as a team for the 2015 Regionals, which was the first team in Rhode Island in four years. At the regional competition, we finished ninth.
What's the best way to get started?
Ray: The best way to get started is to walk in the door. Eighty percent of the people who come through this door are not currently working out and I would say 50 percent of the people have never worked out.
How easy is it to learn?
Ray: The big thing people don't understand is that it's our job to teach you. It's very easy to teach an athlete how to run. The real part of the job comes when you've never lifted a weight a day in your life; if you've been at a desk for thirty years and you're fifty years old, and your joints don't work – let's make an athlete out of you. That's what we're trained to do, and that's what we have passion for because those people make the best stories. Those people have the most amazing transformations. It's really fun to watch someone win a competition. It's fun to push an athlete through a marathon, but the most gratifying thing we do is when an athlete comes to you and says, "my doctor just took me off heart medicine," or "I haven't been able to do a pullup since I weighed 100 pounds less." We had an athlete here go from 300 pounds to 200 pounds. We say CrossFit is going to change your life and you're going to see it in about six months.
Ashleigh: The experienced athletes are working out right next to brand new people and everyone is getting a good workout. It really builds a community because there's no division between levels.
It seems like you have built a real community here.
Ray: It's very easy to be boys with somebody drinking a beer at the bar, but the people you work with are the people you are going to remember. You're going to form identification with people you work out with. You might be old young or old, but right now, we're doing the same thing, and when we're done, we're going to share the same sense of accomplishment. That brings people together on a level that's really neat to watch. You get people high-fiving each other, cheering each other on, that otherwise their paths would never cross in life. You are identifying on common ground.
How will you defend your title?
Ray: I put in a couple hours a day, and 3,500 hours a year; my blood, my sweat, my tears, my pain, my money, everything goes into it. But if there's someone out there in the state of Rhode Island that's better than me, there wouldn't be animosity, it would be respect. If someone in 2016 can beat me, I'm going to give him a high-five and say, "Bro, we need to work out together." Because you're going to make me better. There have been competitions I've won, or haven't won, then you go cheer on someone who's struggling. There is a real community.
How has CrossFit improved your life?
Ashleigh: I've been athletic my whole life and I've played a million sports. I've always been competitive and I was needing that competitiveness. It filled a void for me. I was coming right out of marathon training when I started CrossFit, so that was a drastic change, because you go from lonely twenty-mile runs by yourself to this community with people cheering for me, I'm cheering for them.