Publisher's Note: The Power of One
RIM's publisher, John Palumbo, reflects on this year's Rhode Islanders of the Year.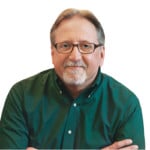 "A life is not important except in the impact it has on other lives." —Jackie Robinson
wise words from the man WHO broke baseball's "color barrier" or, more appropriately, its racial barrier. He made such an inspirational impact on generations of African-Americans.
Number 42 was thrust into the spotlight; it wasn't always positive and, in fact, it often meant much hardship and acrimony.
Robinson's words ring true for the people we have selected as the 2018 Rhode Islanders of the Year.
This is our annual look at folks we have discovered who are doing things large and small that have a positive effect on other people's lives.
They are chosen, not because of the scale of what they're doing, or for the attention, but more so the opposite: These are things they do for the sheer pride and pleasure of an accomplishment that makes the world a better place.
This is proof positive that any of us — no matter the education, stature in the community or wealth — have the power to create a legacy based on what we do for others. It's selflessness and quiet determination that can make our state a better place, one step at a time.
Enjoy the Rhode. –J.J.P.