Public Kitchen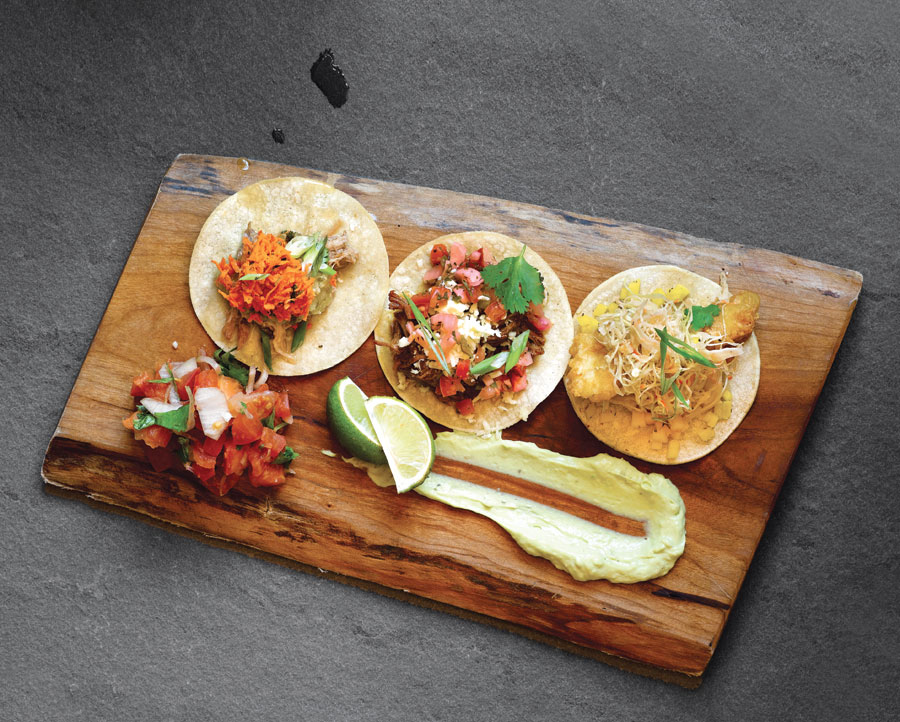 Public Kitchen and Bar
Renaissance Providence, 120 Francis St., Providence, 919-5050, publickitchenprovidence.com. Open Mon.–Fri. for lunch, daily for dinner, Sundays for brunch. Reservations accepted. Wheelchair accessible. Street and valet parking. Cuisine Bar food for the twenty-first century. Capacity A hundred with space for several dozen more at the bar. Vibe "Mad Men" meets modern club. Prices Appetizers $9–$16; entrees $11–$24; dessert $8–$13. Karen's picks Tacos, bacon and kimchee fried rice, Kurabuta pork, burgers, anything the chef puts on a board.
Key
Fair
Good
Very Good
Excellent
Half-star
Public Kitchen is aptly named: a hotel restaurant that's going for as broad a menu as possible to attract an equally expansive audience. After all, short of a steakhouse or the ubiquitous chain restaurant, it's a next-to-impossible task to please the traveling crowd (corporate to kids) with a one-dimensional model.
Three squares a day, a disparate clientele and a space that borders on cavernous have ultimately led Public down one road: fun food. There's something slightly carnival-like about the menu and that's meant as a compliment. It's amusing. It tastes good without taking itself too seriously. Occasionally, it even seems to be satirizing the American need to categorize food into easy to digest sound bites: It's the Year of Korean! Raw Revolution! Decade of the Deviled Egg! In some sense, Public does so as well — trendy mainstays like kale, bacon and agave still make their rounds — but the restaurant parades them with suitable humor and suitable skill.
The physical space, formerly Temple and a full story underground, still feels a bit like meandering into a highly modified cave. But the Middle Eastern hookah vibe's been replaced by a modified Don Draper aesthetic. All the better. For as much as hotels want to sell their dining establishments as amatory, most diners look as if they want to sack out in front of Netflix instead of planning a midnight tryst.

Though the aesthetic is decidedly polished — herringbone banquettes and leather booths — there's still a laidback air in the checkerboard floors and kitchen towels that serve as napkins. Alcoved tables and plenty of bar seats allow for large parties and small without giving up discretion for those who have only a precious few hours to themselves. In fact, it's not unusual to see solo diners go through a multicourse meal looking deep into the eyes of their iPad for two straight hours, earbuds firmly in place. The good news is that chef Willis Stepp, who comes to Providence through Todd English's kitchen, musters enthusiasm out of even the most harried guests. Try to look grimly at a plate of barbecued gigante beans, Brussels sprouts and bacon or chicken with jalapeño waffles. You'd as easily taunt a bushel of baby bunnies.

With a bar area bigger than most restaurants, cocktails set the groundwork for Public's character. It takes nerve to throw mescal smoke, maple syrup or sriracha into a shaker but it takes talent to make it taste palatable enough to order another. (Mission accomplished.) Many of the dishes also look as if Stepp meandered onto an episode of "Chopped" to prove his proficiency. Bacon and kimchee fried rice ($10) sounds like a drunken concoction but, smoky and super spicy, it's as addictive as, well, a drunken concoction. Tacos are equally idiosyncratic but just as good: fried fish with mango and habanero, braised brisket with queso fresco, Korean pulled pork paired with carrot slaw and salsa verde. Around the world in a tortilla trio ($16).
If one eccentric presentation isn't enough, you can always go for the chef's board ($16), a nightly piñata of finger food. Jack and Coke chicken wings, fried asparagus, artichoke dip or a pile of gravy and cheese-loaded tater tots (think poutine) all add up to a dietary devil that you might not mind revisiting in an effort to reclaim youth for just one night.
It's not to say that Stepp doesn't have a mature side. Entrees take a notably demure stance next to the birch candles and low lighting. There's still a dash of kitsch (chicken and cheddar grits) but, for the most part, they're refined offerings. Deeply seared salmon ($24) is served with toasted quinoa, harissa vinaigrette and mildly curried carrots — light but not without intrigue. Better is the double Kurabuta pork chop ($24) with bacon molasses, gigante beans and a ginger apple sauce. It's as dramatic as the eccentric appetizers but, well-executed, it's mainstream with more personality.
Given that many diners at Public are nomads, special attention is spent creating a warm atmosphere in sleek surroundings and the nightly specials speak to that. Rabbit ragu, reduced to a gravy and served over gnocchi, is spot on and even the burgers ($16), dressed up with cognac aioli, seem more than a bit like home away from home.
The staff feels much the same: professional but willing to go far more colloquial, even downright quirky, if the audience allows. An innocent conversation about dessert one night began as an inquiry on sugar and ended up as a rhetorical duel over obligatory gluttony.
"What are the cookies like?"
"You have a grandma, right?"
"And the bruleed rice pudding?"
"You can do better."
"Maybe I should get the dessert board."
"Yeah, maybe you should run out of a burning building once you smell smoke."
Duly noted. The chef's dessert board is a full-on sugar assault and, if first courses appeal to the twenty-year-old inside everyone, the last is geared toward the pre-schooler. It's all way too much, meaning just enough for a gorger at their masochistic best. The dish parades out on a wooden platter packed with some combination of circus treats: prismatic candy apples, molten cream-filled donuts, torched s'mores and more. A fitting end at a restaurant whose only hard and fast philosophy is that travelers and locals alike are always looking for a party without the pandemonium. Not a bad rule to live by. We all grow up; but we still need a public place to celebrate the day's accomplishments.