Providencia
We're hip, we know it. And so does "Portlandia" star Fred Armisen.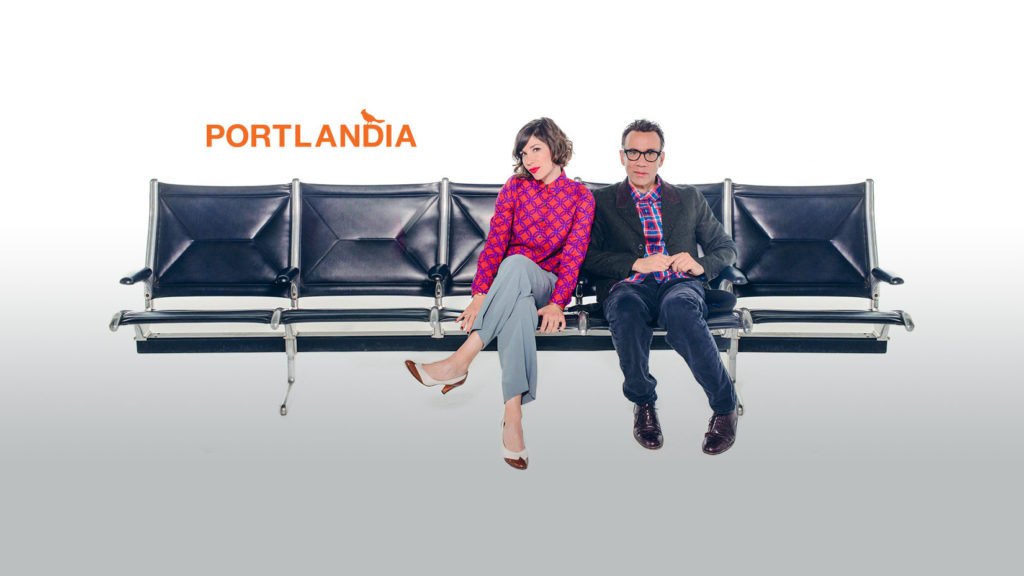 If Fred Armisen and Carrie Brownstein hadn't crafted the best possible spoof of a modern liberal city in "Portlandia," I think we'd have a sitcom on our hands.
Last November, Travel and Leisure tapped Providence as America's fourth best city for hipsters, just one spot below Portland, Oregon. Perhaps that's why Armisen is bringing "Portlandia" to the Columbus Theatre on March 12 — his first stop on a three-city tour that includes Denver and Minneapolis. The tour marks the show's fourth season; the first episode airs on February 27 at 10 p.m. on IFC.
The event, which was originally scheduled for the Columbus's intimate upstairs stage, features a screening of an unaired "Portlandia" episode and a post-show Q and A with Armisen. But PVD fans gobbled up the tickets in less time than it took Fred and Carrie to learn where their dinner chicken (name: Collin) came from in the show's pilot episode.
The Columbus Cooperative took note and moved the show to the 800-seat main theater. Tickets are still available — probably not for long. But before we get sustainably sucked into the "Portlandia" vortex, we wanted to devote some thought to our own little city. The verdict? Man, we're cool. Here's why:
We can rock granny's cocktail attire.
Sources: Into the Wardrobe; Foreign Affair; The Vault; Nostalgia; Rocket to Mars; Second Time Around; the Providence Flea.
Chant with us: Farm-to-table, lo-co-vore. Farm-to-table, lo-co-vore.
Sources: Nicks on Broadway; New Rivers; Chez Pascal; Broadway Bistro; north; Gracie's; Farmstead; the Grange; Local 121; Waterman Grille.
Our coffee scene is roasty and toasty.
Sources: The Coffee Exchange; White Electric; Seven Stars; Small Point Cafe; Olga's Cup and Saucer; Blue State Coffee; New Harvest.
We can hipsterize anything.
Sources: The Columbus Theatre, a former nudie flick haven, now hosts the coolest rock shows (and miscellaneous events) around; The Dean Hotel, once the site of a sketchy brothel, is now a boutique hotel with karaoke rooms, a German restaurant and lots of local touches; The Arcade, which was a homeless hangout a mere five years ago, now houses local fashion, design, restaurants and micro-lofts. Yes, micro-lofts.
We're soooo artsy.
Sources: RISD Museum; Brown's David Winton Bell Gallery; Yellow Peril Gallery; Chazan Gallery at Wheeler; Gallery Night Providence on the third Thursday of each month, March through November. Notables in nearby Pawtucket: OneWay Gallery Hope; Rhody Craft 100.
City dwellers are neat.
Sources: Breakfast with Curtis; Street Fashion PVD; Providence Geeks.
We like books (used, preferably).
Sources: Cellar Stories; Ada Books; Symposium; Brown Bookstore; Books on the Square. A special shout-out to Rochambeau Library's biannual book sale.
We dig indie flicks.
Sources: The Cable Car; the Avon.
Rock and roll, baby.
Sources: The Parlour; Lupo's; Nick-A-Nee's; Dusk; AS220; the Columbus Theatre; Local 121; PVD Hoot. Notables in nearby Pawtucket: the Met; Machines with Magnets.
We're green, for real.
Sources: Southside Community Land Trust; ecoRI Earth; farmfresh.org; Cluck!; Apeiron Institute; office of sustainability.
Did we miss anything? Let us know in the comments.
Fred Armisen Event Details: March 12. 7 p.m. $15 in advance, $17 day-of. Columbus Theatre, 270 Broadway, Providence, columbustheatre.com.