Providence's Lost Chinatowns
On the Chinese New Year, we take a look back at the state's first Chinese emigres and the communities they built in our capital city.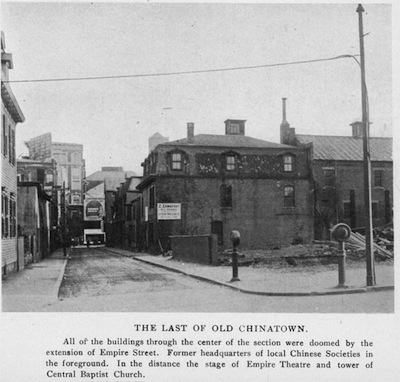 Harp Lee had traveled a long way. His journey began when he left his home in Canton, China, for San Francisco. He then traveled to Portland, St. Louis and finally to Boston. He left Boston in 1874 for the city's smaller neighbor, Providence, where he opened Harp Lee and Company Chinese California Laundry. Lee's laundromat was located in a narrow building on North Main Street, hardly auspicious, but he drew decent business.
By the mid 1870s, Lee's Chinese Laundry was one of seven that had popped up in Providence, and he was one of nine Chinese men in the entire state. By the early 1900s, the number grew to 301 Chinese males and four females. This was not the burgeoning Chinatown of Boston, San Francisco or New York City, but the small community began to consolidate and form Providence's own Chinatowns. These Chinatowns were found on Burrill Street and later Empire Street, before its expansion between 1915 and 1951.
Providence locals were intrigued by this new population with their "chop sooy" (sic) houses and steaming laundromats. An 1876 article in the Providence Journal described them as "celestials" with "funny double-monosyllabic names."
Although there was some racism in their descriptions (one article said that upon entering a Chinese laundry, "a polite, queer looking person greets you with 'how do.' "), the Providence public tolerated, and in some cases defended, this new group of immigrants.
In 1899, legislators attempted to pass an anti-Chinese ordinance that would prohibit granting restaurant licenses to the Chinese. Rather than blithely accept this proposal, the Providence public was appalled. The chief of police argued, "You might as well try to pass an ordinance prohibiting a naturalized Irishman from keeping a saloon," and "why anyone should wish to legislate the…Chinese out of the restaurant business is a mystery."
So the Chinese carried on, many of the men marrying interracially and the Providence Journal remarked upon their good behavior and equal treatment of everyone who entered their businesses.
"The restaurants cater to all classes," an article explained, and "no one of them has been arrested for any offense and the police bear testimony to their quiet demeanor and uniform behavior."
Though the Chinese Exclusion Act was passed in 1882 prohibiting the immigration of Chinese laborers to the U.S., most of Providence's Chinese population had come before the law was enacted. Like Harp Lee, these immigrants were moving across the vast expanse of their new home, searching for opportunity.
By 1905, their growing presence in Providence was solidified, and the headline of one article by the Journal blared in calligraphic type, "Chinese Element Slowly Growing in Providence."
Images of a Chinese restaurant, a dapper Chinese merchant named Charles C. Hing and Empire Street as the "centre of our Chinese community" dominate the page, along with an illustration of a "typical Chinaman" dressed in traditional clothing and a cigarette planted in his mouth.
The population thrived, cleaning laundry, importing goods from China and running restaurants that fascinated the locals with exotic cuisine.
But this small Chinatown was not to last.
From 1915 to 1951, Empire Street was expanded. The Chinese Society buildings were torn down, and Chinatown slowly began to fade away.
Today, there are no physical remains of this lost Chinatown. All that is left is the long expanse of Empire Street cutting through downtown, dotted not with Chinese laundries and chow mein eateries, but with parking lots, American restaurants, Irish pubs and city buildings.