Providence Warwick CVB Honors Members of Hospitality Community
The Providence Journal's Gail Ciampa, La Gondola, the American Contract Bridge League and WPRI 12's "The Rhode Show" earned awards.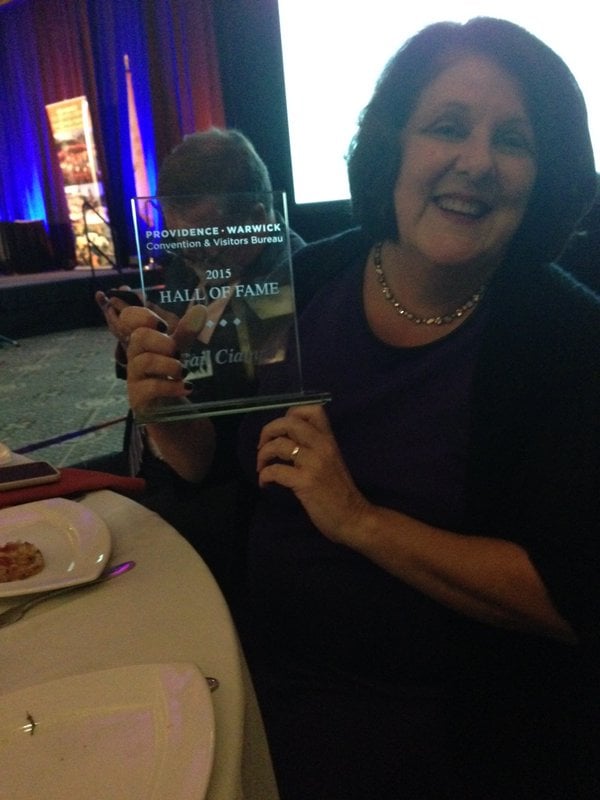 Yesterday evening, the Providence Warwick Convention and Visitors Bureau celebrated a successful year and honored members of the local hospitality community. The Providence Journal Food Editor Gail Ciampa was inducted into the Hall of Fame. She began reporting at the Journal in 1987 and took up the food editor post in 2001.
Congratulations @gailciampa on your @ProvidenceRI Hall of Fame induction! @RIHospitality pic.twitter.com/xh3zLcEDFX

— HeatherSingleton (@HRSingleton) October 21, 2015
Congrats @projo's @gailciampa, inducted into #GoProv Hall of Fame! pic.twitter.com/jNpNqTe7XD

— Alan Rosenberg (@AlanRosenbergPJ) October 21, 2015
Other awards were also distributed that evening, including the honor of Member of the Year to Matthew Haynes of La Gondola; the Sports Champion award to Joseph Brouilliard of the American Contract Bridge League; and WPRI12's "The Rhode Show" earned Special Recognition.
@LaGondolaProv congratulations!! pic.twitter.com/jZUe5lSbSU

— Savoring RI (@cindysalvato) October 22, 2015
Thank you so much to the PWVCB for our award tonight for The Rhode Show. We loved being part of the event tonight. pic.twitter.com/QbXKsCAful

— The Rhode Show (@TheRhodeShow) October 21, 2015