Providence Designer Creates for the Modern Victorian
Lilian Asterfield recently opened a showroom on the West Side.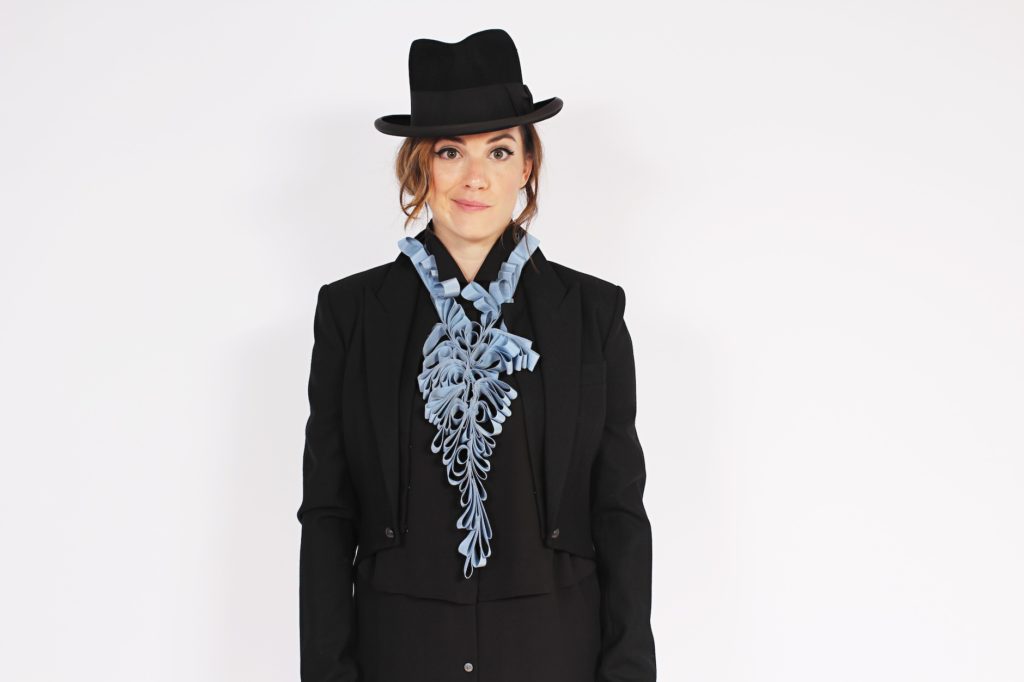 When it comes to neckties, many of us think of grandfathers.
But when designer Nicole Deponte saw neckties, she saw possibility. Seven years ago, the Mass Art grad who recently opened a showroom in Providence agreed to make accessories for her twin brother's collection, which she described as steampunk-y and industrial.
Armed with a bag of ties she had been gifted by the high-end shop Bobby's From Boston, Deponte turned tradition on the neckpieces, reinventing them into beautiful pieces that ruffle out from the neckline, like the opening of a clam shell.
"People were just totally intrigued and loved them," Deponte says. "And I just kept making more and then after a while I said, I have to design a collection that's produceable, in shapes that people can understand."
And so Deponte's alter ego, Lilian Asterfield, was born. Her grandfather used to call her mother that when she was little, and Deponte liked the way it evoked the fancy, Victorian feel of her designs.
"Lilian Asterfield just felt right," Deponte says. Based in Boston at the time, her designs drew the attention of Nylon Daily, Cool Hunting and other fashion publications and bloggers and buyers from stores in Brooklyn, Atlanta, Maryland and other cities. She also exhibits at major craft shows like the American Craft Council and Cross Boston.
Since then, Deponte has expanded into creating shrugs and jewelry, and she describes her collection as "couture accessories for the modern Victorian."
She relocated to Providence about three years ago, after living in Boston and New York.
"It felt like there were ways to make more of a footprint here than in some other places," she says. "And I had already done that in Boston and I was just ready. As far as being a city that makes it affordable for artists to live here, it's still not super inexpensive, but your standard of living here is a lot higher here, and that makes a really nice environment to create."
To keep herself supplied with ties, Deponte works with collectors who go to estate sales and will buy "an entire gentleman's closet."
"These pieces are in exceptional condition. And then I'm handpicking each one, in the back of my mind pairing them as I go along," Deponte says. "I love bright, bold prints, stripes. I like playing around with ties that are not traditional-looking ties and are a little more avant garde and then also ties that are really tie-like. Like, my grandpa had that one."
She says her interest in materials drew her initially to the "bizarre design" of the necktie.
"I mean really, what the heck. It's got lining on it, it's on the bias, they're just terrible to make. They just take forever and it's just really complicated and I completely admire necktie makers and absolutely know why I don't make them from scratch.
"So I was intrigued by the design and how cool and inventive that is, and I was thinking, okay, so I've taken this really cool inventive design and I'm going against its shape to make these forms that are draped around a neck form. The idea of gender bending, what's feminine, what's masculine. Why do women feel empowered when they put my pieces on? They literally stand up taller and do this really cool face in the mirror. Even if it's not necessarily their style, they still are like, whoa."
Deponte has gotten to the point where she has about two hundred ties come through her studio every two weeks, and she estimates she makes about 800 pieces per year. She also does custom work for clients such as a soloist with the Boston Ballet who has commissioned her to create neckpieces for him to wear to galas.
"He loves the crazy stuff, so we really have a lot of fun," she says.
But some days she can't look at another necktie. A self-decribed hoarder of materials with an inability to sit still, she has created other collections for Lady Asterfield, with ribbon necklaces, fringed necklaces, and fun headbands with bows made out of vintage scarves that cost from $20 to $25. And she's always wanted to have a bricks and mortar space where she can have fittings, show her work to buyers and open to the public.
At the end of the day, Deponte wants people to have as much fun wearing her designs as she does making them.
"A friend of mine wore [a headband] to work and she said, all of the guys are telling me that my bow is really cute. I think it's working," Deponte says. "I'm like, score. That's what it's about."
Lilian Asterfield, 379 Broadway, Providence, lilianasterfield.com. It's open by appointment, and items are also available through her website.