Protecting Our Past
Dedicated volunteers find and preserve Rhode Island's many historic cemeteries.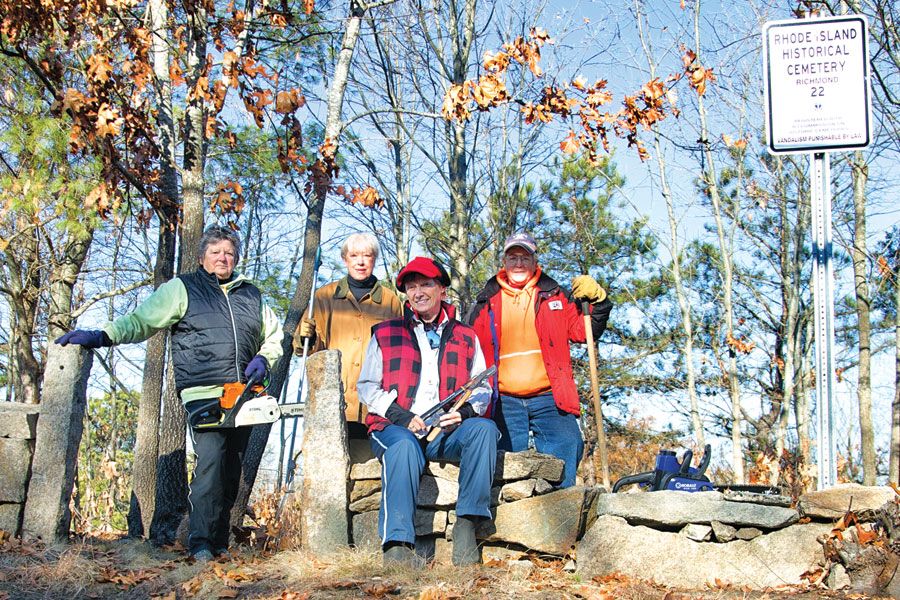 Evelyn Wheeler, seventy-five, is quick with a handheld GPS device and a weedwacker. The Narragansett resident serves as one of the commissioners for the Rhode Island Advisory Commission on Historical Cemeteries, whose mission is to study the location, condition and inventory of historical burial grounds.
"There are more than 3,500 documented cemeteries in Rhode Island," says the volunteer, adding that she has cleaned up dozens over the years. In addition to clearing brush and unearthing headstones, Wheeler obtains GPS readings of all the locations.
Commissioner Dory Wagner, sixty-four, of South Kingstown, and volunteer Judy Mendelsohn, sixty-eight, of Hope Valley, can also be spotted knee-deep in overgrown shrubbery with chainsaws in hand, toiling amidst cobwebs and thorns. "We first try to determine the size of the plot," Mendelsohn says. "Then, with rakes, clippers, shovels and saws, we clear away forest debris to expose the stones and boundaries. The older I get, the harder it is to handle a chainsaw."
The trio has learned about the past from their discoveries. "One family had a very neat, well-built stone wall surrounding their relatives. And right next to it, but outside the wall, away from the family, are their slaves," says Wagner. Many Revolutionary and Civil War veterans are scattered around the towns in tiny family lots, "long forgotten in the corner of a field, neglected."
These women are just three of the hundreds who help maintain historic cemeteries. The commission is made up of volunteers from all five counties as well as representatives from the Rhode Island veteran's cemetery, the RI Historical Society, RI Historic Preservation and Heritage Commission and the League of Cities and Towns. Unfortunately, obstacles often stand in their way. "If every homeowner who had a cemetery on their property were to clean it up and keep it up, that would be a beginning," Wheeler says. rihistoriccemeteries.org