"Project 3.8" Looks Pediatric Cancer in the Face
Attend the exhibit's final popup in Jamestown this Saturday night, and meet the people behind the portraits.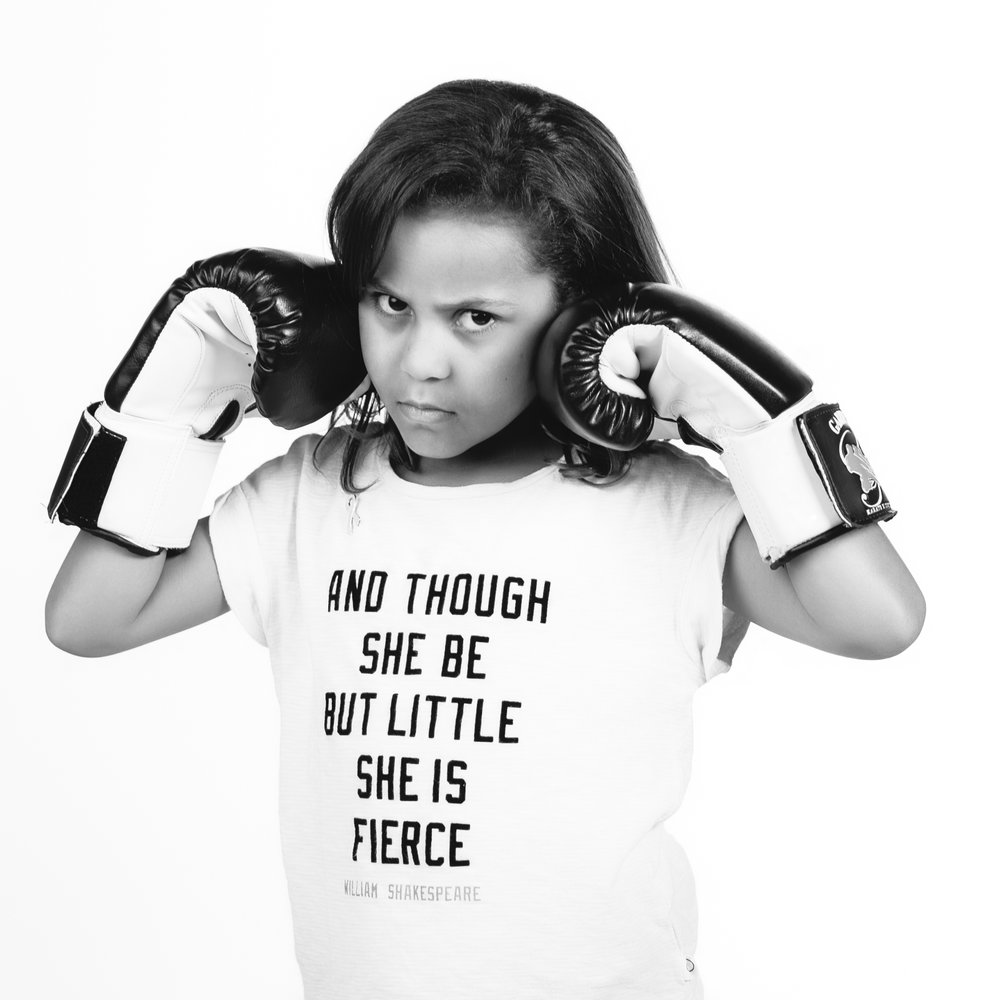 Photographer Robyn Ivy wants to re-brand pediatric cancer.
"As a photographer, I'm hired to help solidify people's brands. And so I started thinking about the brand of pediatric cancer. And my experience is that it has been under-represented," Ivy says via telephone, in the midst of hanging portraits from her traveling exhibition, "Project 3.8," at the Jamestown Arts Center. "The campaigns that come out are very sad and disengaging. The imagery — it's almost like asking people to watch a car accident."
Nobody wants to talk about sick kids, and national efforts to start the conversation play into parents' fears when, Ivy thinks, the focus should be on kids' resilience.
Ivy learned this firsthand when she photographed her friend's son, Dorian Murray, a boy from Westerly with an indomitable spirit and terminal cancer. Her photograph of Dorian, with boxing gloves at the ready, helped inspire the global "#DStrong" call to arms, where strangers posed for pictures with the hashtag by the Great Wall of China, among dozens of other places around the world. Dorian died in March.
"Project 3.8" — which gets its name from the 3.8 percent of national cancer funding that's earmarked for pediatric cases — was established to keep Dorian's legacy alive. Both Ivy and Dorian's mom, Melissa Murray, wanted to document the plights of kids and families dealing with pediatric cancer while also celebrating their strength and raising awareness about their often-overlooked needs.
"I thought, if people were so willing to engage with this one particular photo, what would happen if I took photos of nineteen other kids?" says Ivy. She approached Melissa for advice, who then connected Ivy with families she and Dorian had met over the course of his treatment.
During the spring and summer, Ivy photographed nineteen Rhode Island children with cancer. The photos have exhibited in nine locations since Labor Day. The last scheduled showing in Rhode Island takes place this Saturday at the Jamestown Arts Center. (Ivy has been invited to exhibit the show in Chicago and Nashville, and she's currently seeking sponsorships to make that happen.)
Writer Tabitha Lord interviewed the families, and their stories are available on the Project 3.8 website. Ivy also spoke at length with the parents and learned that, in addition to living in fear for their child, they often feel buried beneath the responsibilities of everyday life: stocking the fridge, shoveling the driveway, getting their healthy kid to soccer practice on time. Many have to quit their jobs. Others feel isolated and alone.
"Part of what motivates me is that I feel I hadn't been anywhere near as good of a friend," Ivy says about her relationship with Melissa Murray, which began shortly before Dorian was diagnosed with cancer at age four. "I realized it too little too late. There were a lot of things I could've been doing but I didn't know enough about the journey of pediatric cancer to do them. I feel I would've done things very differently if I had known."
Ivy adds, "There's still an enormous amount of taboo around kids with cancer. Nobody wants to talk about sick children because they don't want it to happen to them. But, okay, if it did: Do you want to be surrounded by a community that's pretending it's not happening to you?"
She compares pediatric cancer, which has a collective survival rate of about 85 percent, to breast cancer, which has a similar statistical prognosis on average. Despite this, Ivy says she's approached by attendees at the "Project 3.8" exhibits who, in hushed voices, wonder if any of the children in the photographs are alive. She can often point the kids out in the crowd. Some of the families plan to speak at the Jamestown event.
"Oftentimes people will say this is the first time they've looked at photos of children with cancer," she says of the exhibit. "My hope is, the work I'm producing is uplifting and shows kids fighting their fight in their own unique way…. I think there's an opportunity to create enormous change. It's our hope to create that legacy on Dorian's behalf. He was willing to share his story and his struggle and the amount of support that came from that — it would be a shame to lose that when there are 124 other kids in Rhode Island being treated for cancer right now."
She adds, "I mean, he used to sell his toys at yard sales to help the kids at the clinic; I think he would be really proud of what his mom and I are doing. In her own grief, she's willing to do this for these other families, and it speaks volumes about her character. It's never been clearer that for Dorian, he's an apple that fell right off its tree."
The Jamestown Arts Center, 18 Valley St., Jamestown, hosts "Project 3.8" for one night only on Saturday, October 29. The event begins at 6 p.m. A $10 donation to the Dorian J. Murray Foundation is suggested. To learn more about Project 3.8, visit 3point8.org.