Profile: 38 Studios Attorney Max Wistow
The attorney representing Rhode Island in the 38 Studios litigation has been involved in some of the state's most high-profile legal battles over the years.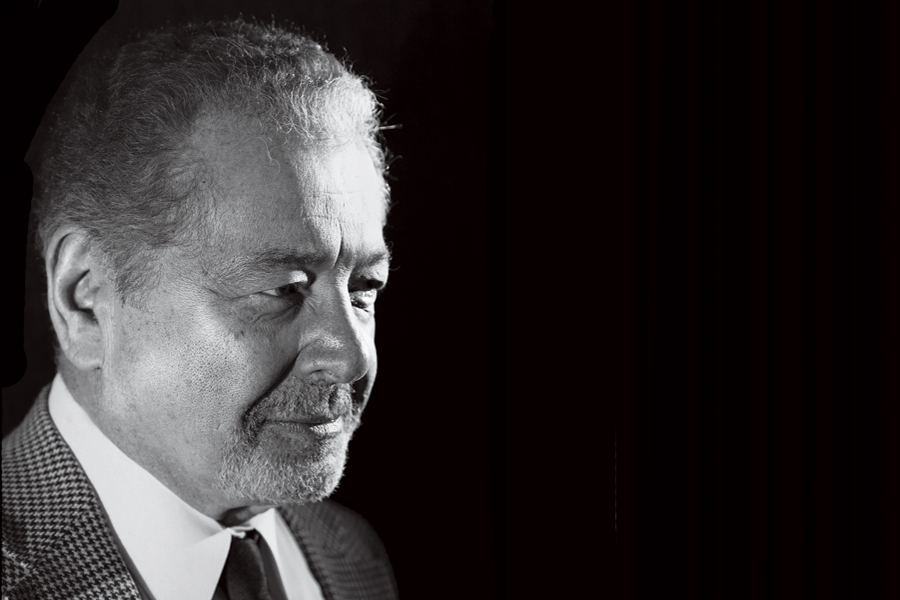 Max Wistow has won millions of dollars for his clients in some of Rhode Island's most notorious lawsuits. But in taking on the 38 Studios mess on behalf of taxpayers, his biggest legal challenge may still be ahead.
---
On September 8, 2006, Curt Schilling issued a press release introducing Green Monster Games, LLC, "a new company dedicated to producing innovative and genre-defining massively multiplayer online games." The Boston Red Sox pitcher was two years removed from his "bloody sock" performance that came to symbolize the team's gritty march to its first World Series title in eighty-six years, and he had no shortage of confidence. He invested $5 million of his own money upfront in the new company. He delivered the keynote address at an October 2006 forum at MIT called "Tomorrow's Games." And, in an online job listing, his company — which soon changed its name to 38 Studios, in honor of Schilling's uniform number — boasted of "assembling the world's most creative talent to produce what will be seen as the most epic, industry-changing game in the history of online gaming."
Of course, 38 Studios would ultimately leave a different legacy, which House Speaker Nicholas Mattiello has described as "one of the biggest debacles in the country's history and certainly Rhode Island's history." And instead of celebrating the company's ninth birthday in 2015, Rhode Islanders are marking other anniversaries. It's been five years since the Rhode Island Economic Development Corporation (RIEDC) board voted eight to one to approve a $75 million, taxpayer-backed loan guarantee for Schilling's company. It's been four years since the company moved its headquarters from Maynard, Massachusetts, to downtown Providence. And it's been three years since 38 Studios released its debut game, Kingdoms of Amalur: Reckoning, just months before delivering a bad check to the RIEDC, laying off more than 300 Rhode Island-based employees and filing for bankruptcy.
If the 38 Studios story were a play, we would be watching its long, painful, final act. Schilling has exited the Rhode Island stage, after selling his mansion, auctioning off its contents and retreating to a job as an ESPN baseball analyst. (He still occasionally tweets defiantly about 38 Studios.) Former House Speaker Gordon Fox and former Governor Don Carcieri have, for different reasons, mostly disappeared from public view. So had Carcieri's successor, Lincoln Chafee, until his recent announcement that he's considering a presidential run. Chafee criticized the 38 Studios deal from the campaign trail to his final interviews in office, and he left behind an official state portrait described by the Providence Journal as "a serious, solitary Chafee staring into a black abyss."
These days, the job of finding an answer to the still-lingering question, "Will we ever get our money back?" falls largely on the shoulders of a seventy-two-year-old Glocester resident named Max Wistow, the lawyer hired for the lawsuit that would become "PB-12-5656: Rhode Island Economic Development Corporation v. Wells Fargo Securities, LLC, et. al." Fourteen defendants were listed in the November 1, 2012 complaint, which read, at one point, "Defendants Knew or Should Have Known, But Failed to Inform the EDC Board, That 38 Studios was Destined to Fail According to 38 Studios' Own Financial Projections." In a YouTube speech released the day the suit was filed, Chafee described Wistow as "a seasoned attorney with decades of experience in complex litigation matters, including financial restitution and settlements."
A closer look reveals a lawyer who charges more than $700 per hour, but accepted the 38 Studios case at a lower-than-average contingency rate of 16.67 percent, which Chafee calls "very reasonable." He doesn't advertise, yet he has rarely shied from high-profile cases over the course of a four-decade career. He has represented both the Rhode Island Democratic and Republican parties, the office of the attorney general, a house speaker, the former CEOs of GTECH and Bess Eaton, and the ex-wife of former Providence Mayor Buddy Cianci during their divorce proceedings in the 1980s. A 2007 Journal article about his defense of then-Senate President Joseph Montalbano, in an Ethics Commission inquiry, described how his "shouts were sometimes audible in the hallway outside the board room."
Indeed, Wistow has been at the table for many of the notable civil cases in recent state history. His firm — Wistow, Barylick, Sheehan and Loveley, based in downtown Providence — was a key player in securing the landmark $176 million settlement for victims of the Station fire. (Wistow's partner, John Barylick, later published the book, Killer Show: The Station Nightclub Fire, America's Deadliest Rock Concert.) Wistow was hired for work related to the labyrinthine lawsuit following the banking crisis of the early 1990s, and the lawsuit filed by the family of Cornel Young Jr., the off-duty Providence police officer killed by two fellow officers in 2000. In 2010, Wistow secured a $1.3 million settlement for the family of a mentally ill man shot and killed by Pawtucket police.
"Nobody's ever surprised when he gets hired to handle a monstrous case," says former District of Rhode Island U.S. Attorney Robert Corrente, who worked for Wistow as a young associate in the 1980s. "If you're in a fight like that, if he's not one of the first two or three people you think of, then you've got the wrong list."
Max Wistow was born in New York, but he says there is "hardly anybody old enough to remember" when he moved here. By that measure, he says, he's a Rhode Islander.
He grew up in the Bronx, where he delivered milk for his parents' grocery store in the mornings before school, and he was the first in his family to go to college, when he attended the University of North Carolina at Chapel Hill. He says it was a 1950s courtroom drama that fueled his interest in the law. "The lawyer was always for the underdog, he was always doing the right thing," Wistow says.
Wistow enrolled in night classes at Boston's Suffolk University Law School shortly before moving to Rhode Island for a job as a personnel officer at the Veterans Administration in the mid-1960s, and he was sworn in to the Rhode Island Bar in 1969 — the year of Woodstock, Richard Nixon's presidential inauguration and the opening of the Newport Bridge.
"Everybody knew he was special when he started," says Superior Court Presiding Justice Alice Gibney, who ticks off the qualities that distinguish Wistow. He's smart, creative, meticulously prepared, quick "like a boxer" to respond to moves by his opponents and seemingly effortless in the way he breaks down complex issues and communicates them to a jury. "Even if you have a roomful of talented people — and he usually is in a room with talented people — he's apt to be the most talented," she says.
He is also "hands down the best deposition taker you'll ever see," says Corrente, who points to Wistow's command of these pretrial interviews as a key factor in his ability to reach settlements. In this setting, where the witness is pinned to a chair across the table and there is no judge or jury to risk offending, "he just tortures people," Corrente says. "He thinks faster than you do, and he's a very intimidating questioner…it's scary to watch."
Whether you like him or not, and Corrente concedes "there a lot of people that can't stand him," it's hard not to be impressed with Wistow's track record. In 1982, he worked on the lawsuit that successfully declared Rhode Island's state senate and representative district lines unconstitutional — a case that pushed back senate elections until the following summer. In 1990, Wistow won a $19 million settlement (the biggest product liability judgment in state history, at the time) against the pharmaceutical juggernaut Parke-Davis on behalf of a mother who had given birth to mentally handicapped twins after taking an anti-seizure medication during pregnancy. Years later, Wistow was hired after family members of a couple murdered by Hamas militants in Israel sued the Palestinian National Authority in Rhode Island under U.S. anti-terrorism laws. (One of the victims was a U.S. citizen.) The case made national headlines when local U.S. District Court Judge Ronald Lagueux froze the assets of the Palestinian Authority in the United States. In the middle of the fray was Wistow, who traveled to East Jerusalem for a deposition with then-Palestinian Authority Prime Minister, Salam Fayyad, before the case settled under undisclosed terms in 2011.
And so when 38 Studios entered its death spiral in 2012, Chafee legal adviser Jonathan Savage says he helped the governor produce a short list of lawyers who might investigate the murky origins of the transaction. Wistow, whom Savage calls "a very politically savvy guy, but…not a political lawyer," was on it. Any kind of 38 Studios-related legal action was sure to be politically charged, Savage says, and he distinctly remembers his conversation with the governor. "The analogy I used was, 'If you start down this road, you need to do it without regard to what driveways you might have to stop at,' " he says. On June 26, 2012, Chafee announced his office had hired Wistow to look into the deal.
The former governor said he is feeling as good as one can feel in litigation, when asked recently about the case's prospects. "We have the best," he says. "I gave [Wistow] the green light and said, 'I'm not a lawyer. This is your business. Go get 'em.' "
Wistow wouldn't divulge any new, exclusive details about the 38 Studios lawsuit for this article. And the defendants — who were contacted directly, or via their lawyers, for this article — either declined, or didn't respond to, requests for comment. The most memorable denial of an interview came from former RIEDC Executive Director Keith Stokes, who wrote, "I cannot speak regarding an ongoing lawsuit that has devastated myself and family." He added a Martin Luther King Jr. quote: "In the end, we will remember not the words of our enemies, but the silence of our friends."
And it's not just the parties who aren't revealing details. Since April 2014, Associate Justice Michael Silverstein has withheld a ruling on whether the deposition transcripts can be released before the trial. Wistow and his team support the release, while at least one defendant opposes it. Superior Court spokesman Craig Berke tells us that the question is still "pending." In other words, more than two years after the 38 Studios complaint was filed, the lawsuit remains essentially locked.
(At press time, Silverstein agreed to hear arguments on another Wistow motion, to release deposition transcripts.)
Examine the available details closely enough, however, and a few noteworthy points emerge. First is the case's sheer size. At ninety-five pages, the initial complaint is the length of a novella — and, at times, it reads like one. (Page twenty-one cites a May 2010 email from a RIEDC analyst that reads, "To be honest, I have more information on the typical $10k micro loan than I have on a $75 million request. This is a problem.")
Add thousands of pages of court filings, tens of thousands of deposition transcript pages and hundreds of thousands of 38 Studios-related documents that have been produced during the pretrial discovery period, and you've got a stack of paper that might challenge Jerimoth Hill as the state's highest point.
Second, the 38 Studios litigation is incredibly complicated. It involves numerous banks and an intricate series of bond sales that allowed a quasi-public agency, the RIEDC (now the Rhode Island Commerce Corporation), to loan money to a private company using a "moral obligation" mechanism that has left "To pay or not to pay?" discord in its wake. Trudge through Judge Silverstein's ninety-eight-page ruling on various motions to dismiss the case, from August 2013, and you see what John Barylick means when he says the 38 Studios case is "not the stuff of Perry Mason moments."
Thirdly, not all of the defendants are equal when it comes to how much they could pay in a settlement or judgment. It's highly unlikely that, say, former RIEDC Deputy Director J. Michael Saul can afford to pay the same amount as Wells Fargo, the eighth largest publicly traded company in the world, with 265,000 employees and a 2014 stock market value of $283 billion.
(A Wells Fargo spokesman sent the following statement: "The lawsuit has absolutely no merit and Wells Fargo looks forward to the opportunity to present the facts to the court and, if the case isn't resolved in Wells Fargo's favor on summary judgment, we look forward to presenting the facts at trial.")
Finally, it's clear Wistow is putting in an effort that would be extraordinary for any lawyer, let alone one who could have long been retired. He and his team spent "hundreds and hundreds" of hours investigating the deal and preparing the initial complaint. He has briefed the RIEDC throughout the case; attended countless court hearings; conducted depositions, many of which stretch over numerous days; and even registered as a lobbyist, in order to testify before lawmakers in favor of a 2014 bill that shields defendants who choose to settle from additional 38 Studios-related lawsuits. Generally, this is the kind of job that would be farmed out to a national firm, Savage says. "It's extraordinary he does that with a relatively small office," he says.
The general public is allowed periodic glimpses at the proceedings during regularly scheduled status hearings in a fourth floor courtroom at the sprawling Licht Judicial Complex in Providence. Judge Silverstein's courtroom isn't quite the grand, wood-paneled space you might envision for such a notable case, with its carpeted floors, bare white walls and Rhode Island and United States flags hanging from poles tucked behind a filing cabinet and piles of papers and cardboard boxes. The jury box was empty on a recent morning, while the gallery was occupied by a small herd of lawyers, representing various defendants in the case.
"I'm trying to move this thing along," Wistow says, once the hearing begins. "The way the defendants have operated, the narrowest issue drags on eternally." At the following hearing, two weeks later, Wistow is back in the same place, arguing against one of the defendants' request to re-interview various witnesses, including Stokes and former House Speaker Gordon Fox. The plaintiffs want to get this case to trial "as expeditiously and inexpensively as possible," Wistow says after a lengthy argument by one of the lawyers working for Wells Fargo. Allowing for more depositions was "giving an excuse to defendants to drag this thing out interminably," he adds.
Silverstein allows the interviews, provided they could be completed within a two-week timeframe. Before the proceedings adjourn, the judge says it is "highly unlikely this case will be ready for trial until September."
Max Wistow doesn't play golf. He doesn't ski, sail or play tennis. And he has no plans to retire. "Not voluntarily," he says with a laugh. "They may drag me out of here in a white wagon."
"Here" was the book-lined library with wooden tables and a spiral staircase on the first floor of the firm's embassy-esque three-story brick building on Weybosset Street. I had asked Wistow if I might see his house in Glocester, where he lives with his wife, Carmen. I'm told it sits on a peninsula in the Ponaganset Reservoir, protected by trees, a lengthy driveway and a code-locked gate. But he declined, so we sit at a table dotted with the stacks of paper that Wistow, a self-described technological "dinosaur," prefers to digital documents.
Perhaps these surroundings better reflect him, anyway, given how many people say that there isn't much of a difference between Wistow, the lawyer, and Wistow, the person. "Max brings [an] obsessive ability to concentrate to his cases," says Barylick, who has worked with Wistow for more than thirty-five years. "The EDC hired someone to concentrate on its case pretty much to the exclusion of most everything. And that involves brainstorming and phone calls at all hours of the night — weeknights, weekends — among his partners and associates, including me."
Those phone calls are famous. Savage, who shares the RIEDC/Commerce Corporation as a client with Wistow, says they come any time from 7 a.m. to 11:30 p.m., including Saturdays and Sundays. Corrente adds that, two decades later, his kids still remember the late night calls from a gruff voice that asked for their father. "Not 'Hi, how are you?' " Corrente says. Wistow would just dive straight into a conversation about experts or depositions. "The wheels never stop turning," Corrente adds.
It's likely those calls will continue, if not intensify, as a trial date nears in the 38 Studios case. Right now, it's impossible to pinpoint — locked out, as we are — the likelihood of any additional settlements that would raise the amount of money Wistow has retrieved. (Moses Afonso Ryan, the RIEDC's bond counsel during the 38 Studios deal, exited the case last August, with a settlement for $4.37 million.) But as every day passes without additional settlements, it seems more likely that, at some point around the ninth anniversary of Curt Schilling's "epic, industry-changing" company launch, Wistow will step in front of a jury in Providence to make an opening argument about the most infamous business transaction in state history.
Every minute of the 38 Studios trial might not make for good primetime TV. But it's hard not to look forward to those first verbal salvos. Former Wistow partner and past Rhode Island Bar Association President Robert Weisberger was in the courtroom for the birth-defect case against Parke-Davis in 1990, and he saw Wistow deliver what he calls "one of the most brilliant closing arguments I've ever had the pleasure of witnessing." It followed an argument for Parke-Davis by another well-known litigator, Joseph Kelly, which left Weisberger wondering how Wistow could recover. "Not only did he climb out of the hole that Joe Kelly had dug," Weisberger says, "but he went so far beyond, in such a compelling, convincing way."
Max Wistow, the person, is a lot softer than you would imagine, Weisberger says. "There is a heart that beats in there," he says, but you're not going to see it if you're his opponent. "When he's focused on something," he says, "you don't want to stick your arm in the lion's cage. He might bite it off."
Milestones in the 38 Studios lawsuit brought by the state almost three years ago. The case, which attempts to retrieve tens of millions of taxpayer dollars, has yet to go to trial.
NOVEMBER 1, 2012
"JURY TRIAL DEMANDED," reads the first page of the complaint filed in Superior Court against various former 38 Studios executives, RIEDC officials, banks and law firms that helped broker the $75 million deal. Among the seventeen counts listed at the end of the complaint are "Fraud," "Negligence," "Legal Malpractice," "Breach of Implied Covenant of Good Faith and Fair Dealing" and "Negligent Misrepresentation."
AUGUST 28, 2013
Judge Michael Silverstein releases a ninety-eight-page decision responding to various motions to dismiss the case. While he dismisses some defendants from some counts, and dismisses one of the counts altogether, he allows the bulk of the case to proceed.
OCTOBER 24, 2013
Depositions in the lawsuit begin with an interview of an executive from First Southwest Company, a financial adviser to the RIEDC. Depositions with sixty-
seven witnesses will follow.
FEBRUARY 14, 2014
Governor Lincoln Chafee signs the so-called "38 Studios Settlement Act" into law, protecting defendants who settle in the 38 Studios case from lawsuits by other defendants.
AUGUST 4, 2014
Former Governor Donald Carcieri writes a blistering letter to the Providence Journal, correcting a "completely wrong and misleading" article on his deposition from the previous day. In the letter, he describes ten hours of questioning over two days, and a third day scheduled.
AUGUST 27, 2014
The state receives a $4.37 million settlement — the first and only settlement in the case, to date — from the insurance company for the Providence law firm, Moses Afonso Ryan, which served as bond counsel in the 38 Studios deal.