Prime Pairings
Liz Steely of Campus Fine Wines in Providence offers tips for choosing the right wine for your beef.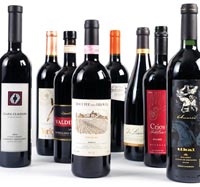 Complement your cut: Apart from a sauce, the fat content and flavor of the meat act as guidelines for choosing wine. The bold tannins of a cabernet do well with a nicely charred filet, while the deep spice of a Barolo will stand up to the heartier strip steak. Fattier cuts like hanger can take a malbec because the wine's got flavor but is slightly less astringent than a cabernet. Really, you can't go wrong with any blend of cabernet sauvignon, cabernet franc, merlot or malbec.
Consider the sauce: Steak is a red wine magnet. However, if you're serving a sauce, then match the wine to the sauce rather than the meat. You also have to take side dishes into account. If you're serving dairy-rich mashed potatoes, you want something that's not too acidic—you don't want to shock the palate—but with some high tannins.
Don't rule out white: If you're serving filet with a brandy and Dijon cream sauce, then by all means choose a white Burgundy. The oaky flavors of a chardonnay will complement the beef and the subtle fruit will liven the sauce.
Liz's List:
A splurge and steal for every cut.
FILET: Clark-Claude Cabernet Sauvignon 2004 [$70]
Yorkville Cellars Cabernet Sauvignon 2004 [$20]
RIBEYE: Delisio Tikal "Amorio" Malbec 2006 [$30]
Crios Malbec 2006 [$16]
SIRLOIN/STRIP: Brovia "Villero" Barolo 2001 [$66]
Valdifalco Mirellino 2004 [$20]
HANGER/SKIRT:"Krystina" Shiraz 2005 [$50]
Piping Shrike Shiraz 2006 [$18]