Pride Street
Westerly's North End was a working class neighborhood in a downward spiral of seedy bars and drug dealers, until the residents fought to take back their streets.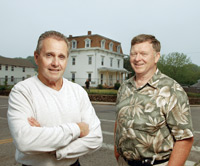 As Adrian Pelchat and Tom Daniewicz walk through Westerly's North End neighborhood, they wave to neighbors and call out pleasantries to friends. They point to houses and reel off names of families and businesses that have come and gone from the various buildings. They watch passing cars and carefully note the make, model and license plate numbers of the unfamiliar ones.
On Pierce Street, the heart of the once pre-dominantly Italian neighborhood where some buildings are packed so tightly their walls nearly touch, the two men skirt the yards of new and rehabilitated houses. They note architectural features: a deck here, sunshine yellow clapboards there, flawless blacktopped driveways, a rim of chocolate- brown gingerbread trim, a wide front porch ripe for a summer's day –– the details of an up-and-coming area.
Pelchat pauses at a vinyl-sided house where debris dots the yard. The two-story, century-old structure is the only one in this corner that has not been renovated. "We really need to buy that," he notes.
"We" is the North End Crime Watch and Community Development Corporation, and Pelchat is its president. He and Daniewicz, the nonprofit's vice president, were the driving force behind its creation a dozen years ago, and last fall, they completed building or rehabilitating four two-family houses in the close-knit, roughly two-square-mile neighborhood. If state funding comes through, there are plans to renovate seven additional houses for lower income, first-time homeowners.
Pelchat remembers, not so long ago, when his own North End street was skidding downhill in a ball of decay and seediness. It was the early 1990s; boarded windows, punched-out screens, rats, garbage-laden alleyways and abandoned cars were common sights.
"At one point, I had an apartment empty for seventeen months," Pelchat says about a unit in the three-family Pierce Street house he bought in 1969 and where his family still lives. "I just couldn't find a good tenant."
Nearby bars on Canal Street, Industrial Avenue and Pleasant Street also caused problems. The tiny building that housed the now-closed Log Cabin bar is just a half-block from Dan-iewicz's Pleasant Street home and visible from his window. Daniewicz, an Electric Boat employee, moved with his family to the North End around 1980, and remembers how the bar had a posted capacity of about a dozen, but upwards of thirty-five people often crowded into the building.
"We had to be involved if we wanted to take back our streets."
"People would be in the streets drinking," he says. Bar-goers also played loud music, grilled burgers outdoors into the wee hours and loitered on the corner just under his windows. Neighbors became unnerved by the often rowdy crowd, especially some they suspected of being drug dealers. A woman once asked him to escort her past the building because she was afraid to walk by alone, he says.
One night, just after the bar closed, he was awakened by someone pounding on the door of his impeccably clean apartment. He opened it to find a staggering stranger, drunk and demanding to speak to an unknown person. "My kids were only eleven or twelve at the time, and it's scary to open the door and see this," he says.
The next evening, the same person came knocking at about the same hour. Daniewicz called the police, who arrived and arrested the man. "This shook me up," he says.
It also shook him into action. Pelchat and Daniewicz, along with a local minister, Joshua McClure, were ready to reclaim their neighborhood.
Now, when a young mother peers out the window of her gambrel Colonial house with impeccable tan stucco siding, she invites Pelchat and Daniewicz in for coffee. This is one of the four houses the crime watch rehabilitated. The men ask whether her windows have been installed, then coo over her two-year-old son. Back outside, Pelchat chats with a dark-haired boy in a red New England Patriots shirt; then he and Daniewicz wave to a neighbor working in his yard.
Another car passes.
"That's the second time that car has been through," Pelchat notices.

This is the North End that is: tidy houses sporting new green, blue, yellow and tan paint interspersed with buildings with cracked windows, gaping doors, peeling paint and old washing machines tossed in yards. The sound of pounding hammers and buzzing saws fills the air along with the smell of fresh sawdust, as carpenters' and electricians' pickup trucks line the streets in front of houses being renovated.
This is the North End that was: a proud, predominantly Italian neighborhood where a rainbow of eggplant, tomatoes and peppers sprouted in backyards until post World War II prosperity led to first a gradual, then a flood, of outward migration and the neigh- borhood began sinking in a mire of trash, drug trafficking and transience.
If Pelchat, Daniewicz and the rest of the North End Crime Watch members have their way, this is the North End that will be: freshly painted clapboards and shingles on every house, flowers spilling from sidewalk planters, children playing in a new playground, a healthy dose of homeowners occupying affordably priced housing along with a stable base of renters and maybe, just maybe, a new name for Pierce Street.
"Before I die, I'd like to see it renamed Pride Street," says Pelchat, who at sixty-three has called the North End home for some fifty-six years. Daniewicz has lived in the North End for twenty-seven. Twelve years ago, when the two men got fed up with rowdy drunks, absentee landlords, trash buildup, and cruising drug dealers and buyers in the neighborhood, they joined forces with McClure, pastor of a historic neighborhood church, along with the local police and town officials to revitalize the area. Since then, the North End has begun its slow, steady march to a better life.
Besides the four owner-occupied houses rehabilitated by the crime watch and sold last fall for $180,000 each, South County Habitat for Humanity completed another two-family house and is currently building a second one. The Washington County Community Development consortium is poised to renovate one structure and demolish a second, a project that will create ten affordably priced condominium units.
According to Rhode Island Housing officials, more than $8 million has been poured into rehabbing the North End, while homeowners, buoyed by the public projects, also have gotten to work spiffing up their houses. In addition, the former Gencarelli grocery store on Pierce Street, a small, single-story brick building, has become the crime watch headquarters and a police department substation, thanks to funds from Rhode Island Housing, the Washington Trust Company bank, the federal department of Housing and Urban Development and the state Housing Resources Commission.
The town council adopted ordinances making it tougher for landlords to allow junk cars and old appliances to accumulate, windows to remain boarded and housing to slip into squalor. It has made road repaving and sidewalk repair a priority and last winter agreed to spend $40,000 to buy a small vacant lot on Pierce Street. A scrubby, former cellar hole of abandoned children's scooters, skateboards and basketballs will turn into a green space and playground. Spurred by some determined individuals, North End revitalization has become a whole town effort. "Don't dismiss the huge number of players that got this going," says town planner William R. Haase.
The neighborhood's architectural significance and ethnic working class heritage was validated in April 2006 when the North End — 150 acres spread across fourteen streets including 194 houses, two social clubs, the Pleasant Street Baptist Church where McClure is pastor, as well as industrial and commercial properties — was listed on the National Register of Historic Places.
"What's often overlooked in designating historic places is the blue collar or working-class neighborhoods," Haase says. "These are frequently not on the historic register because they are viewed as the vernacular, nothing special. But it is very important. The working class was an important base to this town's economy."
Presiding over the opposite end of town from wealthy Watch Hill and Misquamicut's beaches packed with tourists, the North End is an urban-style neighborhood in a solidly suburban town, a densely developed jumble of wood, stucco and brick-sided houses. Rows of front steps abut the sidewalk, interspersed with buildings that began life as grocers, butcher shops, florists, hardware stores, bakeries, fruit dealers, cheese shops, barber shops and other small businesses. Many of the loving flourishes remain from original owners: mortared cobblestone walls, owners' names in chiseled granite, ornamental brick doorframes.
On the perimeter are larger brick mills and a former school. Before the days of Wal-Mart and Super Stop and Shop, the North End was a self-contained community where all life's necessities were within a few blocks' walk. The neighborhood's older, closely packed buildings nudge the Pawcatuck River, which serves as the Connecticut-Rhode Island border and was the source of the area's original development.
As the neighborhood stretches up a hill, away from the river, it's easy to spot the rising prosperity of long-ago residents as yards widen and houses become larger and more ornate. The historic district nomination report notes that the residents on lower Pierce and Pleasant streets were primarily laborers, while artisans, stone workers in the town's famous granite quarries, office workers, store clerks and railroad employees more often lived on the high ground.
The North End began as a classic New England mill village. Between 1798 and 1828, William R. Stillman and Stephen Smith built a wool carding mill on the Pawcatuck River just north of what is now Westerly's downtown business district. Many of the residents of the village of Stillmanville, which included Pleasant Street and a stretch of lower Pierce Street, were predominantly Irish and Scots immigrant mill workers. There was also a small black community of stone masons, blacksmiths, barbers and fishermen who settled in the neighborhood during the mid-1800s, and founded the Pleasant Street church.
The 1875-76 city directory lists just one person with an Italian surname living on Canal Street: fruit merchant Alonzo Cimiano. It wasn't until Italian immigrants, most of whom came from the southern region of Calabria, began flooding into Westerly around the turn of the twentieth century, that the neighborhood grew and developed into the thriving Little Italy that many of today's residents still remember. In the 1924-25 city directory, nearly the entire neighborhood had Italian surnames, many of which are still common in town today: Bruno, Gingerella, DiPaola, Capizzano, Falcone, Dotolo and others.
When Pelchat grew up in the neighborhood in the 1950s, he says every family knew their neighbors and no one locked their doors. "The kids were always over at each other's houses, and one mother would call the other mothers to say she'd feed everyone dinner that night," he says.
The smell of simmering spaghetti sauce permeated the air, kids were sent up the block to buy bread or cheese, and chickens scratched and pecked in backyards.
"It would make you salivate with the smells there," State Senator Dennis Algiere says about the neighborhood where his father's family settled. "I remember the grape arbors and the gardens. I remember visiting friends and relatives and all the family-run markets."
Algiere helped connect the crime watch group to state agencies. He also works at Washington Trust, which donated money to complete an initial neighborhood assessment that served as a foundation for revitalization efforts. The bank has sponsored homeownership training classes, provided construction financing for some of the North End housing rehabilitation and donated $60,000 to help Habitat for Humanity cover construction costs on its North End housing.
Diana Avedesian, who serves as one of the town council's liaisons to the crime watch board, grew up in the North End and fondly remembers the old neighborhood.
"I have lots of good memories of fun times with family and friends," she says. "Whether it was making soupy sausage or wine, it was about families being together."
Ironically, increasing wealth in the North End contributed to the neighborhood's decline. The GI Bill that enabled World War II veterans to secure low-cost mortgages and attend college boosted personal prosperity, but led to blight as residents sought to move up and out.
"It was a classic American success story that helped the neighborhood decline," Haase says.
While the immediate post-war years led to some outward migration, even more occurred during the 1980s real estate boom.
"A lot of old-timers moved out then," Pelchat says. "They had bought houses for maybe $4,000, and now they could sell them for more than $100,000."
As the older families departed to other Westerly neighborhoods, absentee landlords often bought the aging North End properties as investments. Some of them let the homes deteriorate, making it more difficult to find tenants. Small groceries and bakeries unable to compete with super-markets and chain stores also went out of business, sending the neighborhood into a further swoon.
McClure says he was dismayed at the terrible living conditions plaguing the neighborhood and believes his church has a mission for community outreach.
"When I came here in 1981, I had a vi-sion of a ministry to the poor," he says. "In 1986, I heard clearly God tell me that this is where the vision would unfold."
McClure says when he visited church members who lived in the area, he could feel chill winter winds blowing through cracked window panes and chinks in the siding, saw plumbing leaks that left ceilings stained and sagging, viewed holes in walls, and even found some church members living without heat.
"It was just squalor," he says. "And they were still paying $750 or $1,000 a month for rent." Daniewicz says the late Westerly Police Chief Mark Champlin provided some advice.
"He said we had to be involved if we wanted to take back our streets," Dan-iewicz recalls.
Deciding that the first step was to chase away the rowdies and drug dealers, Pelchat, Daniewicz, McClure and other residents formed the crime watch. After some training and advice from the local police, they recruited block captains throughout the neighborhood who were willing to walk their streets, watch out for their neighbors and report suspicious activities and people. They also grabbed the attention of town officials and political leaders, many of whom had their own connections to the North End.
"I have personal ties, and so do a lot of the others involved," Avedesian says. "That really helps keep the commitment. People will go above and beyond because of that. I experienced the good times there in the North End, so it makes the drive in me stronger."
A state grant helped establish a community policing program, and Richard Longolucco was one of the North End's first community police officers. Beginning in 1995 and for the next two-and-a-half years he patrolled on foot or by bicycle what had been his turf until he was in second grade. "It really hit home with me," he says. "It was more than a job. My grandfather grew up there."
He befriended the residents and filtered potential crime tips to the department's detectives. He kept the neighborhood po-lice office stocked with candy for the local children and frequently received cakes, cookies and other delicacies from the North End residents.
"They fed me well there," says Longolucco, who has since retired. "My strength was the good rapport with the people. They would tell me things, and I made sure they knew the detectives had their tips and were working on the cases. They were not afraid anymore. Whereas before, they might have just closed their shades when they saw something, now they told me."
Residents also looked to Daniewicz, Pelchat and McClure. Daniewicz recalls the tenant who was afraid to call her landlord to report problems, even when raw sewage was shin-deep in her basement and the ceiling was ready to cave in from plumbing leaks. Instead, she called Daniewicz and Pelchat, who contacted a town inspector who would force the landlord to clean up the mess and repair the plumbing. Neighbors helping neighbors, the essence of the North End.
The crime watch sponsors an annual picnic and a cleanup week. McClure knows which residents could use a hand and makes sure they get food and clothing. During the holidays, church members adopted twenty-one families and provided the children with clothing and toys, while the crime watch donated Christmas trees, coats, hats and mittens. At Thanksgiving, the crime watch gave more than 100 turkeys to families in need. When a storm damaged a tree in a Pierce Street yard, crime watch members chopped it up and hauled it away.
Illegal activity is down, homeowners are moving in, saws are buzzing, hammers pounding, and residents no longer feel a need to double-up to safely traverse the streets. Pelchat and Daniewicz are eyeing the next house they hope the crime watch can rehabilitate. They're not ready to rest, not yet.