Preview: Diana Al-Hadid at the Bell Gallery
The Syrian-born, Ohio-raised artist challenges our notions about classical sculpture by way of unusual materials and subjects that seem to decompose before our eyes.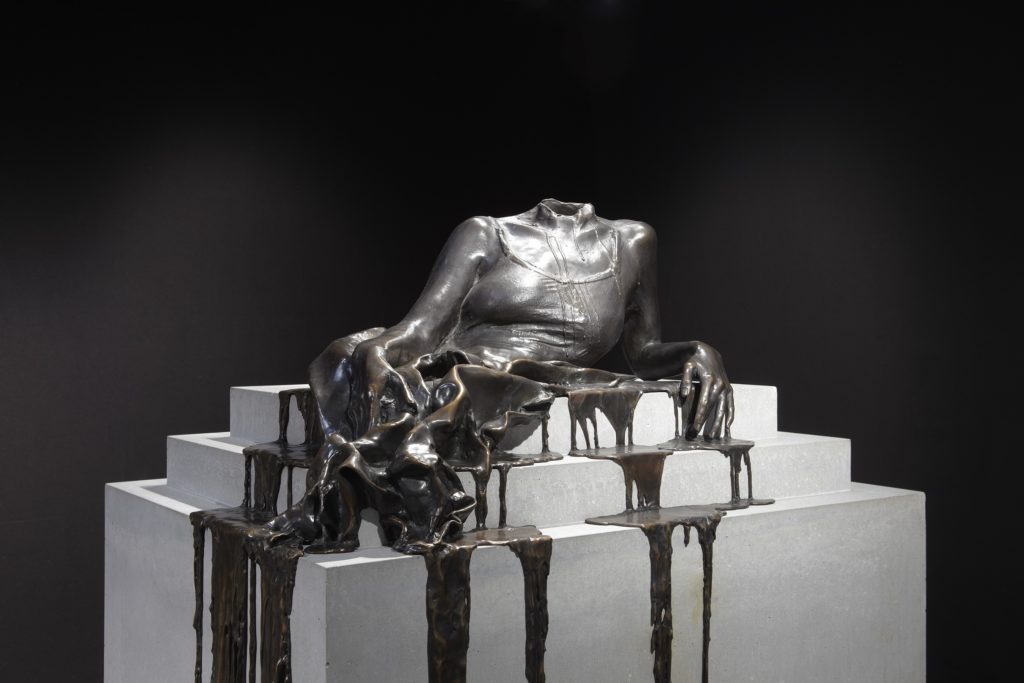 There's something deeply unsettling about a bronze sculpture that looks as if it's melted in the sun.
Our great works are built to withstand time — "David" has been kicking around for five centuries, and all of his crucial parts are intact — however artist Diana Al-Hadid's large-scale sculptures expose the flaw in this logic. Nothing lasts forever, not even if it's cast in bronze.
A show of Al-Hadid's work, "Phantom Limb," opens the 2016/2017 exhibition season at Brown University's David Winton Bell Gallery on September 3. The Bell hosts a reception and an artist talk guided by gallery director Jo-Ann Conklin on September 16.
"I think Diana has a very interesting, sort of unique approach to materials," says Conklin. "She really loves to play with materials — as she says, getting them to be disobedient."
The Bell exhibition gets its title from a massive central work, "Phantom Limb," which references the often-painful sensation that lingers long after a limb has been amputated. In the piece, a plaster female bust rests atop a cascade of painted aluminum foil sheets, mesh and plaster drips. Detached from the mountain of materials is the so-called phantom limb, a plaster leg amputated below the knee.
Similarly, Al-Hadid's two-dimensional works make use of drips and lines to deconstruct imagery from the Classical and Renaissance periods. Discerning viewers will notice nods to Hans Memling's "Allegory of Chastity," Pontormo's "Visitation" and Giotto's "Annunciation" in Al-Hadid's drawings.
"Diana is in her early thirties and is very up and coming," Conklin says. "She's shown in Japan, she's shown in the Middle East, she's shown in the United States. I expect her to be somebody who will become much better known in the next ten years or so."
Al-Hadid, who was born in Syria and was raised in Ohio, received her MFA from Virginia Commonwealth University. A New York Foundation for the Arts Fellow in Sculpture, Al-Hadid says in her artist's bio: "I am in fact…an Arab woman living in New York who made work about fallen towers, but I am also a woman from the suburbs of Ohio who is deeply interested in Flemish painting and illustrations of built structures and myths. All these things are true, but they feel a little different depending on the order you put them in and what you leave out."
"Phantom Limb" is on view at Brown's David Winton Bell Gallery, 64 College St., Providence, Sept. 3–Oct. 30. Gallery hours: Mon.–Wed. 11 a.m.–4 p.m., Thurs. 1–9 p.m., Fri. 11 a.m.–4 p.m., Sat.–Sun. 1–4 p.m. The reception and artist's talk is scheduled for Sept. 16, 5:30 p.m. All events are free and open to the public. For more information, visit brown.edu.