Press Briefing with the Governors
We caught up with Governor Gina Raimondo and Governor for a Day Sophia Miranda, an eleven-year-old from Lincoln who won the second-annual essay contest for girls.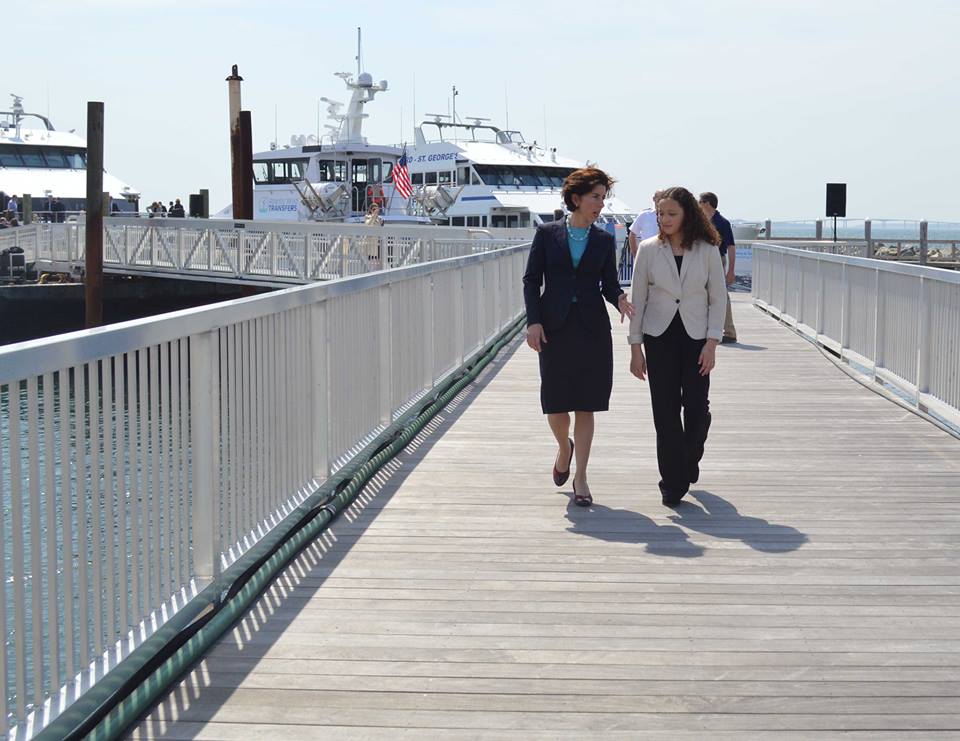 Rhode Island Monthly: It's great to speak with you both, Governors. Governor Miranda, how's your day going?
Governor Sophia Miranda: It's going really good and I just love all the things we've been doing. We went for a christening [for Deepwater Wind's crew boat] and we went to a school for adult languages [the Dorcas Institute] and it has been amazing. I've never seen anything like this in my life so this has been amazing.
RIM: You wrote about that in your essay, right?
SM: Yes. Not everybody has the opportunity to go to school all the time and learn the languages we know. So I think it is a good thing for people to learn English so we can all communicate together and people who know English should learn how to speak other languages, as well.
RIM: That is a great point. What's been your favorite part of the day?
SM: My favorite part was going to the school because I just love seeing everyone being so engaged in their work and everybody was so happy to see us. I loved it because everybody was getting to learn English.
RIM: Dorcas is a pretty special place. Did you know about it before you became Governor for a Day?
SM: No, I didn't.
RIM: What else do you have planned?
SM: I have meetings for the rest of the day with…. (pauses, laughs)
Governor Gina Raimondo: She has to consult her schedule.
SM:…with the treasurer, and I get to meet the rest of the general officers.
RIM: You sound super busy. Did you know you were going to be so busy when you wrote your essay?
SM: I feel like I did, but I didn't know it was going to be this busy.
RIM: So, what do you want to be when you grow up?
SM: I want to be a doctor, but after all of this experience I could be anything I want to, because I've seen a lot today and this has been a nice experience for me to think about my future.
RIM: Governor Raimondo, why is this program so important to you?
GR: Well, it's important to me to empower girls. I want them to start thinking from a very young age that they can be whatever they want to be. And I want them to also start thinking about government and civic involvement.
It's also just a lot of fun. It's a fun day. It's a happy day. It's been really nice. Everyone jumps in and helps. This morning, we kicked off the day with Justice Goldberg from the Rhode Island Supreme Court, who swore Sophia in, in a kind of official swearing-in ceremony. And then later we did an event where she got to meet Congressman Cicilline and Senator Whitehouse, and everyone gets into it. Everyone wants to dig in and help our kids.
RIM: The christening of the Deep Water boat — why was that important to include in Governor for a Day?
GR: For a couple of reasons. One, today is Earth Day and we were highlighting the importance of the environment. Also, as you know, my main priority as governor is to get people back to work and get even more high-paying jobs in Rhode Island, and that was a perfect example of a project that's going to create a lot of high-paying jobs.
RIM: Governor Miranda, what did you think about the wind farm boat?
SM: I thought it was a great opportunity to see how a business can be so big when it starts so small.
RIM: Why, Governor Raimondo, did you choose to bring Governor Miranda to the Dorcas Institute?
GR: A couple of reasons. One, because she wrote in her essay about her grandmother who is trying to learn English, and that's what Dorcas does a lot of — they teach English language learners. Also, my priority is to make sure all Rhode Islanders have the skills they need to get good jobs and so I'm always out and about talking to people who are trying to get skills and education, and adult learning is a key component to getting our economy going.
RIM: Governor Miranda, what did you learn from Governor Raimondo today?
SM: I learned about government and how leaders have so much on their hands. It takes some time to get the hang of it, and leadership is a really big, important job…. I feel like it's just amazing. I've learned so much from her — just how to be a great person.
RIM: And Governor Raimondo, what did you learn from Governor Miranda?
GR: By the way, I agree with what you just said — "It takes a while to get the hang of it" (laughs). That's definitely a true statement, and I think it's pretty cool that she picked that up so quickly. I have really been inspired, first of all, by how smart she is. The biggest learning for me is, it's never too early to start teaching kids and exposing them to things because even as a fifth grader, she's picking it all up and taking it all in. I think it's going to have an impact on her.
Read Sophia Miranda's winning Governor for a Day essay here.