PPL Library Card Catalog Becomes a Free Seed Bank
Libraries across the country have rediscovered their ancient card catalogs and found new uses for them.
If you're beyond a certain gentle age, like me, you might have fond memories of time spent in your local library… a slightly magical place, suffused in amber light, where endless rows of books opened doors to the past and future, to other worlds, to exotic lives in our own world, to random ideas and mysteries and secrets. And the on-ramp to that journey was the card catalog. The weight and solidity of this massive piece of infrastructure conveyed how deeply we valued it.
Artfully assembled from dense hardwoods and hand-crafted brass fittings, suffused with the dust and wear of dozens of years of use by thousands of readers, the card catalog seemed as if it had always been there, a part of the landscape. Today, that landscape has evolved, and the card catalog is extinct. But for those of us who remember, it still evokes feelings of warmth and connection and anticipation.
So it's not surprising that libraries across the country have rediscovered their ancient card catalogs, stored in basements and attics, spruced them up, and found new uses for them. One of the best and most common uses is to create a seed catalog, and now we have one of those right here in Providence.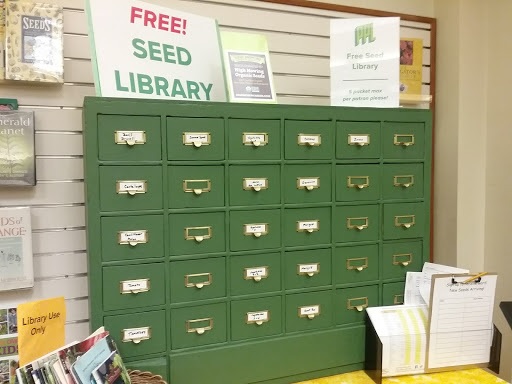 The thirty-two-drawer card catalog was gathering dust in a corner of the library basement, when consultant Alisson Walsh came up with the plan to repurpose it to hold a free seed bank and also to help promote the library's new Master Gardener program. The Gardeners, based at URI, donated seeds to the project, and also offered a special "Seed to Table On-Ramp Series" of programs aimed at urban gardening for beginners. The program, which is based at the community garden at Roger Williams Park, quickly filled up. Classes began in March, with a session on garden planning, and will finish in October, with putting the garden to bed for the winter.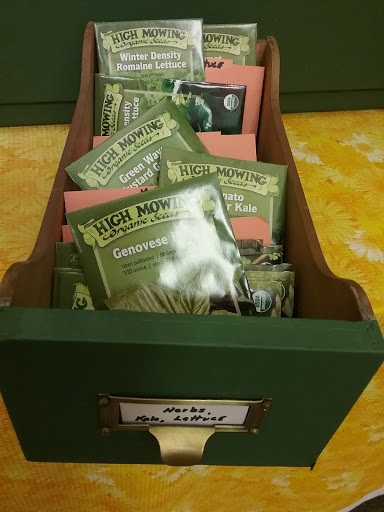 "The Master Gardeners were so receptive and excited about this program," Walsh says. "They donated the garden space and the instructors' time." More seeds, both for the garden plots and the seed catalog, have been donated by High Mowing Organic Seeds, a Vermont company that produces non-GMO seeds. "They're my favorite seeds," says Louise Moulton, programs and exhibitions manager at the library, who worked with Walsh to develop the program. After they found the card catalog in storage at the library, Moulton's husband took on the work of sprucing it up for its new purpose. "It was his retirement project," she says.
Library visitors are welcome to check out the seed catalog and take home up to five seed packets for free. The contents, which include flowers, herbs, vegetables and fruits, are detailed in a digital catalog that is available online and in a kiosk at the library. And Walsh has a host of ideas for continuing the project. "We're working on developing a seed swap, and seed-swap events, and also working with the Rhode Island Natural History Survey and the Rhode Island Native Plant Society to offer seeds from native Rhode Island plants and wildflowers," she says. So next time you're in the PPL downtown, look for the ancient card catalog now serving a new purpose, recycled and renewed, helping to create a greener future.
Sign up for seed catalog email updates.
RELATED ARTICLES