PPAC's Million Dollar Quartet is Solid Gold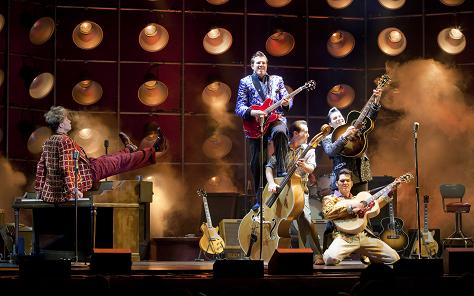 Approximately ten minutes of PPAC's Million Dollar Quartet feels like a Broadway musical. The rest of the ninety-minute show — set in a studio space and performed live by a remarkably skilled cast of musician/actors — resembles the real thing. (Read: they're actually playing their instruments, folks.)
It's exactly how history recorded it: rock 'n' roll heroes Elvis Presley, Johnny Cash, Jerry Lee Lewis and Carl Perkins serendipitously gathered at Sun Records in Memphis one night in December of 1956. They all stayed for a while, tooled around on their instruments and showed off and bickered and played brilliant music that would change the industry forever.
The Broadway side of the show rears its flashy head in two distinct spots. The first is when Sam Phillips of Sun Records realizes he's losing rising stars Johnny Cash and Carl Perkins (played by David Elkins and James Barry, respectively) to Columbia Records. To compound his misery, he's already lost Elvis, played by Billy Woodward, to RCA. Phillips, played by Vince Nappo, is distraught by the news, and pauses for a long moment to digest it. It's all very dramatic, very Broadway.
But he still has newbie Jerry Lee Lewis and, as an audience, we're not really worried about the two of them. Lewis, played by a spunky Benjamin Goddard, has the no-holds-barred, nutcase star quality that's still winning over crowds today. And that red-haired piano man stole the show, managing to distract the crowd even when he wasn't stepping all over his instrument. (I've learned that maracas only enhance obscene hand-and-mouth gestures.)
Okay, Broadway musical over. Back to the concert. Hits "Who Do You Love," "Folsom Prison Blues," "That's Alright" and the historically accurate gospel tunes of the session, "Down by the Riverside" and "Peace in the Valley," sent the crowd into fits of seat-dancing. It's hard to imagine Cats, RENT or even Jersey Boys doing the same thing.
Which brings us to our second Broadway moment. Near the close of the show, the group plays four consecutive hits: "Hound Dog," "Riders in the Sky," "See You Later, Alligator" and "Whole Lotta Shakin' Goin' On." The studio scene sweeps away, light bulbs flash, and all four men slip into sequined jackets.
Pause. Would Elvis have worn sequins? No doubt about it. Carl Perkins? Perhaps, though he seemed more inclined to wear a jacket and shirt. But hick-to-the-core Jerry Lee Lewis and the Man in Black, Johnny Cash? I don't think so. I really shouldn't be too offended over this creative liberty; it is a musical, after all, and that's part of the fun.
But, to reiterate, Million Dollar Quartet doesn't feel like a musical. It feels picture-perfect, especially when an image of the real-life session from 1956 is projected above the four actors as they stand posed, like wax forms, in the positions of their predecessors. Any fan of music, young or old, would value this image — and the show.
Million Dollar Quartet is onstage at Providence Performing Arts Center, 220 Weybosett St., through January 20. Tickets are $36 to $63. Call 421-2787 or visit ppacri.org for more information.