PPAC's Ghost is a Technological Wonder
The special effects throughout the musical are also some of the best I've seen at PPAC to date.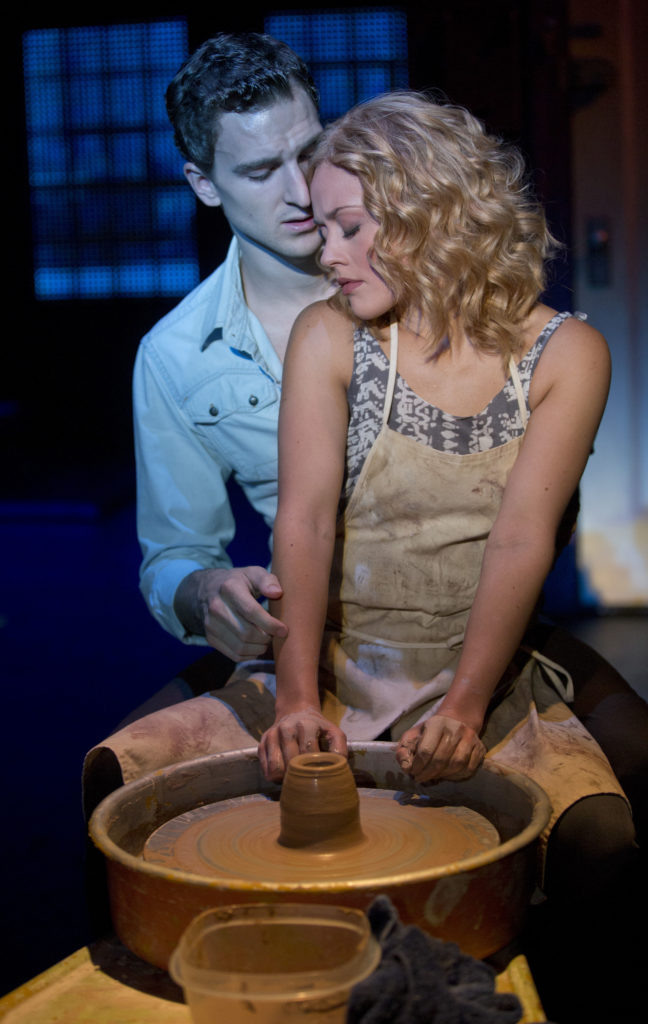 Patrick Swayze is so proud. I know, because he was sitting next to me (in spirit) last night at Providence Performing Arts Center at opening night of Ghost: The Musical. From the songs and acting to the set design and never-before-seen effects, Swayze kept telling me the production is spectacular in every way. I agree.
I saw the movie for the first time, probably when I was about ten years old, and I remember it being the first sexy film my parents let me watch. The storyline sticks closely to the script (except with song-and-dance numbers in every other scene), and follows a young couple –Sam, a banker, and Molly, a sculptor – as they move in together and fall deeper in love. Though Sam (Steven Grant Douglas) can't bring himself to say those three little words, it's clear he's feeling it when Molly (Katie Postotnik) brings up marriage. Romance still plays a huge part on stage as the couple shows their affection, though it's toned down significantly. Clothes come off and a screen comes down to keep it classy.
The show turns frightening after Molly and Sam are mugged in a dark alley. Sam tries to stand up to the thug, and the next thing we see is Molly sobbing over his body, and Sam's ghost appears on stage. He has unfinished business on earth, so he sticks around to solve the mystery behind what appears to be premeditated murder. Later, when Sam's ghost lingers at their apartment to watch over Molly, the same thug breaks into their apartment in search of information regarding a fraudulent bank account that Sam had been investigating before his death. And it turns out a trusted friend is involved in his murder.
At this point, Sam realizes he was killed on purpose and now he must protect Molly from more danger. He seeks help from a psychic who can communicate with spirits, Oda Mae Brown, played by the terrific Carla R. Stewart. He persuades her to help by annoying her, and Oda Mae agrees to contact Molly to try to save her life.
Postotnik is phenomenal as Molly with her pitch-perfect voice and believable stage presence. The chemistry between her and Douglas is on point, especially as Sam goofily sings to her the movie's trademark song, "Unchained Melody" on acoustic guitar. The stage even recreates my favorite scene of Molly molding clay on a potter's wheel as Sam's ghost embraces her and she finally begins to understand that he's really there. Stewart is also a riot as Oda Mae. Her Tina Turner-like vocals and larger-than-life personality fill the stage, turning a somewhat dark play into a boisterous comedy.
The special effects throughout the musical are also some of the best I've seen at PPAC to date. From gigantic, transparent video screens that project what looks like real rain and hologram-like apparitions to a jarring subway car scene in which bodies remain suspended in the air, it's impossible to figure out how they do it. The depiction of characters being taken up to heaven and hell is also expertly orchestrated through lighting and video. Not to mention the flying objects that soar across the stage and bodies traveling through solid doors. My only gripe is that the lighting is too intense in some scenes, and it can be blinding at times, especially during the song "I'm Outta Here," when Oda Mae ponders what to do with her $10 million.
But all in all, the musical is worth the ticket price for what you'll see on stage. It's a stage production taken to a whole new level; one that can compete with blockbuster movies.
The Details: Through Oct. 27. Wed. 7 p.m., Thurs.–Fri. 7:30 p.m., Sat. 2 p.m. and 8 p.m. and Sun. 1 p.m. and 6:30 p.m. $41–$78. Providence Performing Arts Center, 220 Weybosset St., Providence, 421-2787, ppacri.org.