Powerful Women
Thirty women with serious clout in Rhode Island.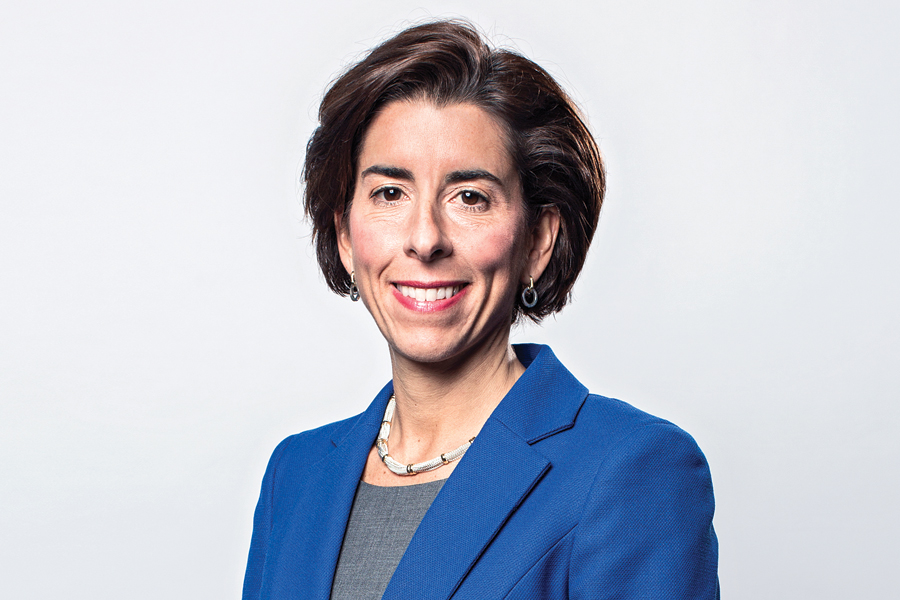 Power is hard to get, and not easily surrendered. But Rhode Island voters made history last month when they elected Gina Raimondo as the state's first female governor. From the State House to Newport's mansions, women in the state are leading the way.
Raimondo is one of a group of powerful women who are changing Rhode Island. Based on conversations with longtime observers, we came up with a list of women who are setting the state's agenda and accomplishing remarkable things. They hail from a range of fields: politics, the law, business, health care, the media, entrepreneurship, education, the arts, philanthropy and advocacy.
What traits do they share in common? Vision and the force of personality to sway others to their point of view. A combination of smarts, charisma and determination, they're also not afraid to fight for what they believe in, whether that be in the courtroom or on the factory floor. And though many of these women admit patience isn't a strong suit, they also know how to play the long game to achieve what they want.
---
Politics
Gina Raimondo

Gina from Smithfield made history this year by getting elected the first female governor of Rhode Island, beating Allan Fung and Robert Healey in a close race. The daughter of a factory worker who went on to graduate from Harvard, was a Rhodes scholar and a venture capitalist made national headlines when as Rhode Island's general treasurer, she spearheaded controversial landmark pension reform. In the Democrat's run for governor, her mantra was job, jobs, jobs, but opponents accused her of being beholden to Wall Street. Her advice? "Don't allow cynical people to hold you back," she says. "You have to believe that great things can be accomplished and even though there are obvious obstacles, you have to figure out a way to get over the obstacles, solve problems and make things happen."
Carolyn Murray

Known as a daily presence at the State House during the legislative session, Carolyn Murray likes to mix it up when it comes to her clients. As senior director of one of Rhode Island's most well known lobbying firms, F/S Capitol Consulting, she represents high-power interests ranging from R.J. Reynolds Tobacco and the Rhode Island Beverage Association to Selden Entertainment, the parent company of Ringling Brothers and Disney on Ice. "Someone once told me that your word is your bond," Murray says. "That's great advice, especially in this business. Because my reputation and integrity are crucial to the success of our business, but they're equally as important to me as a person."
M. Teresa Paiva Weed

The first woman elected president of the Senate, M. Teresa Paiva Weed is one of the most powerful politicians in the state. The lawyer, who prevailed in a competitive re-election bid, is known as a policy wonk who often works behind the scenes. She has championed economic and workforce development and the arts. She's also no stranger to controversial issues, such as the Newport casino debate. Paiva Weed supported pension reform legislation and in the same-sex marriage debate, the strong Catholic, despite her opposition, allowed a historic vote to go forward that led to its legalization. "It's very important to be able to compromise, however, the hardest thing I've learned in my career is that not all issues can or should be compromised," Paiva Weed says.
---
Education
Nancy Carriuolo

Nancy Carriuolo's role model growing up was a book-loving librarian at her public high school who was married to the principal. The future president of Rhode Island College dated their private-school-educated son. But Carriuolo once accidentally overheard the principal tell his wife she was too ordinary for him. "She went on with great vehemence about how I was anything but ordinary and had a great future. Her kind words drowned out his. Every youngster needs a cheerleader, and she was mine," Carriuolo recalls. As president of RIC, Carriuolo has been a cheerleader for its students, most of whom are from Rhode Island, advocating to keep tuition increases as low as possible without affecting quality and securing public and private funding to update RIC's facilities to better prepare students for the work world.
Maribeth K. Calabro

The president of the Providence Teachers Union grew up grading papers alongside her mother.
"My mom's always said to me that the most important thing that you can do is get a good education because no one can ever take that away from you. They can take a house, they can take a car, but they can never take your degree away," Maribeth K. Calabro says.
She decided to follow in her mother's footsteps in more ways than one. Calabro became a special education teacher, but her mother's activism also inspired her. She served as a union delegate before Calabro did and impressed upon her daughter that she needed to speak up and make sure everyone had equal rights under the law.
"My mother started teaching at a time when she was asked to leave when she started showing when she was expecting with me, even though she was already married," Calabro says. "So things have come a long, long way. She was really vigilant about people having rights."
A longtime union official, Calabro was elected president in 2014. She represents about 1,900 teachers and has sparred with the Taveras administration over ongoing contract negotiations. She has been vocal about her frustration and urged teachers not to attend a beginning of the year convocation. The union also came under fire for supporting Buddy Cianci's mayoral bid.
But Calabro works with the school administration and has helped secure grant money to establish three smaller, academy-like high schools within the existing schools to better serve students' needs.
"Collaboration is never easy work, because everyone brings different dynamics to the table," Calabro says. "However, from that work comes some really amazing things."
She says she's learned that you can never please people all of the time. "But if you're focused and driven and have a specific goal in mind that's in the specific interest of the people you serve, then not pleasing people shouldn't detract from that."
Mim Runey

The father of the future president of Johnson and Wales University's Providence campus took her fishing as a kid; Mim Runey didn't encounter obstacles growing up because she was a girl. Now, in her dual role as chief operating officer for Johnson and Wales's four campuses, Runey is helping shepherd more than $300 million in expansion plans. Under her watch, the university has expanded into health care, establishing the first physician's assistant program in Rhode Island. But the workplace has been different from her growing up and college experience, she says. "Unfortunately, even at this point in my career, there have been situations where I know there's been a difference because of my gender," she says.
Media/Arts
Trudy Coxe

Trudy Coxe has surrounded herself with some of history's greatest entrepreneurs, manipulators and risk takers.
The executive director and chief executive officer of the Preservation Society of Newport County, Coxe has long been intrigued by characters like transportation magnate Cornelius Vanderbilt, who built the Breakers, and Edward Julius Berwind, who made a fortune with his coal mining company and constructed the Elms.
Coxe, who took over the Preservation Society in 1998, believes people will care about art and history if she can make it interesting. That's what Coxe has worked to do at the Preservation Society. She's built it into a juggernaut, from an $8 million to a $20 million organization, increasing membership from 3,900 to 30,000 and averaging about 900,000 admissions per year to the ten Newport mansions and other properties.
"In an era where it's said people don't care about history or architecture, our visitation shows that that's simply not the case, that people do care a lot and they are interested," Coxe says. "You just have to find ways in which you can make it fun for people to learn."
Not everyone supports her ambitions, however. The Preservation Society has long been in a well-publicized dispute with members of a powerful neighborhood association about its proposal to open a $4.2 million visitors center at the Elms.
But Coxe isn't giving up.
Her toughest lesson? "When you are advocating for something, the opponents hope dearly that you will give up and that you will walk away," Coxe says. "If you adopt their position, then you will never get anything done. So the toughest lesson I've learned is that they want us to fail, and we're going to do everything that we can by sticking to it and trying to be good at telling our viewpoint, that that's how you move things forward."
She had the same determination as director of Save the Bay from 1979 to 1990.
It was during a time when the University of Rhode Island said in an environmental study that the best thing to do with Narragansett Bay would be to use it as a sewer. But she worked to get an $80 million bond passed and to transfer authority of a sewer treatment plant from Providence to the Narragansett Bay Commission.
"The bay was so polluted that you couldn't shellfish and you couldn't walk along the waterfront without running into grease balls that were made up of sewage and oil," Coxe says. "We turned the upper bay into a place that is actively shellfished once again, the way it should be, actively used for recreation."
And during the 1990s as secretary of environmental affairs in Massachusetts, Coxe also helped spearhead the cleanup of Boston Harbor.
Over the course of her career, Coxe says she's learned to not give in to naysayers.
"Basically, people are afraid of change. They don't like to change. I don't like change. Nobody likes change. But we live in a fast-paced world that is very demanding and people's expectations of the world are very different. In this world that we live in, if you want to be successful, you have to be very prepared to be nimble and to adapt. You have to also hold on to some basic values, and those are ones that I am not giving up on."
Catherine Welch

Catherine Welch blames her father in part for her career in the media. He worked in TV and radio, and as the youngest of five, she went to work with him and stood under his desk as he anchored. Since Welch started as Rhode Island Public Radio's news director in 2010, the station has added more live public affairs programming to its strong political analysis. Add compelling work on Rhode Island's aging population and heroin overdoses and the station is sending more Rhode Island news national and giving regional public radio powerhouses WBUR and WGBH a run for their money.
Karen Rezendes

While WJAR Channel 10 has long dominated the ratings in the Providence market, in recent years, WPRI Channel 12 has been an upstart challenger. Karen Rezendes, who started at the station as an associate producer and has risen to news director, has been credited with building Eyewitness News's investigative reporting and multimedia efforts. Though it's a competitive business, she never forgets that they often see people on what might be the worst day of their life. "It's important to understand that and approach the story with compassion," says Rezendes. "Make sure you get it right and make sure you do justice to that person's story."
Karen A. Bordeleau

The pages of the Providence Journal are still important real estate in Rhode Island and as the first woman to lead the only statewide newspaper, Karen A. Bordeleau plays a major role in shaping the day's news, even after the recent sale of the Journal to the parent company of GateHouse Media. Bordeleau, who is also a competitive ballroom dancer, worked her way up at the paper and though industry-wide declines in advertising and circulation led to layoffs, she expanded the Journal's digital initiatives and was named one of ten women to watch by Editor and Publisher. Bordeleau's advice? "To sit at the table," she says. "To listen to your colleagues. To raise your hand and to make your case and to not be afraid to say something different from the person sitting next to you."
Health Care
Dr. Annie De Groot

Research to develop vaccines for some of the world's deadliest diseases is happening here, thanks to Dr. Annie De Groot, chief executive officer of EpiVax. They're working on vaccines for the flu, HIV, TB, a new potent strain of avian flu and Ebola as well as for autoimmune diseases such as multiple sclerosis. And one day, De Groot and her staff are hoping to be able to make vaccines for people on the spot, based on their genetic information. As a URI professor, she's brought more than $27 million in federal funding for research into the state and she was recently named one of the most influential people in the vaccine industry. "I'm very persistent," De Groot says, "so if I see something that I really want to do and I think that it's really going to make a positive impact, I am happy to work on that for ten years, twenty years, as long as what I envisioned happens at the end. And it does."
Dr. Lynn Taylor

It's known as a silent disease, but Hepatitis C is the most common chronic blood borne infection in the world; one in thirty baby boomers in the United States is estimated to have it. Leaders in public health believe they can wipe out the virus, which can develop into liver disease and result in death. Dr. Lynn Taylor is heading up that fight in Rhode Island with her project, Rhode Island Defeats Hep C. The primary care physician believes that given Rhode Island's small size, strong medical community and public health partnerships, increased awareness, testing and care can help eradicate the disease. Taylor says she learned from her parents that "it's all about grit and endurance. No matter how many times you're pushed down and how many obstacles you face, you keep working and you keep going."
Sandra L. Coletta

Not surprisingly, the woman who is chief operating officer of Care New England was really good at math growing up. Sandra L. Coletta's guidance counselor told her parents she should be an accountant, so she did what she was told.
But after she entered the work world and rode the elevator up and down consulting for clients ranging from the maker of bottlecaps for Avon to a manufacturer of thread for Spandex, Coletta didn't feel like her career mattered.
That changed when she got some nursing home clients and started to work in health care. "While I may not have excelled at science and my hands can't be used to save a life, my talents can be deployed to support those who do," she says.
Coletta came into the public spotlight when she was hired as president and chief executive officer of Kent Hospital in 2008. The Warwick hospital was facing a lawsuit from the family of Michael Woods, brother of actor James Woods, who died waiting for care in the hospital's emergency room and the previous president faced a vote of no confidence from the facility's doctors.
Coletta says she had learned an important lesson earlier in her career from a colleague she then worked with at the Miriam Hospital.
Coletta had to decide whether to take her children on a planned vacation or postpone it because they were doing a computer conversion at work and she needed to be there. Her colleague advised her that the best way to address those challenges was to project herself twenty or thirty years in the future and look back upon her choice. He advised her "to choose and do that which will be remembered."
Sometimes, it would be the choice for work, Coletta says. "But many times, those moments will be long forgotten. And I think that has served me exceptionally well, not only in my work-life balance, but also in terms of how you help support your staff and how you interact with patients and their families."
She brought that perspective to resolving the Woods case. Coletta apologized to the Woods family and the suit was settled with an agreement to establish the Woods Institute to focus on redesigning care delivery. "What mattered then was a family that had suffered a significant loss and was in pain. I think that it is always about making sure what you do has that value and impact so when they look back, they'll remember it and you'll remember it."
Within four years of Coletta's hiring, Kent had redesigned its ER, brought in cardiac specialists from Brigham and Women's and the hospital had become a national leader for patient safety. Now, as chief operating officer of Care New England, she oversees about 7,000 employees at Kent Hospital, Women and Infants, Butler Hospital, Memorial Hospital, Care New England VNA and Hospice and is focusing on using Care New England's resources across its various entities to provide better treatment.
Christine C. Ferguson

As a staffer on Capitol Hill in the early 1990s, Christine Ferguson worked with both parties on health policy that became the precursor to the Affordable Care Act. Some twenty years later, as director of HealthSource RI, Ferguson translated some of that policy into action, rolling out Rhode Island's health care marketplace. It went more smoothly than those of other states and as of October, about 30,000 people obtained private coverage as individuals and an additional 2,500 to 3,000 people are covered by small businesses. More than 65,000 people also used the exchange to sign up for Medicaid. While the future funding of the exchange is unclear when federal money runs out in 2015, Ferguson is adamant that the exchange, by opening up competitive information plans and allowing consumers to shop for their health care, is the way to help combat skyrocketing medical costs and spur the state's economy.
The Law
Tricia K. Jedele

Tricia K. Jedele grew up wanting to be a park ranger, not a lawyer. But as an adult, she took her environmental passion all the way up to the United States Supreme Court.
She was raised in a family of six that drove all over the United States, camping in virtually every national park along the way. She decided to devote her life to maintaining them.
"My father said if you want to protect the parks and you want to protect the culture of these places, and the people and the history and the beauty of them, then become a lawyer, because that will give you the strength to do that," she says.
Jedele's family already knew that she pursued what she believed in. When Jedele was a freshman at Providence College and her mother, Kathryn O'Hare, was serving as the first female mayor in Rhode Island in West Warwick, they both ran as delegates to the Democratic National Convention.
Jedele supported Tom Harkin, while her mother ran under Bill Clinton.
"And we were kind of at odds with each other about that," Jedele recalls. "I actually received enough votes to have gone to the convention, but Tom Harkin had dropped out the day before Super Tuesday. And so because he was no longer a candidate on the ballot, I didn't get to go to the convention, which was held in Madison Square Garden, which would have been really awesome."
Although she eventually supported Clinton, "I was a bad loser, I think. It's fair to say that," Jedele says with a laugh.
After college, Jedele took her father's advice and became a lawyer. As a state prosecutor, on behalf of Rhode Island, Connecticut, New York, New Jersey, Delaware and Massachusetts, she challenged EPA regulations over the permitting of a power plant because of the effect on marine life. Jedele argued before the federal appeals court and the case went up to the U.S. Supreme Court.
In her current role as vice president and director of the Conservation Law Foundation Rhode Island, Jedele has worked with Deepwater Wind, the Coastal Management Resources Council and environmental advocates to minimize the impact of the proposed wind farm off Block Island on North Atlantic right whales and is making sure the project is "renewable energy done right."
And last year, the Conservation Law Foundation filed a lawsuit alleging violations of the Clean Air Act at the Johnston landfill. Jedele is seeking to understand some of the management problems that have led to harmful emissions and to develop solutions going forward.
Over the course of her career, Jedele says she's realized that it can take a long time for laws and policy to change to protect people and the environment.
"Change is very slow and that can be an incredibly frustrating thing. I think I've become better at accepting that truth. It hasn't made me less passionate, it hasn't made me less idealistic in any given case or situation that maybe the result will come sooner," she says. "But the reality is that often you need patience and time to get to the results that you had hoped to get to two years ago."
Sarah Taft-Carter

Efforts at pension reform in Rhode Island have resulted in plenty of opposition, landmark legislation and national headlines. Superior Court Judge Sarah Taft-Carter is working to sort it out. Since 2010, she has presided over lawsuits filed by unions challenging proposed changes to pension plans, including the raising of the retirement age and suspension of cost of living increases. Taft-Carter has ruled that unions had an implied contractual right to pension benefits. She declined to step aside from the cases after she disclosed family members with pensions and state attorneys questioned if her relatives could be affected by the proposed changes. She has repeatedly encouraged the parties in the case to work out a settlement, but as of October, the matter was still pending.
O. Rogeriee Thompson

She grew up in segregated South Carolina and went on to graduate from Brown University and Boston University's School of Law. Starting out as a cashier at the Providence Civic Center, Judge O. Rogeriee Thompson has since risen steadily through the ranks of the justice system, from assistant city solicitor in Providence to judgeships in District Court and Superior Court. She now serves as a federal judge for the First Circuit Court of Appeals in Boston, which hears cases from Rhode Island, Massachusetts, New Hampshire, Maine and Puerto Rico.
Entrepreneurship
Carolyn Rafaelian

The founder of Alex and Ani, Carolyn Rafaelian is one of the leading entrepreneurs in the state. Named one of America's most successful businesswomen by Inc. magazine for the company's more than 5,000 percent growth, Rafaelian has moved into lifestyle with the opening of Teas and Javas coffee shops and the purchase of Sakonnet Vineyards. She's donated more than $11 million to charity, and given millions to help construct the arts center at Rhode Island College, the business school at Bryant University and refurbish the zoo at Roger Williams Park. She also protects her assets, taking a major wholesaler to court for the alleged unauthorized sale of Alex and Ani bracelets.
Sierra Barter

In 2011, Sierra Barter and friend Julie Sygiel realized as young female entrepreneurs, they were often the only women in a room full of men. So they started the PVD Lady Project to bring together creative women from around the state to hear career advice from other women and network. Now, the nonprofit brings in nationally known speakers for all-day summits, hosts political forums, has expanded to Boston, New Haven, Nashua, New Hampshire and New York City, counts more than 375 members and plans to eventually create a national network. Best advice? "Do it before you're ready," Barter says. "I get criticized because I like to do things sometimes before we have our ducks in a row, which can backfire. But you just have to do it and trust that it will work out and, if not, that you'll learn along the way."