Powerful Women on the Rhode Show
An event honoring powerful women in Rhode Island will benefit Day One, a nonprofit that assists victims of sexual abuse and violence.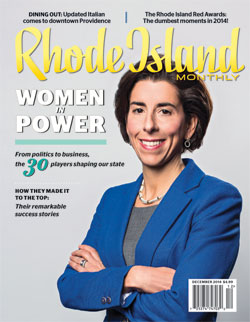 Check out the thirty most powerful women in the state in the December issue of Rhode Island Monthly, which is on newsstands now. The cover features governor-elect Gina Raimondo, and the story highlights the work of twenty-nine other accomplished women.
Rhode Island Monthly is honoring the women at an event Thursday night. It will also serve as a fundraiser for Day One, a nonprofit which helps victims of sexual abuse and violence. The event is sold out, but you can find out more about the work of Day One from Kristy DosReis, Day One's director of communications, who spoke about it today on "The Rhode Show":
The December issue also includes other great pieces such as "The Rhode Island Red Awards," our annual report on foibles from around the state; a profile of a talented filmmaker named Andrew Pilkington; and a review of the new Italian restaurant in Downcity, Rosalina's.
You can find out more here: