Possibility through Playmaking: The Manton Avenue Project
A nonprofit out of Olneyville helps local youth explore their creative talents.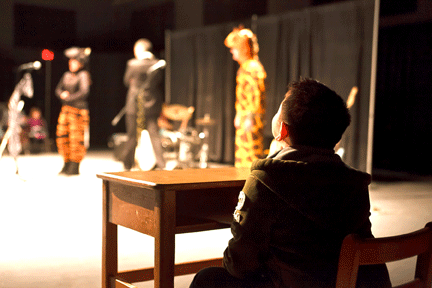 What do a rat and a sad toaster have in common? I certainly don't know, but I'm also not an imaginative fifth grader from Olneyville.
This past weekend, I attended a series of plays written by ten, eleven and twelve year olds and directed and performed (in full costume) by adults in the theater industry.
I went to the Met School (a donated performance space) on Saturday not expecting a well-rounded theater experience, but more of a "wow, this is an amazing cause" type of thing. To my surprise, I got both.
Since Jenny Peek started the program in 2004, dozens of Manton Avenue Project volunteers have brought the theater to Olneyville children through a weekly after-school and summer program.
 "We respect each kid's creativity by letting them really have a voice," Artistic Director Meg Sullivan says. "Especially in this current climate when so many art programs are being cut."
The plays performed this past weekend were written by second-year Manton Ave. students. All of the performances paid tribute to Providence's 375th anniversary, and all featured a character named after our favorite Rhode Island rebel and founding father, Roger.
 In addition to Roger, the class picked two characters from a hat to appear in all of the plays — a rat and a sad toaster — and each student developed their own "wildcard" character. The students worked weekly on character development and finished their work during a playwriting weekend with a Manton Ave. volunteer director.
To me, the program seems like a huge after-school commitment, something that the average nine to fourteen year old wouldn't want to keep up with over the years.
 "They really stick around," Sullivan says. "You wouldn't think so, but almost all of the kids move on through the program. It's so beloved by the kids and their families."
The students' dedication could be attributed, in part, to being hand-picked for the program. Sullivan says the third grade teachers at William D'Abate Elementary School in Olneyville help with the selection process each year.
 "It could be the kid that really needs a creative outlet, or the kid who needs a positive after-school activity, or the kid who needs to improve their writing," she says. "Or they could just be really good at writing. It's a variety."
One of the featured playwrights, Laybi Lopez, was no doubt chosen for her high creative energy. In our pre-performance conversation, I made the mistake of referring to the ten-year-old as a director, and was quickly corrected.
"No, no," she says with pride (and a touch of sass). "I'm a playwright."
Admittedly a little nervous, Laybi said she was excited to see her play "come alive" by adult actors. Prior to the start of the show, Laybi and her fellow playwrights waited in a hallway, quietly pumping one another up for their first production of the 2011–2012 season.
The kids couldn't hide their excitement if they wanted to. During the performance, each playwright sat on-stage at a small wooden desk and observed their work in action. A large part of the experience, for me, was watching the playwright's initial timidity, then excitement at the audience's amusement, then pride as the actors executed the final few lines of their labor of love.
And, to boot, the plays were funny.
I'm not exactly one to burst into giggles on the spot. You have to work to get a belly laugh out of me, and these kids were workin' it. Bryan Gramajo's play, for instance, featured a rat battling it out in a post-apocalyptic Providence with a troupe of disco-dancing, karaoke-singing beavers. The beavers force the rats to participate in their two favorite activities from Sunday to Friday. Don't even ask what they do on Saturday nights.
And — who knew this was even possible? — a sad toaster figured its way nicely into the plot. The main rat character, Commander Carry, wants to build a robot to fight the beavers, and purchases a self-conscious, neglected toaster for materials. The sad toaster, played by Michelle Snyder, is so pathetic she could bring color to your cheeks. Bryan's story came around full-circle when the sad toaster and rat team up to fight the beavers together.
Might I remind you, Bryan is ten years old.
Bryan's story was no exception; all of the short plays were down-right comedic. Playwright Shandy Figuera, 11, created a bilingual rat who was in love with a toaster ("I know it's kind of strange, a rat having a crush on a toaster… Yo te quiero," the rat says with adoration). Not to mention Shandy's valley girl character, Concepcion, played by the reasonably masculine Mark Gray.
Victor Toj Valdez, 10, told a tale of three unlikely characters — a skeleton ghost, a girl rat named Roger and a 510-year-old sad toaster — who, after some struggle and strife, become the best of friends during a costume contest. (The skeleton, dressed as himself, wins.)
Laybi, whose play took place at the "50 Stars Bakery" in Providence, also told a story about unlikely friends. Billy, a bakery employee/sad toaster, learns to coexist with two rats inhabiting his workplace. For their good behavior, Billy makes the rats some scrumptious, cheese-flavored cupcakes.
Like Victor and Laybi, Najelie Padilla, 12, also wrote on the power of friendship. Her sad toaster, a dancer, was able to stop a very angry rat named Roger from destroying Providence. The sad toaster's only weapon was friendship.
At the close of the show, when the playwrights and actors took their final bows, each kid beamed brighter than their spotlight. Despite the hurdles that go hand-in-hand with living in the poorest neighborhood in Providence, these young playwrights will undoubtedly stick with the Manton Avenue Project and continue to create.
For upcoming free shows, visit mantonavenueproject.org.