Port of Call
New Bedford is having a heyday. And there's no shortage of treasures for seasoned antique hunters, flea market fans and art lovers alike to discover in this burgeoning city by the sea.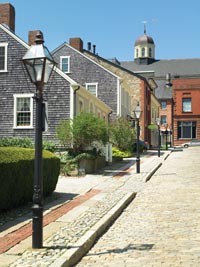 New Bedford is barely a heartbeat from Providence and Newport, but it feels light years away. Maybe it's the parking, which is readily available. Or, perhaps, the shops peddling antiques and salvaged architectural goods by the mile. The galleries are abundant and rich. The food is delicious: fish and scallops tumbled right from the sea and onto your plate. And the ambience is pure New England, with bumpy cobblestone streets, granite buildings and historic plaques. ›› In the mid-1800s, New Bedford boomed. And although it's had its ups and downs since Herman Melville arrived to sign on with a whaling crew, it's clear the town has turned around. Set aside a few hours to explore, by foot and car, and you'll see for yourself. New Bedford rambles and, to unearth the spoils, so should you. Here's a whet-your-appetite sampling of shops, all brimming with home-related loot, and stops not to miss:
Places to shop
Acushnet River Antiques, 72 Kilburn Street, 508-992-8878.
18,000 square feet and one hundred dealers equal a glut of fantastic furniture and collectibles. Maybe the three pricey antique fluted tin garbage pails shaped like rain barrels that we coveted (imagine them as glass-topped tables in a fabulous modern setting) wouldn't appeal to everyone. But there's plenty else including objets d'art from the fifties and sixties, old wicker and historical memorabilia. Monday through Saturday 10 a.m. to 5 p.m., Sunday 11 a.m. to 4 p.m.
New Bedford Antiques on the Cove, 127 W. Rodney French Boulevard, 508-993-7600.
A medley of collectibles including plenty of glass, silver, jewelry and mid-twentieth-century bric-a-brac spills about the first floor of an old mill. There's furniture too, but the smalls and a robust display of upbeat Fiestaware captures the greatest attention. Monday through Saturday 10 a.m. to 5 p.m., Sunday noon to 5 p.m.
New England Demolition & Salvage, 73 Cove Street, 508-992-1099; Multi Dealer Antique Co-op, 508-992-1099.
The unbelievable conglomeration of architectural artifacts and prizes from the past (we found a hefty upholstered chair for $35) makes this a must-visit destination. Designers (pros and amateurs alike) will come undone at the sight of rows and rows of shutters, doors, windows, fireplace mantels and pillars. And that's just the beginning. The second floor is all about the bath, with fixtures lined up as far as the eye can see. So in love are we with the rescued hardware, the chandeliers and pilasters, we've already planned another visit. Tip: Splurge on some heady Portuguese sweet bread ($4 a loaf) at the Biera Mar Bakery (508-993-3211) across the street. Friday to Monday 9 a.m. to 5 p.m.
Arthur Moniz Gallery, 20–22 William Street, 508-997-8644, arthurmonizgallery.com.
Maritime art collectors will be swept away. Fishing fleets, schooners and whales fill the gallery along with Moniz's (all of the work is his) landscapes, birds and flowers. The prolific nationally known artist works in a range of mediums so there's no way not to find something that speaks to you and your bank account. Daily 10 a.m. to 5 p.m., second Thursday of the month 10 a.m. to 9 p.m.
Tatlock Gallery, 36 North Water Street, 508-993-1192, tatlockgallery.com.
Located beside the Whaling Museum in a snap-a-photo nineteenth-century Greek Revival building, the bright gallery features a carefully edited array of beautifully handcrafted items including
pottery, glass and furniture along with art. Among the paintings by New England regional artists, Mary Nolan's moody oils of water and sky stand out. Daily 11 a.m. to 6 p.m.
The Bedford Merchant, 28 Williams Street, 508-997-9194, bedfordmerchant. com.
Should you need a gift for someone back home, the Merchant puts on a smorgasbord. Among the bounty is stationery, Yankee candles and Christopher Radko ornaments. Monday to Saturday 9 a.m. to 5 p.m., Sunday noon to 4 p.m.
Crowell's, 382 Acushnet Avenue, 508-992-5231.
This refined shop has been handling fine art and custom framing since 1897 when leg o'mutton sleeves were all the rage. We spied a pair of exquisite dry point etchings and some lovely watercolors. Monday to Friday 9 a.m. to 5 p.m., Saturday 10 a.m. to 4 p.m.
ArtWorks!, 384 Acushnet Avenue, 508-984-1588, artworksforyou.org.
The spacious nonprofit community art center's exhibits are diverse and hip. A recent show centered on the work of graduating UMASS students. Tuesday to Saturday noon to 5 p.m.
New Bedford Whaling Museum, 18 Johnny Cake Hill, 508-997-0046, whalingmuseum.org.
History buffs and art lovers will find much to savor including scrimshaw at this noteworthy museum. Pop into the shop (no admission charge) for bright mugs emblazoned with whales, a lively quilt or some ship's plans (great for framing). Daily 9 a.m. to 5 p.m., second Thursday of every month until 9 p.m., Thursday evenings July 4 through Labor Day until 9 p.m.
Whaleman's Shipping List, 17 Johnny Cake Hill, 508-990-3786.
Quality whaling and nautical antiques like seamen's chests and ship models, books and collectibles. Know-ledgeable shop owner Frederick Mitchell keeps the door open only half the year (May through December), so people in the know relish the change of seasons. Best to call ahead, but generally Tuesday to Friday 11 a.m. to 4 p.m., Saturday and Sunday noon to 4 p.m.
Upstair Used Books, 528 Pleasant Street, 508-990-0649.
Proprietor Ira Cohen presides over a teeny, easy-to-miss shop that's stuffed like only the best bookshops (this one specializes in the humanities) can be. It's an ideal haunt for bibliophiles who enjoy rummaging. We unearthed volumes by two favorite poets and an art catalog for less than $12. Afternoons only; call ahead.
Alan C. Haskell Horticulturists, 787 Shawmut Avenue, 508-993-9047, haskellnursery.com.
We'd be remiss not to remind day trippers who adore topiaries (ivy, myrtle, rosemary or lavender) to wind their way to this six-acre Mecca. Monday to Sunday 8 a.m. to 5 p.m.
Places to refuel:
Freestone's City Grill, 41 William Street, 508-993-7477, freestones.com.
A cozy low-light pub, Freestones has won awards for its clam chowder, but there's a bonanza of reasonably priced and scrumptious dishes to choose from. Monday to Thursday 11:30 a.m. to 10:30 p.m., Friday and Saturday 11:30 a.m. to 11 p.m., Sunday noon to 9 p.m.
Cork Wine & Tapas Bar, 90 Front Street, 508-994-9463, corkwineandtapas.com.
A shining star in the gentrification of the town's waterfront, the tony stone building couldn't be a more ideal locale for the upscale happenings inside. Given the innovative and reasonably priced small-plates menu, it's no wonder crowds converge. Wednesday to Saturday 3 p.m. to midnight, 1 a.m. on the weekends.
The Green Bean, 740 Purchase Street, 508-984-3300.
A light-filled cafe just right for a quick cup of coffee and a sweet. The made-to-order crepes aren't too shabby either. Daily 8 a.m. to 3 p.m.
In the neighborhood:
The Rotch-Jones-Duff House & Garden Museum, 396 County Street, 508-997-1401, rjdmuseum.org.
A green oasis within the bustling city; nineteenth-century period rooms and pretty gardens take visitors back into New Bedford's past. Monday to Saturday 10 a.m. to 4 p.m., Sunday noon to 4 p.m.
Seamen's Bethel, 15 Johnny Cake Hill, 508-992-3295, rixsan.com.
The chapel is as moving today as it was when it first opened its doors in 1832. Seamen (Melville among them) sought it out—as the town fathers intended—for solace and for strength against the port's licentious temptations. Cenotaphs memorialize the hundreds of souls who never returned from their ocean voyages. Memorial Day to Columbus Day daily 10 a.m. to 5 p.m.; Columbus Day to April Monday to Friday 11 a.m. to 1 p.m., Saturday 10 a.m. to 5 p.m., Sunday 1 p.m. to 5 p.m.