Politics and Islam with Author Ayaan Hirsi Ali
The renowned activist and author visits Providence.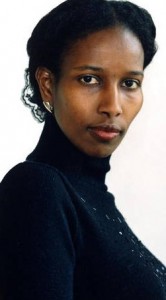 A controversial author and activist is touching down in Providence this month to discuss the bubbling caldron of her four favorite subjects: politics, religion, Islamic societies and Western ideologies.
Somali by birth, Ayaan Hirsi Ali grew up in exile with her politically involved family, moving from Somalia to Saudi Arabia to Ethiopia to Kenya then the Netherlands to escape a forced marriage. She's a vocal critic of Islam — especially on issues pertaining to women's rights and violence. She now resides in the United States and is a visiting fellow at a think-tank in Washington.
In 2004, Hirsi Ali gained international attention following the murder of Theo van Gogh, a director who worked with her on a short film, Submission, about the oppression of Islamic women. The assassin, a radical Muslim, left a death threat for Hirsi Ali pinned to the director's chest. A year later, she was named one of TIME magazine's 100 most influential people.
Hirsi Ali's first memoir, Infidel, spent thirty-one weeks on the New York Times bestseller list and was followed three years later by Nomad, another memoir, says Nicholas Kristof, that "suggests that she never quite outgrew her rebellious teenager phase, but also that she would be a terrific conversationalist at a dinner party."
The free, public Providence lecture, scheduled for October 18, is the tenth in a series sponsored by former Brown professor and Brookings Institution Senior Vice President Darrell West. Other series notables included renowned journalists E. J. Dionne, Mara Liasson and Juan Williams. The lectures aim to provide a forum on the intersection between religion and politics, and Hirsi Ali will share her thoughts on the root of the conflict between Islamic and Western societies. It's a can't-miss night of conversation that's sure to enlighten, and possibly enrage, citizens of the world.
The Details: October 18. 7 p.m. Free. Central Congregational Church, 296 Angell St., Providence, centralchurch.us.