Point Judith is More Than Just a Pretty Face
The village by the sea has a fascinating history and an unexpected heroine.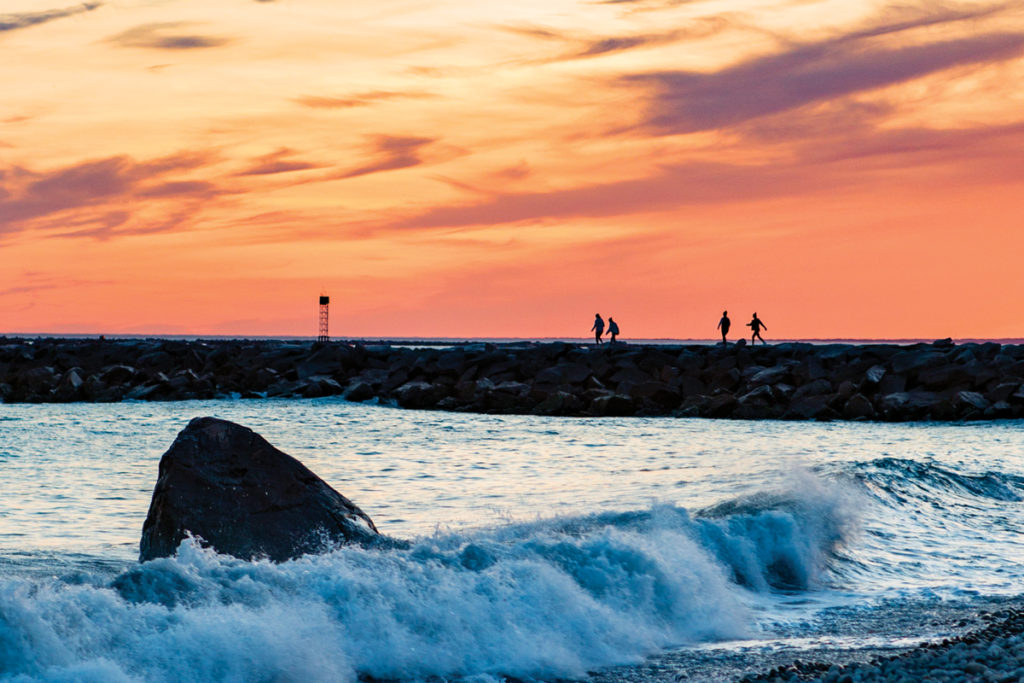 Great Places for Foodies
In the Neighborhood
Spain of Narragansett
Every Narragansett native knows that pretty much any occasion worth celebrating, from birthdays to anniversaries, warrants a reservation at Spain of Narragansett (or at the very least a pitcher of the sangria at the bar). Family-owned Spain has been dedicated to serving fresh, cooked-to-order dishes with Mediterranean flair since its inception in 1987.
1144 Ocean Rd., Narragansett, 783-9770, spainri.com.
Crazy Burger
Crazy Burger has been grilling up a storm in the Pier since 1995 and they've made patties out of just about everything: beef, lamb, salmon, turkey, portabella mushrooms, quinoa, buffalo, ostrich — you name it. This burger joint also serves up crazy-good breakfast items, chowder and sides, and plays host to a fresh juice bar as well as an espresso and chai bar.
144 Boon St., Narragansett, 783-1810, crazyburger.com.
A Short Drive Away
Beach Rose Cafe
Rise and shine and head to the Beach Rose Cafe in charming Wickford Village. With walls adorned in local art and photography, this little waterfront cafe serves scrumptious locally sourced ingredients (think scallop rolls and eggplant paninis) and can easily satisfy any caffeine addiction with one of the specialty drinks.
85 Brown St., Wickford, 295-2800, beachrosecafe.com.
Great Places to Shop
In the Neighborhood
Warm Winds Surf Shop
Warm Winds Surf Shop, which began as a small board brand in 1973, is a one-stop shop for all of your board sport needs. Drop by and pick out your ideal surfboard or grab a pair of totally rad board shorts before you head across the street to hang ten at Narragansett Beach.
26 Kingstown Rd., Narragansett, 789-9040, warmwinds.com.
Crosswynds Traders
Often called Narragansett's "best kept secret" (sorry to spill the beans, fellow 'Gansett-ers!), Crosswynds Traders has been selling men's and women's fashion and accessories on Boston Neck Road for more than twenty years. Its inventory changes constantly, bringing both the latest and trendiest brands as well as favorite local designers to this coastal town. Trust us: your next go-to sweater or beloved pair of jeans will be found on these shelves.
1175 Boston Neck Rd., Narragansett, 782-1110, crosswyndstraders.com.
A Short Drive Away
Pink Pineapple
Sure, you may have already been to the Newport location, but the Pink Pineapple on Main Street in Wakefield is the epitome of quaint. The upscale women's boutique is chock-full of brightly colored trendy clothing, fun and matchless accessories, nautical homewares and Little Rhody-themed knickknacks. Stop by if you're looking for a less-crowded shopping experience and unique finds that will make all your friends jealous.
357 Main St., Wakefield, 782-1046, pinkpineappleshop.com.
Great Places to Explore
In the Neighborhood
Scarborough State Beach
Narragansett has quite the reputation as an idyllic beach town, so you'd be remiss if you didn't check out one of its many beaches. Scarborough State Beach is a local favorite thanks to its smooth sands, plentiful concessions, clean facilities, free admission and family-fun atmosphere. But if you're over the idea of lying out on a beach towel all day, see the beach from a new perspective by renting a kayak or paddleboard from Narrow River Kayaks.
970 Ocean Rd., Narragansett, 789-2324, riparks.com; 94 Middlebridge Rd., Narragansett, 789-0334, narrowriverkayaks.com.
A Short Drive Away
The only one of its kind around, Adventureland is a family fun park filled with, well, adventure. The possibilities are endless: You and your family or friends can race around the go kart track, take a swing in the batting cages, splash each other in the bumper boats, compete in a round of mini golf and finish up this broad array of fun activities with a cone from Burdick's Ice Cream.
112 Point Judith Rd., Narragansett, 789-0030, adventurelandri.com.
A Short Drive Away
Tilted Barn Brewery
Hailed as Rhode Island's first farm brewery, Tilted Barn Brewery is known for regularly producing small batch, handcrafted ales. A visit to the historic barn-based headquarters will allow you to tour the brewery, walk through the nearby fields to see the ingredients that go into the beer up close, and to enjoy the fruits  of the farm-to-pint labor.
1 Hemsley Pl., Exeter, tiltedbarnbrewery.com.
---
Five Seaside Spots for Seafood
For date night: The Coast Guard House, a United States Life Saving Service station-turned-restaurant, offers unparalleled views of Narragansett Beach, a fresh seafood-based menu and newly furnished area courtesy of 2012's Super Storm Sandy. Enjoy a couple of cocktails and some apps on the rooftop deck and then head downstairs and into the main dining area for a romantic dinner for two.
20 Ocean Rd., Narragansett, 789-0700, thecoastguardhouse.com.
For clam cakes and chowder: Aunt Carrie's has been specializing in seafood since its inception in 1920 — way back when Aunt Carrie still ran the place. Nowadays, her descendants carry on the tradition of cooking and serving some of the best clam cakes and chowdah combos in the state, all within walking distance of Scarborough State Beach.
1240 Ocean Rd., Narragansett, 783-7930, auntcarriesri.com.
For a family-friendly atmosphere: Served on throwaway plates with plastic utensils, Champlin's Restaurant's seafood dishes are perfect for families with kiddos in tow. Plus, its seafood deck is located at the entrance to Galilee Harbor, so the kiddies will get a kick out of watching all of the fishing charters, and even the Block Island Ferry, coming in to dock.  Parents love the raw bar and bloody marys.
256 Great Island Rd., Narragansett, 783-3152, champlins.com.
For Sunday brunch: Named after local haunt lifeguard chair five on Narragansett Town Beach, Chair 5 at the Break may be the new kid in town but its brunch reputation is certainly making the rounds. Stop in on Sunday, order a round of mimosas and then indulge in a plate of banana pancakes with hazelnut ganache or French toast with apple butter cream (no one's judging if you order both).
1208 Ocean Rd., Narragansett, 363-9820, dinechair5.com.
For food-on-the-go: Monahan's Clam Shack by the Sea is, in fact, a full-fledged restaurant, but many locals appreciate and take advantage of their takeout window. Take a break from soaking up the sun on Narragansett Town Beach and order you and your towel-mates a plate of Point Judith calamari, some stuffies and a couple of hot lobster rolls to go.
190 Ocean Rd., Narragansett, 782-2524, monahansri.com.