Point Judith is More Than Just a Pretty Face
The village by the sea has a fascinating history and an unexpected heroine.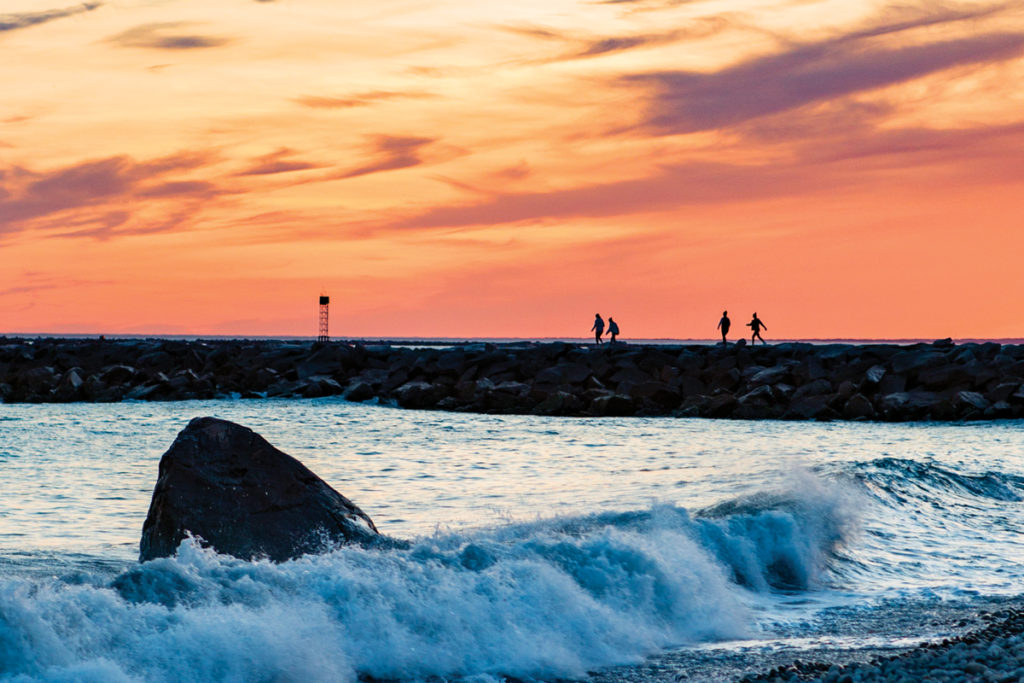 When I moved to Rhode Island from Florida at age four, my family first set up residence in Point Judith, known to locals as the "south end" of Narragansett. For six months, we lived directly across the street from what I, for a good chunk of my life, thought was called "Cholly O's." I had yet to learn to read at the time and my mother was a born and bred Rhode Islander with a corresponding accent, so my formative years were often devoid of Rs.
We later moved across town to the "north end"; our little raised ranch was just off of Wampum Road and down the street from where Bonnet Market Place used to be. Then, around sixth grade, my parents and I moved once again about as north as you can get within the town's border limits, practically in North Kingstown territory, but still within a ten-minute drive of the beach. That's where I stayed until I graduated from high school in 2010 with about ninety-five fellow Narragansett Mariners.
I didn't really return to the Point Judith area (save for a few visits to Scarborough Beach or Spain restaurant) until my junior year at URI when I decided to move off campus and rent a house with three friends. It was around that time that I found out that my out-of-town peers referred to the south end as "Eastward Look" and the north end as "Bonnet Shores," the town's two most popular, college rental-filled neighborhoods.
Around that time I also realized that a majority of non-Narragansett residents thought of my hometown as more of a getaway destination than a residential locale. I'd grab drinks on the rooftop deck of the Coast Guard House with college friends or relatives from the northern part of the state and as we looked out over Narragansett Beach they would, without fail, ask me, "Do you know how lucky you are?"
And I never argued. From the outside looking in, Narragansett is all pristine beaches, rolling waves and scenic eateries. The quintessential beach town. The epitome of seaside charm. It's easy to think of the region as something purely to be taken in and appreciated at surface level.
It's easy to forget what the area has witnessed.
Most have heard whispers about the tragic backstory of the eminent Narragansett Towers. Today, the adjacent lawn is the site of summer seafood festivals and wedding pictures, but it was also once privy to the Narragansett Casino. The Casino was a hub of social activity in the late nineteenth century, hosting a slew of high society men and women, from world-famous dancers, violinists and artists to Wall Street financiers, journalists and architects. But good things are never meant to last: It all went up in flames — literally — twice. The stone towers were the only structure that managed to continually rise from the ashes.
This was all common knowledge for me as a local, but it turns out that my backyard's history cannot be boiled down to just one era.
"I'd go so far as to say that Narragansett has the most diverse history of all the towns," says Shirley Eastham, president of the Narragansett Historical Society (NHS). "We have Native American ties, major plantations, a Gilded Age and a long relationship with New England's porting and fishing industry. Who can rival us? Not Newport, not even Providence."
Remarkably, traces of all four eras can be found in Point Judith alone.
"Point Judith and Galilee are just as historically significant as Narragansett Pier," says Richard Vangermeersch of the NHS. "But people don't realize it because it's been grossly understudied."
Rhode Island might not have the prettiest history when it comes to Native American relations, but Narragansett does pay some respects. When the town broke away from South Kingstown in 1888, they paid homage to its original settlers by naming it Narragansett, which means "people of the small point." While the present-day tribe now has a reservation in Charlestown, evidence of their time in Narragansett can still be found. Housing developers uncovered a fifty-two-acre site of former Native American settlements and burial grounds behind Point Judith Pond in 2013.
"I've heard that it's the largest settlement find in all of New England," says Eastham. "It might even be larger than the famous one in Richmond, Virginia."
When European townsfolk took the Narragansetts' land following the Pettaquamscutt Purchase in 1658, they discovered why the tribe had flourished there: Rhode Island's southern coast provided the ideal climate for agriculture. According to Historic and Architectural Resources of Narragansett, Rhode Island, compiled by the Rhode Island Historical Preservation Commission, "the tempering effect of the sea resulted in milder winters than inland areas, and…the soils of Boston and Point Judith Necks were particularly good. The productive lowlands along the tidal rivers and inland ponds provided excellent pasturage for horses, cattle and sheep."
So along came the farmsteads. Point Judith Road had its fair share back in the day, but Kinney Bungalow at Sunset Farm is the only still-working farm left from that period in all of Narragansett. However, this wasn't exactly your run-of-the-mill, nineteenth century farm. Most will associate the town's Gilded Age with the Pier, but the lavishness and social aspects associated with this era managed to seep into the more rural areas as well.
"It's been reported that after Francis S. Kinney, a tobacco and real estate millionaire, had a disagreement with the Point Judith Country Club, he immediately went and bought Anthony Farm right across the street," says Eastham. "He then had Kinney Bungalow built in 1899 to host his own parties, especially post-polo parties, since the playing fields were next to the country club."
After Kinney died in 1908, his daughter sold the property (eventually renamed Sunset Farm) to the well-to-do Chase family, who continued the tradition of hosting extravagant get-togethers. Lucia Chase, co-founder of the American Ballet Theatre, even found love there when Tom Ewing proposed to her on the south lawn at one of her end-of-the-summer bashes — a very fitting tidbit when you consider the fact that Kinney Bungalow is now a popular and beloved Rhode Island wedding venue.
Yet the Bungalow isn't the only piece of visible history that Point Judith's farmlands left behind; their proximity to the water also allowed for quick and inexpensive transport of agricultural products.
In came the ships. But they weren't just moving produce to other ports; some were transporting the wealthy back and forth from Newport, and some were taking advantage of the growing desire for seafood delicacies with fishing charters. The abundance of incoming vessels eventually inspired the expansion of the Port of Galilee, a bustling port today (and home to the Block Island Ferry) that's connected to Point Judith Road by a man-made (some would say woman-made) breachway.
"Mrs. Jeness Peckham is the real heroine," says Vangermeersch. "She saw the potential of Galilee and made it happen by raising funds to further develop the area. Not only did it help the local economy, but Galilee became a harbor of refuge for ships passing through."
And boy, was refuge a welcome addition. The amount of traffic through Point Judith waters alone would have been deemed dangerous enough, but the weather and surrounding rocky shores also did the ships no favors. The waters surrounding the Point Judith Lighthouse, originally established in 1810 and rebuilt in 1857, have even been referred to as "the Graveyard of the Atlantic" due to the sheer number of shipwrecks in the last century. Today, the lighthouse is run by the U.S. Coast Guard and closed to the public, but the area remains a pillar of stoic beauty. In 2013, it was selected as one of just five lighthouses to appear on a set of U.S. Postal Service stamps depicting New England lighthouses.
So yes, it's true: Narragansett definitely has its marvels and we do have a wonderful tourist scene. Perhaps Narragansett has entered into its fifth age, where in years to come it will be known and celebrated for its relaxed, vacation-spot vibe. But for now, I'm happy to have more of a well-rounded perspective, having grown up experiencing the diverse landscape up close, hearing about the town's monumentally historic details and even performing the mundane tasks of everyday life, like grocery shopping at the local Stop and Shop in Salt Pond Plaza. All of this together makes me proud that I used to huddle amongst my fellow Mariners, our arms extended, hands overlapping one another's, chanting, "N – A – DOUBLE R – A – G – A – N – S – E – DOUBLE T, go, 'Gansett, go!" before a big volleyball game.
If you take anything away from this, you will now at least remember how to spell Narragansett.