Playing it Safe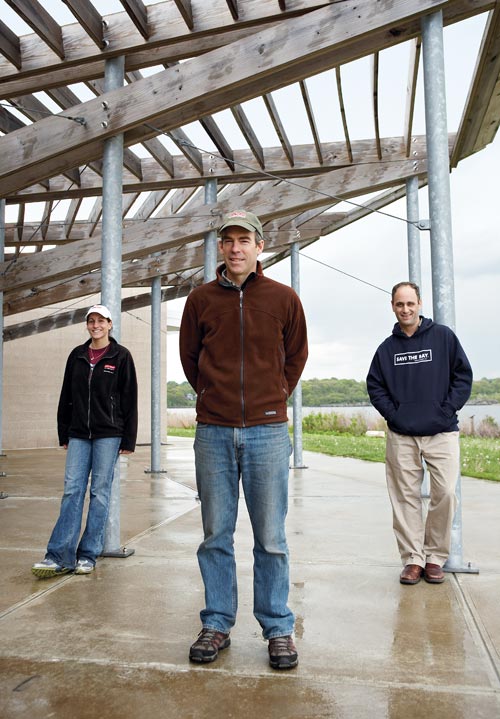 The offices are on the tip of Providence's Fields Point on the shoreline of upper Narragansett Bay. As I look out the glass windows of the lobby, it feels as if I could touch the whitecaps on the deep blue bay. A tanker is berthed in nearby East Providence on my port side while, on the starboard, the Cranston shoreline slides away. Far ahead lie the low gray-green humps of the bay islands. On a rock, less than a hundred yards away, a solitary seal frolics.
The $7.1 million building features environmentally friendly everything. It has solar electricity and ambient light, waterless urinals and dual-flush toilets, insulation from old newspapers and recycled flooring along with a vegetated roof, and swales and basins to control storm water runoff.
Wow. I remember the old office in a converted bank building on Providence's Smith Street. It had gunmetal desks packed tightly and heaped with wads of paper and a view across the street of the Earthen Vessel, the used appliance store.
The new headquarters is one sign of how the state's largest environmental organization, nearing its fortieth birthday, has changed. Now it has $4 million in annual revenue, employs thirty-seven people, many with advanced science degrees, has four boats and runs an aquarium and learning center in Newport.
It also has a new boss, a former hedge fund manager, who is paid $140,000 a year.
That's probably chump change for Jonathan Stone, but I am here to talk to him about how he will pilot Save The Bay into the future. We were supposed to spend the day together, but at the last moment Stone reports he is unavailable until noon.
I arrive early to talk to John Torgan, a sixteen-year veteran who is the organization's baykeeper, responsible for monitoring the bay's health. Torgan agrees that Save The Bay has changed, although its origins in activism remain important.
"We still have some old fashioned fights, but environmental advocacy has become more complex," he says.
Protecting the bay and the environment remain paramount and the organization still files lawsuits and lobbies at the State House. But more importantly, he explains, Save The Bay is now often on the water, actively restoring habitats, protecting fish and wildlife and taking others, especially school children, out to learn the importance of the state's greatest natural resource.
"Advocacy now means changing to serve the community, so that they can make good management decisions," he says. "That sounds boring and it can be hard to sell to the membership, but that's where decisions are being made these days."
The fight was much different in 1971 when citizens opposed to a proposed oil refinery gathered on a Sunday afternoon in Tiverton. John Scanlon, a public relations veteran, offered his support and wound up as Save The Bay's first executive director.
In those years, Scanlon recalls, "We had a fight every time we turned around." The organization defeated the Tiverton refinery, then a North Kingstown nuclear plant and a liquefied natural gas plant on Prudence Island.
"I was on television one year more than the governor," says Scanlon.
Sometimes those stands were not popular.
"We labored many times wondering if we were doing the right thing," Scanlon adds. "The unions, industry, government and many others were opposed to us. They thought we were costing the state jobs."
According to Trudy Coxe, who was brought on the staff by Scanlon: "It is not that Save The Bay has changed so much, but that the culture of this country has changed radically."
When she succeeded Scanlon in the late seventies, Providence and other cities as well as the jewelry makers and other manufacturers were routinely using the rivers and bay as their own sewer. "The problems were far more egregious, they were much more black and white," says Coxe. "Grease balls of human waste and sewage were bombarding our coastline."
The grease ball line is a Coxe favorite. For many, Coxe, the unpredictable, dynamic and fiery chief, personified Save The Bay. "She scared the hell out of many people" who opposed her, says Chip Young, then the organization's communications director who is now at the Coastal Institute of the University of Rhode Island.
When Coxe left to run unsuccessfully for Congress in 1990, she and Save The Bay had helped force private industry and state and local governments to spend hundreds of millions of dollars in new infrastructure to stop the pollution.
It is now after twelve and Jonathan Stone is late. I had difficulty getting this appointment with Stone; when he arrived in January he only worked here a few days a week. The rest of the time he taught business courses at Providence College as part of a year-long commitment he wanted to complete with approval of Save The Bay.
I've been hearing that his frequent absences have slowed the transition. Months after his arrival, I continue to hear that many, even in the environmental community, only have token knowledge of him.
One of Save The Bay's most marked characteristics has been its strong and continuous leadership, with the top position held by only four people in nearly forty years. Curt Spalding, who took over in 1990, was never a firebrand like Coxe. However, he had vision and foresight to transform the organization financially and take it down paths never ventured.
Today, the sources of pollution on the bay are far more complex, from higher water temperatures from global warming to increased algae blooms and runoff from fertilizer spread on lawns and fields miles from the bay. Many say the organization has also matured.
"It's been transformed from sort of a bomb thrower to a Save The Bay that is at every environmental and economic table and has the respect of the business community," says Chip Young.
It can still anger opponents, too. Jim Grasso runs Grasso Associates, the Needham, Massachusetts, public relations firm that has represented Hess LNG's efforts to install a liquefied natural gas facility in Fall River. Save The Bay opposes the plan.
"They do a good job at what they do, but they can go overboard," he says. "They sometimes are so rigid with their advocacy that they have become a barrier to progress."
They can also work with potential opponents.
In the 1990s dredging became an issue in Rhode Island. Commercial shippers and pilots warned that the bay's channel was becoming too shallow to navigate. Marina owners complained that silt was filling the bay's harbors. Yet for years the environmental community quaked at the idea of digging up the silt and dirt, some of which was laden with heavy metals and other toxics. Besides disrupting fish and habitats, where was all that toxic waste going to be dumped?
Marina operators credit Spalding and Save The Bay with mediating a solution.
"Curt was an extraordinary executive director who got a lot done," says Michael Keyworth, general manager and vice president of Brewer Cove Haven Marina and past president of the Rhode Island Marine Trades Association. "He taught me that I could not get it all my way."
Not only have the bay and harbors been dredged, but today Save The Bay and the marine trade industry also work closely on a range of other issues.
"We both agree that we are really much in line with each other as keepers of the bay," says Chris Ruhling, the current president of the Rhode Island Marine Trades Association. "We are both stewards who work for environmental compliance and to provide access to the water."
The clock says it's after 1 p.m. I am told that Stone will soon arrive.
Spalding's other accomplishment is this showcase building. The new headquarters incorporates Save The Bay's mission, not just to advocate but to educate and restore. Besides all of the fancy environmental features, it sits on what was once a vast landfill, a legacy from fifty years ago when waste was routinely dumped into the bay.
Just making the land safe for the building and people cost $2 million.
It is clear from examining Save The Bay's financial books that the agency has become a not-so-small commercial enterprise. In the year ending June 2008, it collected slightly more than $4 million in revenue, according to federal records. Thousands give anywhere from a few dollars to more than $50,000. It also receives corporate donations from local companies such as Amica Mutual and Hart Engineering and national giants including Wal-Mart.
Those make up about 60 percent of Save The Bay's revenue.
Another $1.5 million comes from government grants, with the rest from such miscellaneous sources as boat and rental fees.
It's a far cry from 1971, when Save The Bay began with $6,000 in contributions. That money, says Scanlon, went quickly and few people contributed in those days. Without the quiet and unknown support of a small cadre of benefactors, primarily John Nicholas Brown, Save The Bay would never have survived. Trudy Coxe remembers the Friday afternoons when the payroll was short. "John Scanlon would agonize over making that call" to Brown, she says, "but he would say 'we need the help.' "
The board had strict rules on contributions. "The board would not let us take any money from the government," says Scanlon. "They thought that would be compromising."
More recently, others have learned that lesson the hard way.
In 2003, the Nature Conservancy, the nation's largest environmental organization with an annual budget of $950 million, admitted it had strayed from its mission of protecting environmentally fragile land. The Conservancy logged forests, built homes on fragile grasslands and drilled for natural gas in the breeding ground of an endangered bird species.
Paul Beaudette, the president of the Environment Council of Rhode Island and a former board member of Save The Bay, says the dilemma of how to raise money — and from whom — confronts every organization.
"Does policy or programs drive you, or is it your budget?" he says.
Alden M. Anderson Jr., who has just left as president of the Save The Bay's board of directors, says he is very aware of the dangers it faces in accepting donations from some sources.
"It is awkward, there is no doubt about it," he says. "But at the end of the day, if you sell out to the donor, you are dead in the water."
Anderson says that Save The Bay tries to make it clear that while it is willing to accept donations from corporate or government sources, that "does not mean that we will not go after you."
He also points out that the organization's funding sources are diverse and that it has an asset many others do not — its 4,166 members, most of whom are contributing between $35 to $50 a year.
Still, the financial obligations appear to weigh heavily on Save The Bay, especially in this difficult economy.
Shortly after 2 p.m. Jonathan Stone arrives. He apologizes for being two hours late.
What happened?
"I forgot," he explains, absolving his staff from any blame. "It was completely my fault."
Stone has always seemed a curious choice to run Save The Bay. He comes from money and most of his career has revolved around money. His great-grandfather was the Fitch in Abercrombie & Fitch and his father raised the money to build Boston's New England Aquarium. He grew up on Buzzard's Bay, attended boarding school and Brown University, worked for various businesses and earned an MBA from Harvard. For the last two decades he has lived in Providence while commuting primarily to a range of firms, most recently with Lee Munder Capital Group, a Boston investment manager.
A year ago he quit, vowing to find something more "personally fulfilling."
He has been a longtime environmentalist and a twenty-year member of Save The Bay, and through associates was urged to apply for the Save The Bay position.
"I felt it was a great fit," he says. "I love the bay and I brought management skills and advocacy skills to the organization. This is a great fit for me and for the needs of the organization."
He has been doing a great deal of listening since arriving because the learning curve is steep. He agrees that one role will be that of rainmaker, shaking the money trees to keep the organization financially healthy.
As we talk, the focus quickly turns to the issue of money. Stone makes it very clear he is not worried that it will become either a problem or a distraction. He knows how to steer clear of even the appearance of a conflict of interest. After all, he says, "we are not opposed to big ships, to ports or to marinas. What we are opposed to is filling in the bay or its environmental degradation."
He also has no worries about his lack of science background. He says he has a strong staff and a board of directors with prominent scientists.
"Lots of time the science is not all that complex," he adds. "Often you can readily identify the problem. The process is not that difficult to understand."
As he talks about Save The Bay and its mission, it's clear that he is bright, articulate — and confident, perhaps to a fault.
Later, I talk to Anderson and Steven Hamburg, another board member and the chairman of the search committee. When I ask them what they were looking for and what Stone brought, I keep hearing platitudes. Anderson says they wanted and found a leader who would take Save The Bay "to the next level in a very strategic way." Hamburg says the goal was to find a leader "with vision and leadership skills."
What does that mean?
Save The Bay, they say, is going to have to collaborate and lead other environmental groups on issues of the future. Having enough money is another critical need.
Hamburg says of Stone: "Many see him as a different type of leader, but I think his leadership skills are what we need."
Since the first interview didn't go well, I talk to Stone again. He reports that in his short time in the job he has already told two important financial donors, who have opposed Save The Bay on specific positions, that the organization would not reverse itself on those stands. "We will always cherish our independence and live by that to our grave," he says.
But I still wonder about Stone's lack of background in the field. Does he have any faults coming into the job?
"Let's talk about that in a year," he says. "I don't see that I have any, but it is for others to judge."
By the time I finish that first, less-than- reassuring interview with Stone at the headquarters it is late afternoon. I walk with Cherisa Friedlander and a half dozen students from the Gilbert Stuart Middle School down to the tidal pools less than 100 feet from Save The Bay's building. Friedlander, an education specialist and day camp director for Save The Bay, and other staff have invited these kids, all minorities from a central Providence neighborhood, to explore the pools.
One student turns over a rock.
"Ooh, ooh, what is that?" she exclaims.
"Is it a worm or a clam?" another asks.
Friedlander explains that it's a soft shell clam. She points to the clam's siphon, a soft fleshy appendage; it's used for both eating and breathing, she says.
"Oh, so gross."
"Amazing."
They find periwinkles, mussels and crabs in an amazing abundance for Fields Point, which I had always thought of as a dead zone for sea life.
I'm watching a small piece of what has become Save The Bay's greatest transformation — its education program. Each year a staff of about ten works with more than 20,000 students on such programs in the new building's two classrooms, on the shoreline, and aboard the organization's boat, the M/V Alletta Morris. Thousands more adults and children pay admission to go out on the water — 115 winter tours of the bay's harbor seals were scheduled for this past season.
It has reached a point where many associate Save The Bay more with its seal tours than with its advocacy.
Outsiders say this aspect of Save The Bay is one of the most important ways that it has changed over the years.
"I think the educational program for students and adults is essential," says Eugenia Marks, a senior director of policy for the Audubon Society of Rhode Island. "When people are placed in a setting, the issues resonate and they become much more meaningful than when they read about them."
Many people, and not just the students from Providence, have never been out on a boat before.
"People need to see for themselves," agrees Beaudette of the Environment Council. "Getting them out on the bay changes them."
I leave Friedlander and the students far more refreshed. Maybe Stone and the board members are right. He does have a strong staff, and some board members do have strong credentials. They might all help to keep the ship aright. Perhaps I have misjudged him, or maybe he will grow into the job.
As I leave, the late-day sun glints off the sheer glass windows in the lobby of the Save The Bay headquarters. The building is located on a flood plain. If a hurricane barreled up the bay, the way Hurricane Bob did in 1991, the building would be swamped.
But it looks as if it's designed well. It appears well anchored. My bet is it will survive.