Planes, Trains and Automobiles!
Everything you need to know to get around in Rhode Island.
Whether it's by land, sea or air, Rhode Islanders are a creative bunch when it comes to getting around. To see just where we are going and how, we rounded up commuter tales, filled the gaps in pothole facts and dissected various infrastructure projects. You'll have a whole new understanding of the many aspects of navigating our small state.
BY CAR
THE PRICE OF A POTHOLE
One nasty divot cost drivers nearly $10,000 in repairs.
By Ellen Liberman
There was once a great pothole on Gano Street in Providence that terrorized drivers attempting to access the I-195 onramp. It may not have been large enough to swallow a car whole, but it punctured tires, bent wheel rims and threw steering systems out of alignment with impunity, caring neither for Mercedes nor Mazda. In 2014 and 2015, this devil of a divot cost nineteen drivers nearly $10,000 in repairs.
But the city, which caps pothole claim payouts at $300, only compensated Gano Street's victims $4,384.
Each year, the waning days of winter produce a new crop of potholes that tear into municipal expenditure plans. The Gano Street pothole garnered the most casualties over two years. Still, it paled to the damage apparently inflicted on one driver who had an unfortunate encounter with a pothole on Valley Street. In 2014, she filed a $1 million claim for injuries and damages against the city. It remains a pending legal matter.
In theory, it only costs $20 to $30 to fill a pothole — if street crews can get to them fast enough and fill them with an aggregate that won't be tossed out at the next frost heave. But, in the less-than-perfect world of your typical department of public works, it's the unfilled pothole that kills you. In 2014, the city of Providence fielded 660 claims and reportedly paid out more than $95,000.
Last March, Mayor Jorge Elorza made potholes a priority. He launched #PVDPotholeHunt, a campaign to encourage residents to use the city's 311 hotline or the PVD311 mobile application to report potholes quickly, and an online pothole tracker to follow the city's response.
"My guys are out filling potholes every day," says Colonel Michael Borg, the city's director of public works. "This has been a worthy investment. We are under 100 claims for the past twelve months from potholes. Our guys are actively looking for potholes, filling them and responding to 311s in twenty-four hours. I take it very seriously. No one wants their car damaged."
In 2015, the state Department of Transportation (DOT) sought to slay the problem with a "pothole killer" machine that cut state claims from a five-year average of 560 to 151 — a 73 percent drop. The pothole killer trucks spray-inject a special emulsion that can be applied in all weathers, even below-freezing temperatures.
"The synthetic petroleum dries and hardens, and it's more lasting than the original road," says Charles St. Martin, DOT spokesman. "You do it in two minutes and you don't have to go back."
---
"LET'S FILL POTHOLES, NOT GRAVES"
Over the holidays, the DOT's anti-DUI electronic highway signs were difficult to ignore. Some went heavy on the exclamation points: "Drinking! Driving! = Handcuffs." or "Your designated driver is your best friend!" Others were straightforward. One announced that more than 40 percent of the state's traffic fatalities involve alcohol. And the most memorable of the bunch — "Let's Fill Potholes, Not Graves" — felt morbidly appropriate in the Pothole State. The sign text, which was submitted by local police officers and DOT staffers, complemented a $3.5 million, federally funded initiative that included TV spots and a social media hashtag, #BeyondTheCrash. Advertising firm, RDW, helped develop the campaign, which is one step in the DOT's ambitious ten-year plan to eliminate drunk driving in Rhode Island.
---
THE EMBLEM OF OUR STRUCTURAL DEFICIENCY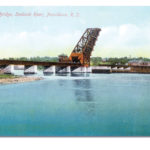 What's the story behind the Stuck-Up Bridge?
The Crook Point Bascule Bridge (yes, that's its real name), which hovers above the Seekonk River in Providence, was built in 1908. A Scherzer Rolling Lift railway bridge, the structure connected the New York, New Haven and Hartford Railroad lines to Union Station in Providence. But as train traffic slowed in the '70s, the state could no longer afford to maintain and lift the bridge for river traffic. Instead of demolishing it, our ingenious state leaders abandoned the bridge entirely. It's been stuck up at a 64-degree angle since 1976.
---
BY LAND, SEA AND AIR
Thirty miles by car, then thirteen miles by boat. Twice a day.
Scott Moran rationalizes his commute this way: "I have the best of both worlds."
A Warwick resident, Moran operates a gardening business on Block Island three seasons out of the year.
"The reaction I often get from people is either, 'Ugh, how do you do it?' or 'Wow, you get to work on Block Island!' " he says. "I consider myself fortunate. When I first moved from Block Island to the mainland after being a resident out there for several years, it was 2010, and it was still a recession economy. I had gainful employment at a good rate, so I was willing to put up with it."
Six seasons later, he's still making the commute, and he says it's not so bad. He deems his mornings a "rush to wait," where he scrambles on the road to make the ferry; Moran takes the traditional boat or the high-speed in the summer, which has a more forgiving schedule. "People are an anomaly that you cannot account for when you live by a minute-to-minute, timed commute," he says. "If you hit a pocket of people and you can't figure out how they're going to move — either on the road, or when they're burdened by all of the possessions they need for their one-week vacation — that's horrible."
It takes Moran one-and-a-half to two hours to get to work: forty-five minutes in the car, a short walk from his parking spot in the DEM lot to the ferry in Galilee, then a half-hour to fifty-minute boat ride into Block Island's Old Harbor. Once on the island, Moran says he rarely drives more than five miles a day from client to client.
"I don't see the ocean," he says. "The boat is my office. I'm doing hours and materials lists and planning my day. I'm doing billing. Thankfully, I don't get seasick. I can read on my commute. So yes, I might travel thirteen miles across the ocean during sunrise and sunset, but I often don't even look out the window."
Instead, he finds beauty in less-expected places: "The meadows on Route 4, between Home Depot and through the first light (in North Kingstown)," he says. "They change every season. And there's this one oak tree, after the Route 4/Route 1 split. It's on your left if you're going south, and it's majestic."
The splendor of Block Island isn't lost on him, though — even after a frantic morning trying to get there.
"When stepping onto Block Island, you feel it, you breathe it, you smell it. It's different — like, holy cow, smell that air after a two-hour commute where you leave nothing but exhaust fumes behind you," he says. "I'm often concerned about what my carbon footprint looks like. We're talking about a goliath print."
Moran estimates about twenty other regulars — mostly homebuilders from South County — head to the island every day for work. The ferry commuter's mantra is "keys, wallet, phone," complete with a pocket pat, he says. If Moran forgets his keys in his truck on Block Island and boards the ferry, he's out of luck when he reaches the mainland.
"My commute is relatively twenty hours a week of unpaid time, which is obviously not lucrative," he says. "There are inconveniences. But it's a job I have that provides a livable wage for myself and for my family. I get some quality personal time; I'm driving myself, in my bubble, in my world, listening to the news and the music I like. To have that privilege is huge."
Moran says he can't keep up with the commute forever, but for now: Keys, wallet, phone. Keys, wallet, phone.